College Principal's Report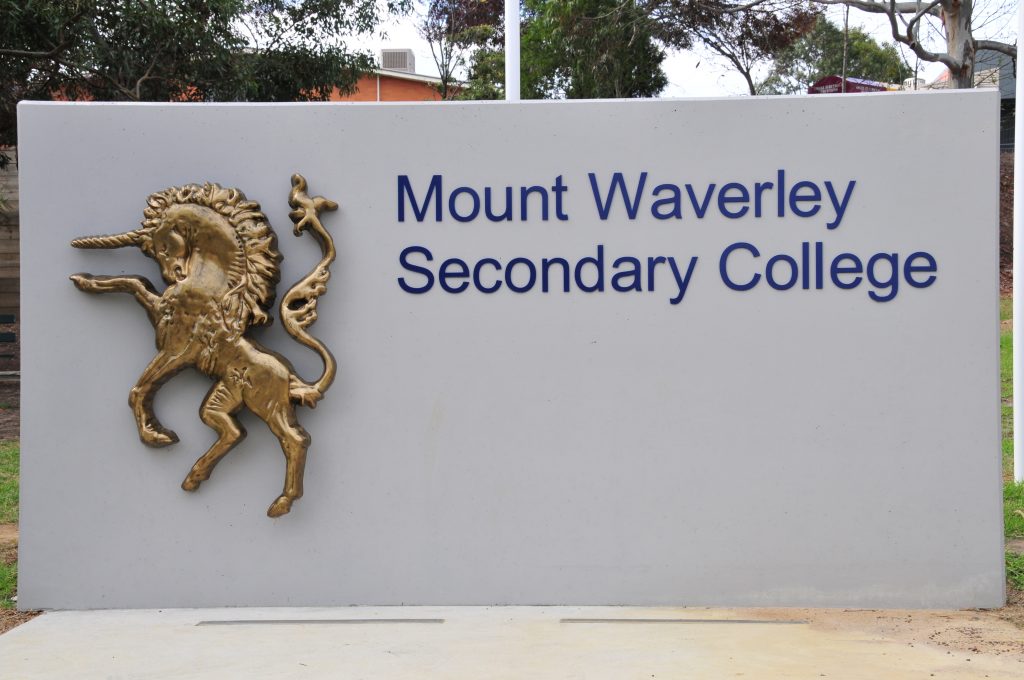 Returning from Leave
This week was my first week back at the college after 6 weeks of long service leave. I would sincerely like to thank Mr Ian MacLeod for stepping up to the position of Acting College Principal whilst I was away and Mrs Asha Vazirani for taking on Ian's role as Acting Campus Principal-Middle School. They both did an outstanding job. It is very reassuring to know that we have great teams here at Mount Waverley Secondary College who are very capable of working at the next level. I had a wonderful European vacation with my husband and feel well rested.
Night of the Museum 
On Thursday 9 November parents and staff had the privilege of visiting the Year 7 Night of the Museum displays. Our young historians researched civilisations from Ancient China, Egypt, Greece, and Rome. The students have been working hard over the past month to create replicas of artefacts and interactive displays. Thank you to all the Humanities Staff for supporting this wonderful educational opportunity for our students and well done to all the students who were involved. Special thanks to all the family members and friends who came to visit this exhibition. I know you enjoyed our students work come to life.
2024 College Captains and Prefects
Congratulations to the following 2024 Year 12 students who have been elected as our college leaders. These students went through several rigorous steps to be selected and I would like to thank Mr Myers, Head of Student Voice for overseeing this process.
Congratulations to
College Captains Madeleine D and Georgia K
College Deputy Captains Farah H and Pria T
Music Captains Vivian P and Alannah R
Sports Captains Taya F and Avril T
Arts Captains Beatrice L and Greta G
Wellbeing Captains Maya C and Clementine J
House Captains
Bradman – Parker D and Grace J
Cuthbert – Neyssa S and Vinu K
Fraser – Ashlee L and Maggie C
Goolagong – Luke C and Lachlan B
Landy – Jessie K and Grace B
Whitten – Edolie R and Zali M
Prefects
Jacky Q, Aaraav B, Mark K, Ishmanpreet K, Fathya P Krisha R, Anessa L Serena S, Jasleen N, Josh D, Dahlia C and Tanvi P
Arts Festival
Our annual Arts Festival was held on Tuesday 14 November.  The quality of our students' artwork continues to amaze me, and many awards were presented to students.  Students, parents, and staff were entertained by musical items, Drama performances and Media films.  Congratulations to Ms Jane Carter, Head of The Arts and all the arts students and staff who were involved on the night. Special thanks to Mrs Trish Munday and Mrs Linda Westgarth for catering this event.
Sports Awards Evening    
Congratulations to Mr Danny Gwynne and Mr Jay Newport our Sports Leaders for their work in running our Sport Awards Night at the college on Wednesday 15 November. It was fantastic to see so many students and their families in attendance, celebrating and recognising the great achievements our students have made in 2023. It was also wonderful to welcome back Ms Emily Harley, a former Mount Waverley Secondary College student from the Class of 2019. Emily has shown extreme resilience in her sporting career since graduating. After being drafted by Richmond in the AFLW, she was struck down with many serious injuries, and was unable to break her way into the team, ultimately being delisted. Instead of giving up, she got recruited to Port Melbourne in the VFLW where she was a member of their 2023 premiership team. Emily willingly gave up her time to come back to Mount Waverley Secondary College for this special event and gave the students some wonderful advice regarding competing in sport at a higher level.
2024 Year 7 Information Evening
It was wonderful to see many parents and students attend our 2024 Year 7 Virtual Information Evening on Thursday 16 November.  I spoke about what skills, attributes, and strategies I would want my child to develop at school and encouraged the new Year 7 students to get involved in the many opportunities and extra curricula activities on offer at Mount Waverley Secondary College.  I left the students with a quote from Dr Seuss "You're off to great places, today is your day.  Your mountain is waiting, so get on your way!"
VCAA Exams
Our Year 12 exams finished this week. Thank you to Mr James Johnston, Acting Senior Subschool Leader who oversaw this process along with our Chief Examiner Mr Peter Schneider.
Kwong Lee Dow Young Scholars Program
Close to 2000 applications from Year 10 students were received for this exemplary Melbourne University program this year. Mount Waverley Secondary College had one student; Nicola G accepted into the Successful Class of 2025 Kwong Lee Dow Young Scholars. Congratulations Nicola and thank you to Mr Jacob Myers for supporting our students with their applications.
Mango Drive
Thank you to all the families who ordered a tray of mangoes in this year's Mango Drive. We are expecting the mangoes to be delivered on Tuesday 21 November. Families will be notified when they arrive and where to collect your order.
Term 4 College Christmas Raffle
We have been working hard on sourcing some great prizes for our Christmas raffle for this term. Over $3300 worth of prizes have been donated including a Soniq 55" TV, Novetel Accommodation and meal voucher, Mercator Ceiling fan, Brilliant Bathroom Heat Lamp and Exhaust fan and more.  The MWSC raffle is running online, and tickets can be purchased via Compasstix.
Please support the college by purchasing either raffle tickets for $2.50ea or $12.50 for a book of 5 tickets or $25 for a book of 10 tickets.  Feel free to forward the Compasstix link to family and friends. All proceeds will go toward student led initiatives.  2023 MWSC Xmas Raffle Poster
Raffle tickets can now be purchased online via Compasstix link : https://compasstix.com/e/3nmkqp564b
The online college raffle is due to close on Sunday 3 December at 4pm.  Raffle to be drawn and winners announced on Wednesday 6 December.
2023 Examination and End of Year Program Dates
The exam dates are as follows:
Year 10 and 11 exams start Monday 13th November and finish Thursday 23rd November.
Year 9 exams start Monday 20th November and finish Thursday 23rd November.
Correction Day / Student Free Day will be held on Friday 24th November.
The Early Commencement Program (ECP) for 2024 Years 8-12 will run for two weeks and will be held from Monday 27th November until Friday 8th December.
The Year End Program will then run from Monday 11th December until Wednesday 13th December.
Presentation Night
This year, Presentation Night will be held on Thursday 14 December at The Besen Centre, 7.00pm, 87-89 Station Street, Burwood.  Students will be notified if they are to receive an award and details regarding tickets for the event will be published over the next few weeks.
Mrs Karen Wade
College Principal