College Principal's Report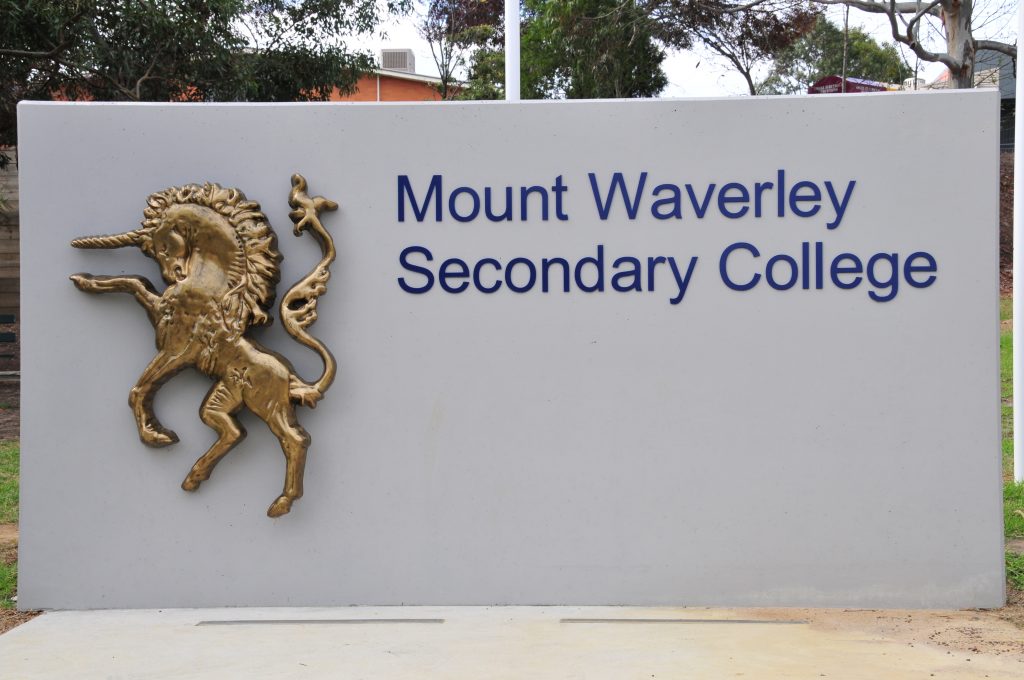 Stage Band and Jazz Band win Gold Awards
On Monday 14 August our Senior Stage Band competed in the Senior category in the Victorian Schools' Music Festival (VSMF)and won a gold award. Our Jazz Band also won a gold award at the competition on Wednesday. The adjudicators on both occasions gave fantastic feedback and accolades to the ensembles when working with them on stage. The bands received a gold award with every criterion being judged as excellent or outstanding from all judges. Congratulations to all the students involved and Mrs Tijtje Keatley our Music Director and Mr Damien Maughan who conducted the Jazz Band.
German Poetry Competition
Thank you to Mrs Katja Chitters and Mrs Rachel Huang who accompanied some Year 7 and 9 students on Wednesday 9 August to compete in a German Poetry Competition at Box Hill High School. Five Year 7 students (William A, Kingsley C, Elyann J, Dhineli T and Jacob W) and four Year 9 students (King Win F, Divya G, Aisha H and Yaj K) took part in this competition. In each year level, students won gold, silver, and bronze awards. This was a fantastic achievement, as students worked hard to learn and memorise their poems. It takes a lot of courage to step outside your comfort zone and perform a poem in front of people in a foreign language. Gut gemacht (Well done)!!
VCE Leadership Awards
One of our College Captains students; Jocelyn S has been shortlisted for the '2023 VCE Leader of the Year'. Only eight leaders from across the state are chosen by VCAA (Victorian Curriculum and Assessment Authority) each year. This is an amazing achievement, and the award ceremony will be held at the end of this term.
Thank you to Mr Jacob Myers, Head of Student Voice for his work in supporting our student leaders.
2023 Parent/Caregiver/Guardian Opinion Survey
Invitations to the 2023 Parent/Caregiver/Guardian Opinion Survey (previously known as the Parent Opinion Survey) link has been emailed out via Compass. Each year the school conducts an opinion survey amongst a sample of our learning community. This year, all parents/caregivers/guardians have been invited to participate. Results will be used to inform and direct our future school planning and improvement. The survey will be conducted online and should only take 20 minutes to complete.
Student Parent Teacher Conferences
On Thursday 7 September student/parent/teacher conferences will occur. The day will run from 1 pm until 7.30 pm and will be run virtually again via WebEx. Classes will not be held on this day.
Lions Club of Ashwood–Mt Waverley

The Lions Club of Ashwood-Mt Waverley works with youth and the community to provide support and promote good citizenship. Lions is an international organisation.They work with schools in our area through the Youth of the Year competition and Community Service Awards. They also provide holidays at the Licola Wilderness Village for deserving junior students.
They raise funds through Bunnings sausage sizzles and other local activities. 100% of funds raised from the public are returned through support provided. Their fund raising, support and social activities provide a very friendly level of social interaction and fellowship. If you would like to know more or would consider joining the Lions Club, please contact Roy at ashwood@lionsclubs201V5.org or on 0468 780 039.
The 2023 Victorian State Spectacular
The 2023 Victorian State Schools Spectacular brings together government school communities from across Victoria to produce a 3-hour live show including music, dance, circus arts, puppetry, and skating. This year's show will be performed to an audience of about 12,000 people at John Cain Arena on Saturday 9 September, over 2 shows at 1 pm and 6:30 pm.
Talented Victorian students will feature on stage, while many other students will work behind the scenes, gaining unique, on-the-job, professional experience. One of our students Ananya H from Year 10 will be appearing as a principal vocalist. Congratulations Ananya!
For a fun, family entertainment experience, and to cheer on students from the audience, be quick to secure tickets through Ticketek. Adult tickets cost $40; children aged under 15, $20; and concession, $30. Buy 10 tickets and get one adult ticket free (the 11th ticket is free) by calling Group Bookings on 1300 364 001.
Term 3 College Raffle
We have been working hard on sourcing some great prizes for our college raffle this year. Over $3500 worth of prizes have been donated including Interior/Exterior painting, DJI Mini Drone, Republica Restaurant, Village Gold Class Indulgence voucher, Ceiling Fan & Bathroom Heat Lamp, Coles Myer, and Ultimate Teens Gift Cards and more.
The MWSC raffle is running online again year and tickets can be purchased via Compasstix. Please support the college by purchasing either raffle tickets for $2.50ea or $12.50 for a book of 5 tickets or $25 for a book of 10 tickets.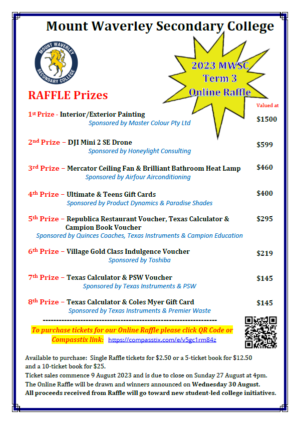 Feel free to forward the Compasstix link to family and friends. All proceeds will go towards the purchase of new student-led initatives.
Raffle tickets can be purchased online via Compasstix link https://compasstix.com/e/v5gc1rm84z
Online college raffle and is due to close on 27 August at 4pm.  Raffle to be drawn and winners announced on Wednesday 30 August.
Mrs Karen Wade
College Principal