College Principal's Report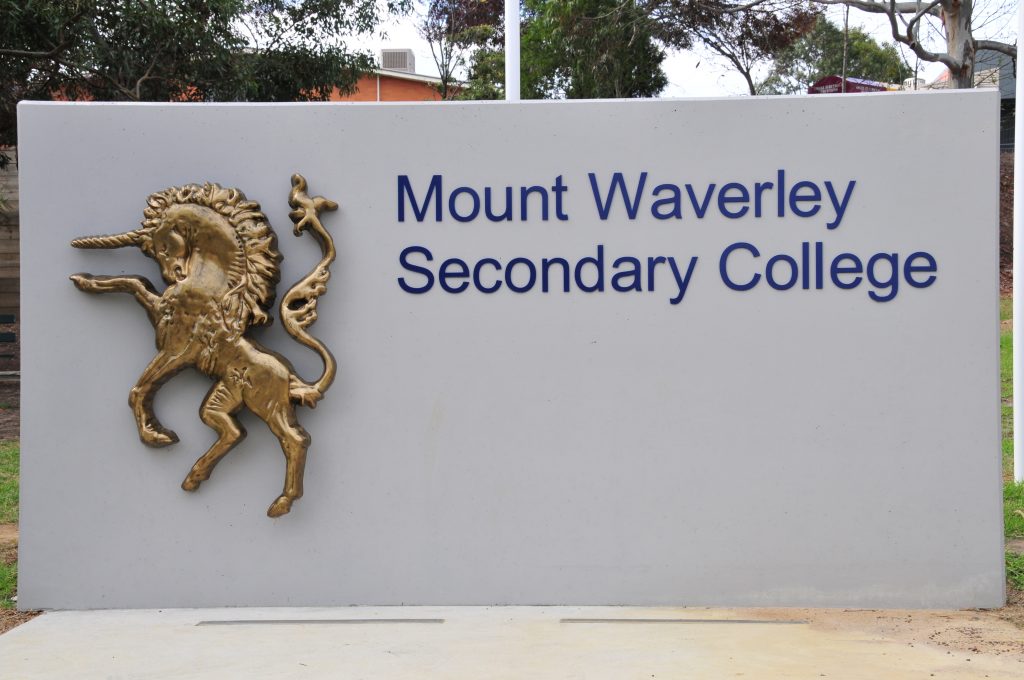 Warwick Irwin Hall
On Friday 24 March we honoured Warwick Irwin's 50 years of service to our college as he officially retired from the Department of Education on this day.
Warwick started teaching at Mount Waverley High School in 1974 and taught Physical Education, Health, and Humanities. During his time at the college, he held various positions of responsibility and was a leading teacher for 17 years.
Warwick has been a proud and passionate member of our learning community and his loyalty to our school has never waned. If you think about the number of students, staff and parents Warwick has had a positive impact on over the years, it would be in the tens of thousands. On behalf of College Council, we have named the Senior Campus Hall the Warwick Irwin Hall. Congratulations Warwick on your dedicated service to our college!
Visit to Mount Waverley North Primary School
On Monday 27 March I had the privilege to be invited to attend a Smoking Ceremony and assembly to mark the start of Mount Waverley North Primary School's Harmony Week celebrations. Mr Matt Sheehan-Junior Campus Principal and I were joined by our Junior School Captains, College Captains, and Deputy Captains, all of whom were special guests for the day, alongside our local Member for Ashwood, Mr Matt Fregon MP. It was a powerful experience, and a great way to continue our strong partnership with one of our largest feeder primary schools.
Eastern Metropolitan Regional (EMR) Swimming
The EMR swimming carnival was held on Tuesday 28 March. MWSC placed 6th overall, which is a remarkable result. Many of our 27-person team received a medal, which is a credit to the dedication and time they put into their sport. Congratulations to the following students.
1)      Edolie R – Bronze medal in 200m freestyle and 50m breaststroke
2)      Isaac C – Silver medal in 50m freestyle, bronze in 200m freestyle
3)      Patrik D – Bronze medal in 50m freestyle and 50m backstroke
4)      Girls 12-14 Medley Relay Team – Silver medal – Olivia T, Hannah R, Zoe S, Zoe K
5)      14 Girls 4 X 50m freestyle relay – Bronze medal – Zoe K, Olivia T, Olivia S, Hannah R
6)      15 Girls 4 X 50m freestyle relay – Bronze medal – Aleisha C, Camryn R, Kira A, Kira D
7)      15 Boys 4 x 50m freestyle relay – Silver medal – Austin H, Isaac C, Seth S, Julian D
8)      17 boys 4 x 50m freestyle relay – Bronze medal – Jack A, Nori N, Patrick D, Tristan G
Congratulations to the following students who qualified for the State Championships. Julian D of Year 9 won his event and qualified in the 50m backstroke. Our queen of the pool, Aleisha C of Year 9 then participated in the maximum 5 individual events allowed and won all 5!  Aleisha will represent the school in the 200m freestyle, 50m freestyle, 100m freestyle, 50m butterfly and 50m backstroke. This was one of the most incredible individual achievements our Sports Leaders have seen at Mount Waverley Secondary College.
Good luck to Julian and Aleisha at the State Championships in April.
Virtual Open Night
It was wonderful viewing all the videos made for prospective parents for our 2023 Virtual Open Night and hearing feedback from all members of our learning community regarding the virtual WebEx meetings that took place on the evening of Wednesday 29 March. A lot of hard work and preparation goes into an event such as this and I would like to thank Mr Matt Sheehan Campus Principal and the Junior Sub School Team, Mrs Narda McLennan Marketing and Events Manager for overseeing the organisation of Open Night and all the Faculty Heads for their input into the video clips and for meeting parents on the night to discuss their subject areas.
School tours for prospective parents are now available on both campuses, please see our college the website for further details.
Student/Parent/Teacher Conferences – A resounding success
Thank you to the many parents and students who attended our virtual conferences on Thursday 30 March. Such large numbers clearly demonstrate that Mount Waverley Secondary College parents and students value the learning opportunities on offer and enthusiastically seek teacher support to reflect on their progress, with the aim of continually improving to achieve excellence in learning outcomes.  After talking to many parents, students, and teachers, the college is going from strength to strength and continues to strive to meet each student's individual learning needs.
Uniform Changeover Time
Winter uniform starts in Term 2, although for the first two weeks of term there is a changeover period where the students can wear either summer or winter uniform.
Please ensure that your students have the correct college uniform which is only supplied by PSW located at their retail outlet at 342 -350 Springvale Road, Glen Waverley (behind Officeworks).
Happy Holidays
First term 2023 has been an exciting time for teaching and learning at Mount Waverley Secondary College.  I hope everyone enjoys some family time over the holidays and I encourage all senior students to ensure a balance between study and relaxation.  Develop a study timetable and stick to it, it will be worth it.  Have a safe and relaxing holiday. We look forward to seeing our students return on Monday 24 April.  (Note: Tuesday 25 April is a public holiday.)
Mrs Karen Wade
College Principal