College Principal's Report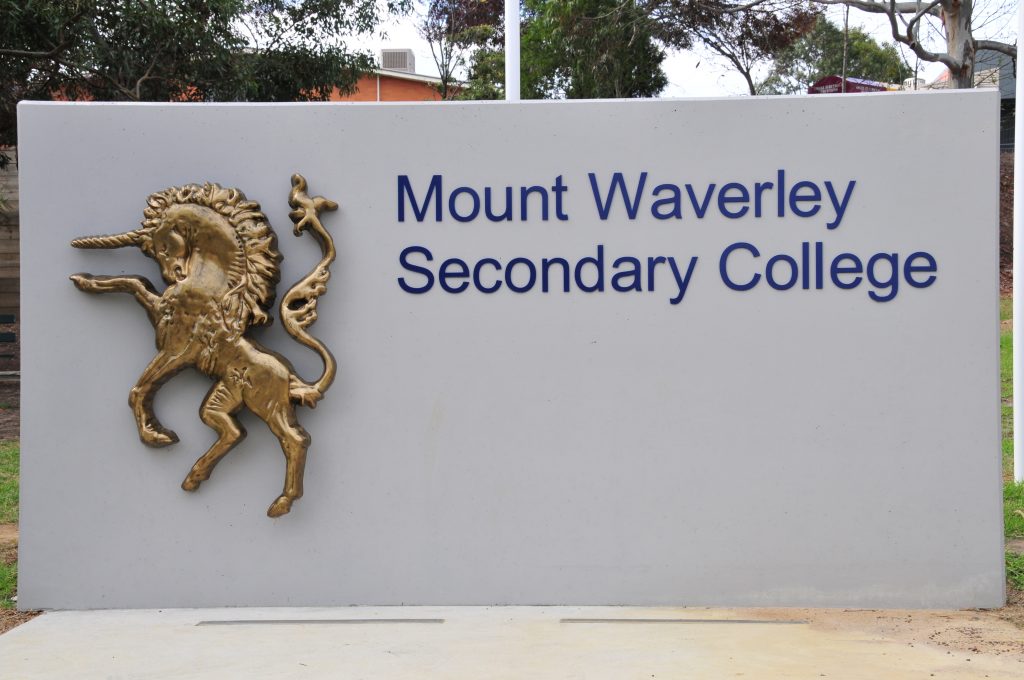 Mount Waverley Secondary College alive with the Sound of Music!        
This year the college has an amazing 250+ students participating in the Music Program.  They are committed to a gruelling training schedule which results in these students showcasing their incredible talents in the 3 concert bands, 2 stage bands, 3 string orchestras, 2 guitar ensembles, 2 choir, 2 improvisation ensembles, jazz duo, percussion ensemble and various chamber ensembles. We also have 2 string orchestras and 2 concert bands, guitar, and percussion ensembles, that are part of our Year 7 classroom music program giving every one of our Year 7 students an opportunity to experience playing in a band.
Our learning community looks forward to attending and enjoying many performances provided by these students through the year.  This fantastic music program is a tribute to the hard work and talent of our dedicated instrumental and music teachers.
Music Soirees a Great Success
Congratulations to all the students who performed in the Music Soiree nights this week. Students from all year levels were involved and I know that the parents, students, and staff in the audience appreciated hearing their wonderful performances.
Stage Band to Perform at Hamer Hall
Congratulations to our Stage Band who have been selected to perform at the NEVR Regional Music Concert at Hamer Hall in May. This is a very competitive process and to be successful demonstrates the high quality of this ensemble's performance.
Chicago High School Edition
Congratulations to all the students who were successful in becoming a cast member for this year's college production of Chicago the High School Edition.
Leads and Supporting Cast: 
VELMA KELLY: Madeleine D
ROXIE HART: Beatrice L
BILLY FLYNN: Christopher D
AMOS HART: Aryan J
MATRON MAMA MORTON: Neave M
MARY SUNSHINE: Vidushi W
THE FIVE MERRY MURDERESSES:
ANNIE: Tessa G
LIZ: Kiska A
KATALYN HUNYAK: Heidi M
JUNE: Charlize M
MONA: Paris B
Featured Ensemble:
MASTER OF CEREMONIES: Harshitha J
FRED CASELY: Ethan L
SERGEANT FOGARTY: Sebatian V
GO-TO-HELL-KITTY (The new 'Murderess' on the block): Sania M
HARRY (Murdered by Go-To-Hell-Kitty.): Alistair M
AARON (Court appointed lawyer for Katalin): Jessica T
JUDGE: Greta G
COURT CLERK: Xavier F
Dance Specialists:
Viola H, Ivanka P, Melissa J, Isabelle W, Harshitha J, Tessa G, Kiska A, Heidi M, Charlize M and Paris B
Ensemble:
Chrissa H, Eloise D, Jacob G, Imogen M, Alex M, Michael S, Esther S, Poppy R, Sunny Z, Avneet A, Charvi J, Shubhi P, Charlotte J, Caelan G, Victoria B, Crow A, Bee K, Ada v, Vanessa L, Christine Y, Yuna C, Ewan C, Amelie C and Chloe C
Rehearsals have begun and we can't wait to see the performances at the end of July in our very own MWSC Unicorn Theatre!
Communication Policy
There are a number of documents relating to email and other communication at the college between staff, students and parents. The Communication Policy (https://www.mwsc.vic.edu.au/our-college/college-documents/#policies) sets out a number of requirements and expectations.
The Communication Policy focuses on the following:
Building positive relationships between home and school and the community based on mutual respect and trust that results in success for all students.
Ensuring the wellbeing of students and improvement of their learning outcomes.
The Communication Policy aims to:
provide a framework for effective communication
create co-operative teamwork and partnership between school, parents/carers and students and the community
assist the best learning outcomes for students
ensure that the college values are reflected through effective communication
Effective communication encompasses the exchange of ideas, where people feel they have   been heard and their opinions valued, and where information is clear and accurate. Communication needs to be related to student performance, wellbeing, and behaviour, as well as school related issues. Communication should be respectful, timely and relevant, allowing for open and honest interaction.
This policy refers to the following forms of communication:
voicemail/ telephone conversations
emails
official letters
student planner
college website
newsletters
Compass
All members of our learning community should respond to emails within 2 days. Emails should not be sent or responded to after 8 pm in the evening or on weekends – this applies to emails between students & teachers and teachers and parents.
Student/Parent/Teacher Conferences
The focus for students at Mount Waverley Secondary College is to achieve their very best and to continually improve their learning. An important part of this focus is the partnership between school and home, between teacher and parents/carers and student. Parent/student/ teacher interviews play a key role in this partnership where all parties meet to discuss the student's achievements, progress, and strategies for improvement.
As per the notice that went out on Compass, Parent/student/teacher conferences for semester one is scheduled on Thursday 30 March between 1pm and 7:30pm. These conferences will be held online via Webex links.  Thursday 30 March is also a scheduled student free day. No classes will be running on the day.
Please note the following dates and times:
Monday 27 March at 9am – Conference bookings are due to close.
Tuesday 28 March by 4pm – Confirmation email to parents/carers to be forwarded, noting selected conference times and Webex teacher links.
These interviews provide our students with an important learning experience where they can reflect upon and evaluate their progress and join in partnership with their teacher and parents to plan for ongoing success. For these reasons I recommend everyone is involved in this process.
Uniform Changeover Time
Winter uniform starts in Term 2 which includes the long sleeve shirt and tie, although for the first two weeks of term there is a changeover period where the students can wear either summer or winter uniform.
Please ensure that your students have the correct college uniform which is only supplied by PSW located at their state-of-the-art retail outlet at 342 -350 Springvale Road, Glen Waverley (behind Officeworks).
End of Term 1 – Start of Term 2
Students will be dismissed at 2.30pm on Thursday 6 April and we will look forward to their return for Term 2 on Monday 24 April. (Tuesday 25 April is the ANZAC Day public holiday).
Mrs Karen Wade
College Principal