College Principal's Report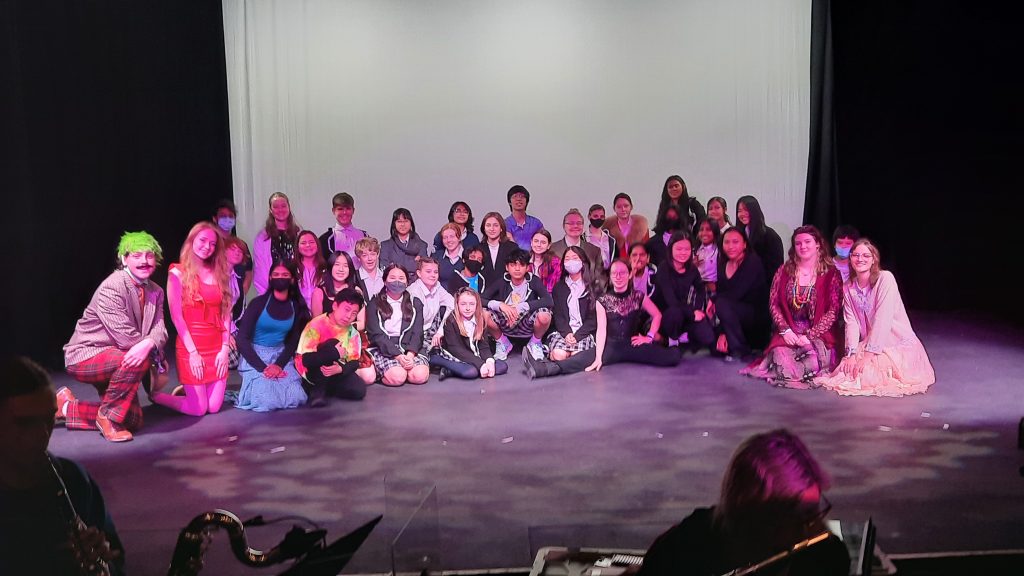 I had the privilege of attending our college production, 'Matilda' the musical, this week which was held in our college theatrette. The production team have been working hard so it was wonderful to see their performance come to fruition. Thank you to Mr Tom Frost, College Production Director for all his hard work and dedication to our students over the last 6 months and Mrs Nicole Griffin in charge of Costumes, Props and Sets who worked with a brilliant crew of students to support our cast.
The production band under the baton of Musical Director Mrs Tijtje Keatley performed exceptionally and was made up of staff, alumni and students. It was wonderful to hear live music again in a theatre. Thank you also to alumni, Monique and Chana who gave up their time to come and choreograph our students over many rehearsal sessions.
The cast and crew were magnificent, and the quality of performances were extremely high. What a talented team of students, alumni and staff we have at Mount Waverley Secondary College!
Congratulations to the lead and ensemble roles:
| | | | |
| --- | --- | --- | --- |
| Matilda – | Willow P | | |
| Miss Trunchbull – | Neave M | | |
| Miss Honey – | Beatrice L | | |
| Mr Wormwood – | Heidi M | | |
| Michael Wormwood/Dance Spec – | Sebastian S | | |
| Mrs Phelps – | Alannah R | | |
| | | | |
| Classroom Ensemble | | | |
| Bruce – | Harshitha J | | |
| Lavender – | Victoria B | | |
| Nigel – | Caelen G | | |
| Amanda – | Vanessa L | | |
| Eric – | Eugene S | | |
| Alice – | Poppy R | | |
| Hortensia – | Charlotte J | | |
| Tommy – | Mitchell D | | |
| Ensemble – | Sanomi H | | |
| Ensemble – | Giana C | | |
| Ensemble – | Lakshita K | | |
| | | | |
| Big Kid Ensemble | | | |
| Doctor/Ensemble – | Madeleine D | Escapologist/Ensemble – | Xavier F |
| Cook/Ensemble – | Chrissa H | Rudolpo/Ensemble – | Viola H |
| Sergei/Ensemble – | Crow A | Henchman 1/Ensemble – | Bee K |
| Henchman 2/Ensemble – | Ivanka P | Henchman 3/Ensemble – | Mia T |
| The Acrobat/Ensemble/Dance Spec- | Vidushi W | Children's Entertainer/ Ensemble – | Kyra H |
| Ensemble/Dad 1 – | Anthony T | Ensemble/Dad 2 – | Shubi P |
| Ensemble/Dad 3 – | Sebastian V | Ensemble Dad 4 – | Jessica T |
| Ensemble/Mum 1 – | Ava C | Ensemble/Mum 2 – | Alannah R |
| Ensemble/Dance Spec/Mum 3 – | Kiska A | Ensemble/Mum 4 – | Elissa E |
| Ensemble – | Ananya J | Ensemble/Dance Spec – | Charlize M |
| Ensemble – | Sania M | Ensemble/Dance Spec – | Yara W |
Thank you to our production parents who volunteered to help with tea, coffee and plates of food for members of the audience to enjoy at intermission. Well done to Mrs Linda Westgarth and Mrs Trish Munday for overseeing the organisation of this fundraising event. Special thanks go to Mrs Narda McLennan our Marketing and Events Manager who worked tirelessly behind the scenes to support this show and all of the other staff and students who helped contribute to this great event.
$35 Million Election Promise 
On the first day of term, Monday 11 July, the Leader of the opposition Mr Mathew Guy and Liberal Candidate for Ashwood Mr Asher Judah came to visit our college and promised $35 Million for the rebuild of our Senior campus. Mr Judah said, "the significant investment will deliver better facilities for students and the local community at Mount Waverley Secondary College."
 State Cross Country
On Thursday 14 July, 6 students headed back to the Yarra Glen racetrack to participate in this year's State Cross Country. The results were amazing.  Izak B of Year 11 came 4th in the open event, running his 5km race in the incredible time of 16 minutes and 8 seconds. Izak's brother Noah, was joined by Aaron C, Hayden V, Andrew D and Tharul H in the Year 8 event. All boys finished in the top 35 and combined to take out the state championship in the team event. It was a great effort by the boys who have run so well at the various stages over the past months. We could not be prouder of our runners! Thanks to Mr Danny Gwynne, Sports Leader for his support and for driving the team there on the day.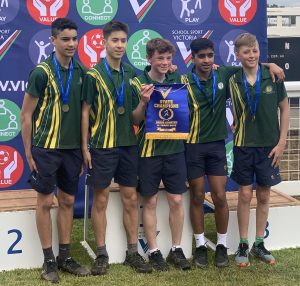 VCE Student Parent Teacher Conferences
On Thursday 14 July, VCE parent /teacher/ student conferences were held. The conferences focused on providing further feedback as to what the student needs to do to complete their VCE subjects to the best of their ability. Thank you to all the staff, students and parents who attended.
Premier's VCE Awards
Mount Waverley Secondary College Win Top Honours
Mrs Julie Cain-Senior Campus Principal and I attended the Premier's VCE Awards on Wednesday 20 July which was held at the Melbourne Convention Centre. Congratulations to Rachel Tan, Chris Rozakeas and Nora Bartol (Year 11) who have been recognised with a Premier's VCE Award for their outstanding academic results in 2021.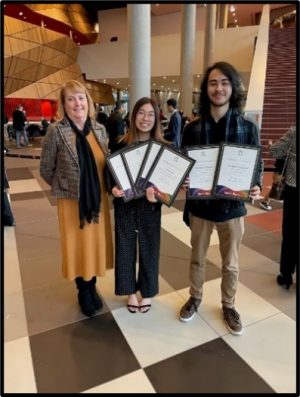 Rachel who was our college Dux in 2021 scored a perfect ATAR of 99.95 and was one of 28 students across the State who received a Premier's VCE Award for being a Top All-Round VCE High Achiever. This award is presented to students who achieved outstanding results in five or more of their subjects. Rachel also received Study Awards in English Language, Further Mathematics and Japanese Second Language.
Chris received two Study Awards for Music Performance and Philosophy and Nora who is currently in Year 12 was recognised with a Study Award for Hungarian which she studied at the Victorian School of Languages.
The annual Premier's VCE Awards recognise the top-performing students in the state. This year, 298 students across 90 subjects were recognised with awards for their outstanding results.
The entire Mount Waverley Secondary College community is proud of our students and would like to congratulate them on being the recipients of such a prestigious award.
Rachel is currently studying Radiography and medical Imaging (Honours) at Monash University and Chris is currently studying a Science/Music degree at Monash University.  We wish them every success.
To view the full Honour Roll and to read more about the Premier's VCE Awards, visit: https://www.vic.gov.au/premiers-vce-awards
House Athletics
Over 700 students attended the House Athletics at the Knox Athletics track on Friday 22 July. I had the pleasure of visiting on the day and watching our students compete in various events. Well done to Mr Danny Gwynne and Mr Jay Newport our Sports Leaders for their great work in organising this whole school event.  Thank you to all the staff who helped make this day a success for our students.  We now look forward to District Athletics later in the term.
College Policies
College Policies are regularly updated and placed on the college website for your perusal. You can find them on the website under Parents-College Documents and Policies-Policies.
The Australian Business and Community Network (ABCN) Accelerate Scholarship program
Applications are open for a scholarship supporting Year 10 students facing economic, family or social challenges that impact their studies or capacity to achieve their tertiary pathway. The Australian Business and Community Network (ABCN) Accelerate Scholarship program provides students with a dedicated corporate mentor and financial support.
This includes time with the mentor to help set goals and develop valuable workplace skills and $7,000 in financial assistance, for school expenses, over 3 years.
Eligibility requirements
All Year 10 students who are Australian citizens or permanent residents are eligible to apply.
Students must also meet 2 out of the 3 categories to be eligible:
demonstrated academic commitment and high engagement
demonstrated responsibility and organisation as a leader at school or in extra-curricular activities
demonstrated commitment and dedication to community service and sports, including to others in need, to their extended family unit or sporting team.
How to apply
Interested students should speak to their teacher about the application process and their eligibility.
As part of the application, students must submit a short essay addressing 'the difference this ABCN scholarship will make to my life and the community around me', and include the following responses:
the benefits of having a mentor
what the student would use the scholarship funds for
the impact they would have in their community.
The application must be submitted by the principal on behalf of the student.
Applications close Friday 19 August 2022.
Scholarship recipients will be informed in late October 2022.

Ritchies have some exciting news to share, they have a new look Ritchies card and App with new features & exciting offers. Please note from 20 July all members will be required to log into their account at https://loyalty.ritchies.com.au to update their account.  Ritchies App users will receive an update notification – simply update your app and complete the required fields.
Mrs Karen Wade
College Principal