College Principal's Report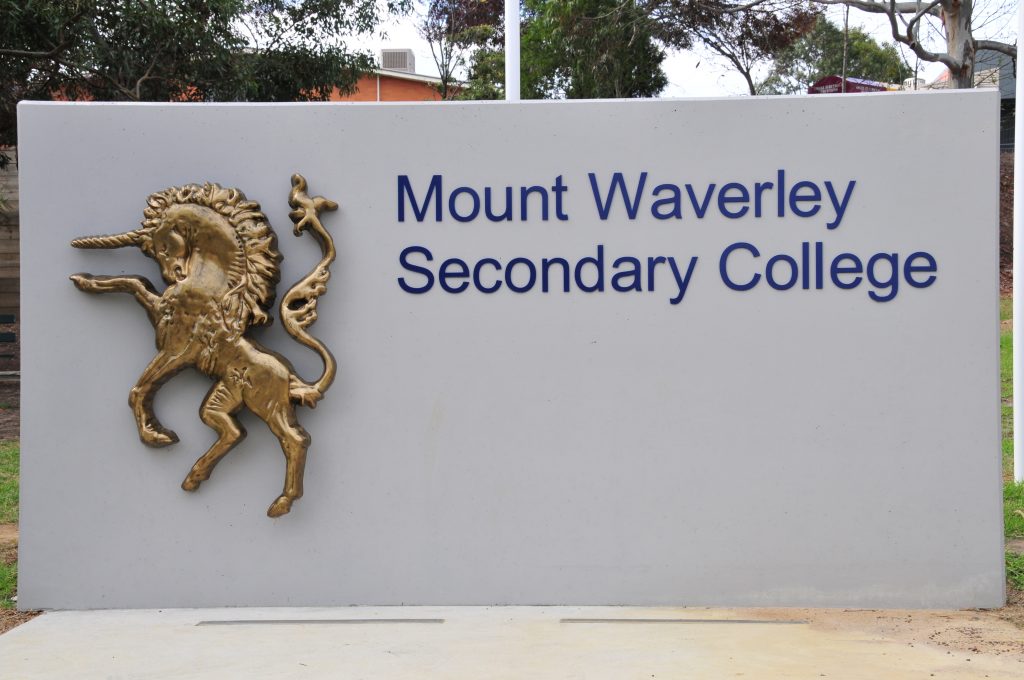 Lions Youth of the Year
On Sunday 21 February College Captain Aarya, Deputy Captain Jacquelyn and College Prefect Stephanie, represented Mount Waverley Secondary College in the Lions Youth of the Year (YOTY) competition. The competition involves a written application, interview and public speaking component, and focuses on leadership and community contribution.
Jacquelyn was the overall winner on the night, and she made us very proud!    Stephanie was presented with the public speaker award and her speech was focussed on vocational education.
Thank you to Ms Hayley Dureau who accompanied our leaders on the day to support our talented students.
Swimming Success
Congratulations to our students who competed in the Division Swimming Competition last Friday and won the overall shield for the sixth year in a row, after narrowly beating Vermont Secondary College by 18 points to take out the title. Our students' determination throughout the day to create this slice of history is a credit to them and their willingness to step outside their comfort zone and compete in every event to gain points for our school was incredible.  Special congratulations to the following students who were awarded as Year level champions;
Aleisha C  – Year 7
George H – Year 8
Edolie R – Year 9
Tolly N – Year 12
MWSC also won the Junior and Intermediate shields, and came second in the Senior shield.    Well done to all involved and thank you to Mr Gwynne and Mr Wall for overseeing this event.
School Council Student Representatives
Congratulations to Monil and Jane of Year 12 who were elected to represent on student body of the 2021/22 School Council.
Special thanks to all of the other students who were nominated and to Ms Hayley Dureau for organising this student election.
Mount Waverley Secondary College alive with the Sound of Music!        
This year the college has an amazing 250+ students participating in the Music Program.  They are committed to a gruelling training schedule which results in these students showcasing their incredible talents in the 3 concert bands, 2 stage bands, 3 string orchestras, 2 guitar ensembles, 2 choirs, a rock band, a jazz combo, percussion ensemble, production band and various chamber ensembles. We also have 2 string orchestras and 2 concert bands that are part of our Year 7 classroom music program giving every one of our Year 7 students an opportunity to experience playing in a band.
Our learning community looks forward to attending and enjoying many performances provided by these students through the year.  This fantastic music program is a tribute to the hard work and talent of our dedicated instrumental and music teachers.
Seussical the Musical     
Thank you to all the students who auditioned for Seussical the Musical last weekend. Special thanks to Mr Tom Frost who will be directing the production this year and Mrs Tijtje Keatley who is the Musical Director. Thank you to our 2019 Alumni students – Ethan, Monique, Chana, Laura and Nina who came to support our students on the day. Rehearsals will begin this week!
MWSC Jazz Night
The Jazz Night is on Thursday, 25 March 6.00pm at the Fish Bowl on the Senior Campus.   All tickets were sold out very quickly. The money raised will go towards the college jazz and stage bands participating in the Victorian All-State Jazz Championship in May. This is a picnic style event where attendees will be required to bring their own chairs and rugs (max 10 sitting together).
Entry through Gate 5 Beaufort Street only where tickets will be checked as well as details for COVID safe purposes. An alternate date has been organised in the case that the event is rained out – Wednesday 31 March 2021.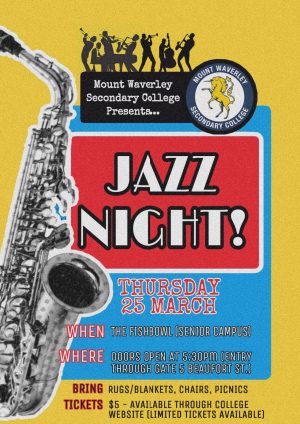 Mrs Karen Wade
College Principal