College Principal's Report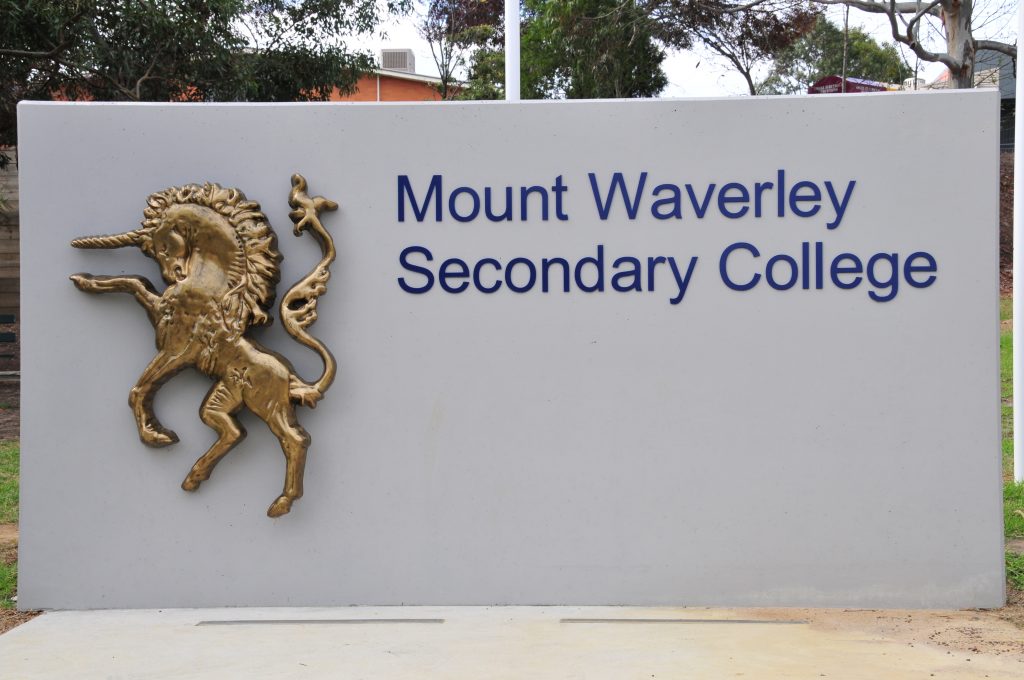 Welcome back
I hope everyone had a safe, relaxing and enjoyable holiday.  As College Principal I look forward to joining with students, teachers and parents for another exciting and productive year of teaching and learning at Mount Waverley Secondary College.
I am pleased to report that the college continues to build upon our successes. Our 2020 VCE results were excellent with our College Dux, Daniel Zhu, receiving an ATAR score of 99.5, thirty two students received an ATAR of over 95 and 44% of the cohort received an ATAR of 80 or above. 279 VCE students received their VCE certificate which is a great achievement, considering the challenging year we all experienced last year
A very warm welcome to all new students and their families. You are embarking on a wonderful learning journey, which will be enhanced by always trying your personal best.
Mount Waverley Secondary College provides a learning community where we all respect and care for each other, always working cooperatively as a team.  In addition our college provides you with magnificent facilities and resources which are yours to use to maximize your learning opportunities.  Please don't be afraid to ask questions. Staff and students are eager to help you make a successful transition into our college.
Welcome new staff  
I would like to welcome the following new staff to the college:
New Leading Teachers
Mrs Meagan Merlino – Sub School Leader Middle School – Maths/Psychology
Returning Staff
Mrs Alison Armstrong – Maths
Ms Samantha Cody – Sub School Leader Junior School
Other New Staff are
Ms Jovana Removic – German
Mr Conrad Soderlund – Systems Tech/Design Tech
Ms Nicole Dickinson – English
Mr Jay Honey – Maths/Science
Ms Beth Johnston – Tutor – Literacy
Ms Jasmine Lange – Maths
Ms Jenny Curtis – Tutor – Numeracy
Ms Tiffany Zhang – Tutor – Numeracy
Ms  Danielle Robertson – English
ES Staff
Mrs Judith Walsh – Business Manager
Mrs Melinda Rowe – Middle Sub School Admin
Mrs Agnes Triwiyono – Senior Sub School Admin
Mrs Trish Munday/Jane Hamer – Food Assistants Senior Campus
Ms Haley Bullmore – Chaplain
School Council Election 2021
The Department of Education and Training has approved the commencement of the electoral process for the election of School Councillors for 2021.
Our College Council consists of seven parents, two students, five staff members (including College Principal) and four community members.
Term of office is for two years with half of members retiring each year but eligible for re-election. Four parents, two staff members and two student members end their term of office in March 2021
Retiring College Councillors
The following members of College Council, while they may be eligible for re-election, retire next month:
Parent Members :
Mr Nishant Patel,  Mr Madhur Gupta,  Mrs Manpreet Oberoi and Mrs Shraddha Apte
Staff Members :
Mr Bill Thomas and Ms Lisa McKiernan
Student Members :
Lewis Cavolo and Jesse Jovellan
Friday 5 February                   Call for nominations
Friday 12 February                 Nominations close 4.00pm
Monday 16 February             Nominations displayed at each campus.
Election held if required.
Friday 26 February                 Close of ballot 4.00pm. Votes counted.
Thursday 18 March                College Council AGM, followed by meeting of new Council.
If the number of nominations exceeds the vacancies in either the parent, student or staff categories, an election will be necessary. All parents are entitled to vote for parent representatives, all students are entitled to vote for student representatives and Department of Education and Training (DET) employees vote for staff representatives.
Methods of Voting (voting slips available on college website or college office)
There are two ways in which you can record your vote on the official voting form during the election period dates as listed above:
Post your vote to the college to arrive by 4.00pm Friday 26 February or
Vote in person at the college general office at either campus between 8.00am and 4.00pm during the election period
Students will receive electronic voting slips (if required)
Nominations of Candidates
For most school councils, there are four possible categories of membership:
A mandated elected Parent category – more than one-third of the total members must be from this category. Department of Education and Training (DET) employees can be Parent members at their child's school as long as they are not engaged in work at the school.
A mandated elected Student category – to be elected the person must be a student enrolled in Year 7 or above. These 2 members are elected by all students enrolled in Year 7 or above at the school.
A mandated elected DET employee category – members of this category may make up no more than one-third of the total membership of school council. The principal of the school is automatically one of these members.
An optional Community member category – members are coopted by a decision of the council because of their special skills, interests or experiences. DET employees are not eligible to be Community members.
Role of School Councillors
School Councillors currently play an important role in decision making and the management of our college.  They donate many hours to the sub committees of Council:  Finance, Education and Buildings & Grounds.  Councillors belong to one sub committee, attend one monthly council meeting and represent the college at many functions.
SCHEDULE 4 – Notice of Election and Call for Nominations
An election is to be conducted for members of College Council of Mount Waverley Secondary College.
Nomination forms may be obtained from the college General Offices or the college website and must be lodged by 4.00pm on Friday 12 February 2021.
Following the closing of nominations, a list of the nominations received will be displayed at each campus.  The terms of office, membership categories and number of positions in each membership category open for election are as follows:
Membership                           Term of Office                         Number of positions
Parent Member                       18 March 2021 to 18 March 2023                 4
DET Employee Member      18 March 2021 to 18 March 2023                 2
Student Member                   18 March 2021 to 18 March 2023                 2
If the number of nominations is less than the number of vacancies, a notice to that effect and calling for further nominations will be posted in a prominent position at the college.
If there are more nominations than vacancies, a ballot will be conducted.  The ballot will close at 4.00pm on Friday 26 February 2021.
2021 College Uniform
All families should have seen a copy of our 2021 College Uniform Policy. Your support in ensuring the correct uniform is worn is much appreciated.
If your child cannot wear the correct college uniform, a note from a parent/carer is required. This should be forwarded to the appropriate Year Level Coordinator before school. An out of uniform pass will be indicated in the students' planner or a pass given.
Mount Waverley Secondary College is the college of choice in our local area and it is important that our students wear the uniform with pride, representing the college in a positive manner.
Annual Privacy Reminder
Our school collects, uses, discloses and stores student and parent personal information for standard school functions or where permitted by law, as stated in the Schools' Privacy Policy
Please take time to remind yourself of the school's collection statement, found on our website https://www.mwsc.vic.edu.au/privacy-policy-3/
For more information about privacy, see: Schools' Privacy Policy – information for parents. This information is also available in nine community languages.
 House Swimming Sports
On Wednesday 3 February we held our annual House Swimming Carnival at Oakleigh Recreation Centre. I had the pleasure of visiting the sports on the day and the weather was perfect.  
Our students can be extremely proud of their participation and conduct, including those who have been successful in gaining a place in our college swimming team. We wish these students all the best as they take on the division on other schools in the Division finals Friday 26 February. 
Congratulations to Mr Danny Gwynne and Mr Liam Wall our Sports Leaders for their organisation of this event.
 Selective Entry High School
Congratulations to the following students who have been accepted into Year 9 at Selective Entry High Schools this year:
Karar A, Sandesh T, Himaya F, Yura K, Teresa W, Sethumi F, Dhiren M, Yu Zheng L, Eunice Y, Misthi R, Shishta J, Rachel H, Agastya G, Anish T, Kavika A, Radin T, Tian C, David L and Zainab A.
We know that your studies at Mount Waverley Secondary College have given you a strong foundation for your future academic pathways.
Mrs Karen Wade
College Principal