College Principal's Report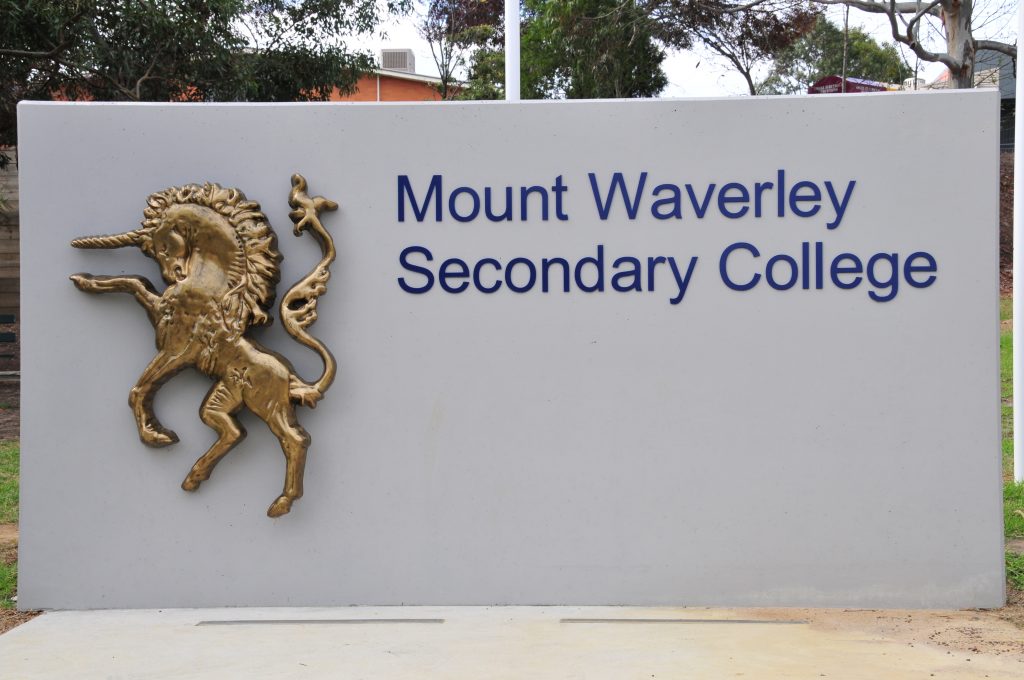 Thank you to my Executive Team
I would firstly like to thank my incredible Executive Team, my three Campus Principals Mr Andrew Batchelor, Mrs Julie Cain and Mr Ian MacLeod and my Business Managers Mrs Kari Simmons and Mrs Linda Westgarth for their dedication and hard work over the last term. We have been meeting on a daily basis to discuss school operations and I couldn't do my job without their fantastic support! The Executive Team contributed to the items written below.
Year 12 Motivational Letters
Recently all of our Year 12 students received an individualised thank you letter with comments from some of their teachers. Thank you to the Senior School team for organising our Year 12 Motivational letters for our students and special thanks to Mrs Narda McLennan for compiling these letters. Some student responses were:
"Thank you for the email this is beautiful!" – Jennifer S
"Thank you so much for sending this through, it really made my day :)" – Jennifer C
"This is incredibly thoughtful idea and has made many year 12 students days and weeks, it means a lot!   Thank you to everyone who was involved in organising it :)   – Ebony G
Year 11 Presentation
Thank you to Mr Paul Graham Manager of Student Wellbeing, Mrs Kerri Haworth Student Wellbeing Coordinator and our Wellbeing Team who hosted a presentation by Mr Brad Felstead, called Study Calm on Monday 24 August to our Year 11 students. The presentation helped teach students a range of meditation, mindfulness and positive thinking strategies that can help them coping with the extra stress and worry that COVID 19 has brought, reduce anxiety levels in relation to their study, home life or personal relationships, help them maintain concentration, improve their sleep patterns and help them build their resilience.
Year 10 Presentation
 On Tuesday 25 August our Student Wellbeing team hosted a special guest speaker, Mr Trav Munro. Trav spoke to the students about identifying their values, using positive self-talk to improve their mental health and how to help them understand their current mood and emotions to get through the current lockdown and make the most out of the remote learning experience. Thank you to everyone involved.
MWSC Virtual Cross Country
Congratulations to the students and staff of MWSC on what can only be described as an unbelievable effort during last week's virtual cross country.
Our school walked or ran a total of 9,015.33kms. We travelled through Victoria, New South Wales, Queensland, and the Northern Territory and into Western Australia, where our journey came to an end in Port Hedland. What an amazing effort by the entire school community. Well done!      I would also like to congratulate our individual winners:
Year 7 Results
1st Place – Flora P
2nd Place – Arushi M
3rd Place – Andrew D
Year 8 Results
1st Place – Athan M
2nd Place – Jesse K
3rd Place – Alannah R
Year 9 Results
1st Place – Viola H
2nd Place – Jocelyn S
3rd Place – Tom H
Year 10 Results
1st Place – Charlotte W and Nima M
2nd Place – Haidee K
3rd Place – Bowen C
Year 11 Results
1st Place – Yuke Z
2nd Place – Amrith S
3rd Place – Thidas G
Year 12 Results
1st Place – Izabella P – Year level and overall student winner
2nd Place – Emlyn B
3rd Place – Breanna M
Staff Results
1st Place – Ms Boughen
2nd Place – Ms Geros
3rd Place – Ms Williams
Congratulations to Mr Danny Gwynne our Junior Campus Sports Leader, on this great initiative and for entertaining us with fun video clips during the week!
Parent Teacher Conferences
Last Wednesday 9 September the college ran another successful parent teacher conferences via WebEx. Feedback from parents and staff was positive. Thank you  to all involved in organising the event and to the teachers who provided feedback and advice for parents/ carers.
RUOK? Day
Thank you to Mrs Mia Walduck our Chaplain and the Student Wellbeing Team for publicising the RUOK? Day last Thursday 10 September and for promoting a resilience activity last Friday. We appreciate all of your efforts in supporting our students over this challenging time.
Junior Campus Assembly
On Wednesday 16 September we held a Junior Campus Assembly for all Year 7 and 8 students and staff to come together and celebrate the successes from remote learning this term. It was a really positive and uplifting experience with so many great contributions and recognition of all of the fantastic work our students and staff have been doing during challenging times.
Mrs Wade shared the inspirational story of Turia Pitt and some key messages that certainly resonated with our students. Mr Simon focused on wellbeing, learning and preparing for the end of 2020 and start to 2021. Mr Barca celebrated the Home Group program that has run this term with some great connections and activities undertaken including input from our Year 8 Student Leaders. Ms Mott gave some clear wellbeing strategies for students over the upcoming holiday period including a focus on having a break from their digital screens. Miss Leszczynski celebrated our students who participated in the University of Melbourne Mathematics competitions and our Creatember initiative that some of our Student Leaders have run.
We also had the opportunity to watch some of the wonderful student and staff videos that put a smile on everyone's faces!
Our Junior School Year Level Coordinators: Ms Rogers, Mr Johnston, Ms McCracken and Mr Quiambao recognised our students who have clearly demonstrated our iLEARN Values during remote learning. They also recognised the efforts of our students who participated in the Virtual Cross Country event organized by Mr Gwynne.
Thank you to all of these staff for presenting to our students and being part of such a positive campus assembly.
General Achievement Test (GAT) – Information Session
On Thursday morning VCE students attended a session on the GAT. Students received information about the GAT itself, the importance of completing the GAT to the best of their ability and tips and strategies to approaching the exam. A number of staff presented information to the students, special thanks to Ms Jane Abley, Mr Mike Thorburn and Ms Clare Challenger for sharing their knowledge and experience. Thanks also to Ms Lisa McKiernan and Mr Matt Cara for presenting, organising and overseeing the session.
The GAT will take place on Wednesday 7 October. Information will be sent to students beforehand. It is important that students note the time of arrival for temperature checking and come prepared with masks, dictionaries, pens etc. Please follow up with your child to ensure they have this information.
Year 9 Wellbeing Day
Friday 18 September saw our Year 9 Students participate in a Wellbeing Day.  The day covered a wide range of topics giving students plenty of tricks and tips on wellbeing.   The presenters included comedian Mr Declan Fay, the college Nurses and a yoga teacher Ms Simone Cosgriff.  Thanks to the Wellbeing team, in particular Mrs Kerri Haworth, for making this happen.
STEAM Centre Design Process
The new STEAM Centre design process has started with our architects, BKK Architects.  The initial meetings have been very positive, with BKK building their understanding of the college and our vision for the STEAM centre.  We look forward to continuing to work through the design process with BKK in the coming weeks and months.
2020 VCE Leadership Awards
Thank you to Ms Hayley Dureau Head of Student Voice for nominating Jennifer C of Year 12 for the 2020 VCE Leadership Awards. The awards are coordinated by the Victorian Curriculum and Assessment Authority (VCAA) to recognise VCE students for their leadership, initiative and involvement in extra-curricular and community activities. I am pleased to announce that the VCAA has selected Jennifer as a winner of a VCE Leadership Award. This year's VCE Leadership Award Ceremony was held today and I watched Jennifer receive her award online. Congratulations Jennifer!
Monash Tech School
During this term some of our Year 7 students participated in the Monash Tech School program virtually around the theme of 'Can you Fold It?' which introduced students to the science behind pathogen structure and function, drug discovery and design and proteins. Thank you to Ms Georgia Mangano-STEM Coordinator for organising this opportunity for our students.
Mount Waverley SC Teachers supporting others
A number of teachers from the college have been presenting professional development for teachers, at various network and department meetings and conferences and student revision lectures. Congratulations to the following staff for their work and contribution; Ms Hayley Dureau, Ms Jane Carter, Mrs Debbie Sekula, Mr Peter Soutar, Ms Amanda Reed, Mr Matt Hall, Mrs Stephanie Thomas and Mrs Julie Cain. It is pleasing to see the expertise and experience of our staff recognised.
Student Wellbeing Website
Our brand new Student Wellbeing Website is up and running for students and contains many excellent resources designed to empower and support them with their wellbeing. If you haven't yet had the opportunity, please have a look as it will support your work with our students. Thank you to Mr Paul Graham for his work in putting this website together, well supported by the rest of the Student Wellbeing team.
Term 4 Program
Please note commencement dates for Term 4 (unless otherwise advised)
Monday 5 October – Continue remote learning for all year levels
Wednesday 7 October – Year 11 & 12 students studying Unit 3/4 subjects to attend the General Achievement Test (GAT) at the college.
Monday 12 October – Year 11 & 12 students to return to on campus learning. Years 7 – 10 to continue remote learning
Great Support
Thank you to the Junior, Middle and Senior Sub School Teams and our Wellbeing and Careers teams for their work in supporting our students across this period of remote learning. We are lucky to have such caring and dedicated staff at Mount Waverley Secondary College and it is just another thing that makes our college so special.
Happy Holidays
It has been a busy and challenging term but I would like to thank all of my wonderful students and staff for their outstanding efforts during this time. I am very proud of everyone's achievements whether it was during onsite learning or remote learning. We have achieved and will continue to achieve some wonderful things and we are learning a lot on our current journey. A great quote from Helen Keller "Alone we can do so little, together we can do so much".
Take care everyone and I look forward to seeing you next term.
Mrs Karen Wade
College Principal