College Principal's Report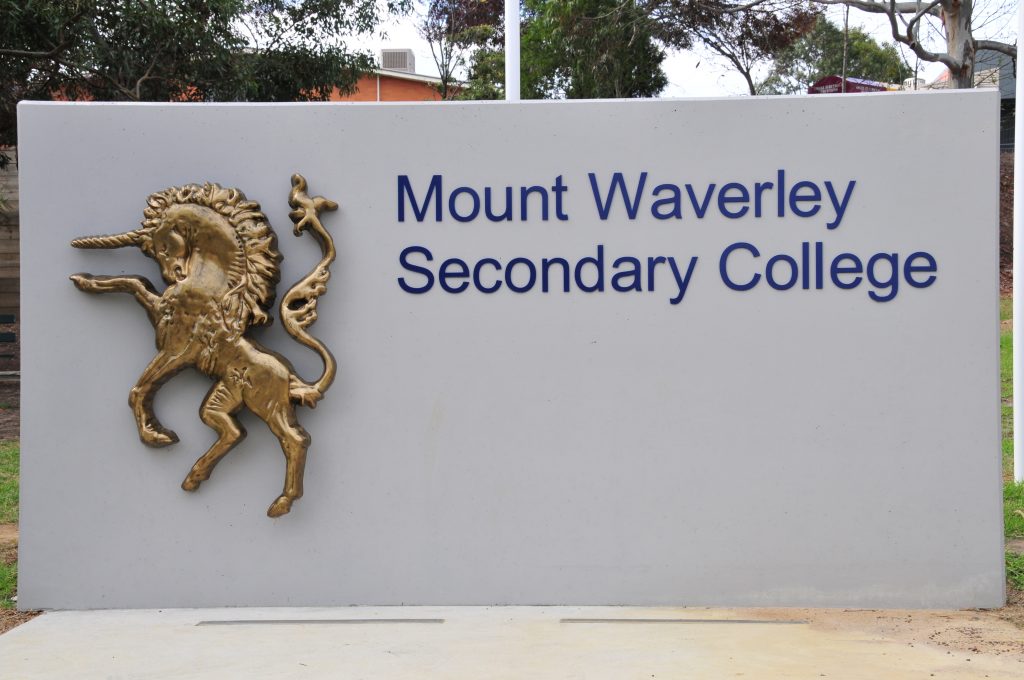 We have a great community at Mount Waverley Secondary College
I would like to say thank you to everyone in our learning community for their support during these challenging times. I have the utmost respect for how our students and staff have coped with the shift from onsite learning to remote learning to onsite learning and now back to remote learning. I know it is not easy for families as well but we will get through this.
A quote I have up on my office wall and which I have shared with students and staff is this:
"When you can't control what's happening, challenge yourself to control the way you respond to what's happening. That's where your power is."
Well done to our VCE Students and Staff
Our VCE students attended the Senior Campus during the first three weeks of term. Congratulations to all of them for their co-operation in having their temperatures checked and wearing masks. Their behaviour and attitude at this difficult time have been excellent. Thank you also to the teachers, Education Support staff and the Senior School team for their work with supporting our students.
Making an appearance this term is Macey our MWSC Therapy Dog. Macey belongs to our HR Manager Ms Andrea Hardcastle and completed training as a therapy dog over the last holidays. The students enjoyed seeing Macey at temperature checking and Macey also visited some classrooms and the students loved seeing her.
Holiday Works
Across the holiday period the ICT and Facilities Teams were busy improving the college.
The ICT Works undertaken included:
Phone system software upgraded
Tranche 20.2 notebooks for staff received and prepared
C1, C2 C4, C5 and C6 room computers re-imaged
Loan devices re-imaged
Projector maintenance on JC
Work on Core Servers and security certification
DHCP and Print servers upgraded
The Facilities Team also worked on a wide range of tasks as outlined below:
Soil spread and grass laid to make pathways at portables/oval safer
Clearing, removal, relaying of drainage pipes along the stairs at the senior sails area to allow better drainage
Senior Campus Hall glass replacement
Large tree removed from small Junior Campus car park
Inspection of roof anchor points completed
LA61 – new carpet and painting – it looks brand new!
LA62 – internal doors repainted
Corridor to SC Staffroom – painted and new carpet laid including new foyer matting at both ends of the corridor
Painting various places including Middle School building (D12 D13 D11); as well as A3 ceiling; and Senior Hall fan room corridor to new exit door and LA11 section of ceiling;
Pressure cleaning – decking at Senior portables; around Middle School building (under vertical garden, back of D11, from conference room to the middle doors); VCE ramp in front of offices; Junior boys admin toilet to remove graffiti
Monash Council – fixed the edge of the path on Stephensons Road at Junior Campus from bus shelter to the crossing
Junior Home Economics – mould issue fixed – repairs and repainting
LA44 – 5 new science benches installed
LA11 – installed window film to finish off the room
All gutters cleaned out across both campuses
All gas heaters across the college have been serviced and repaired where needed
P6 air conditioning replacement works finished
Asbestos removal works in theatre and maintenance store with light replacements
Year 12 Locker Bay refurbishment including new lockers and painting of both walls and floor – it looks amazing!
Thank you to our ICT and Facilities teams for their great work across the holiday period it is an impressive list!
Parent Teacher Conferences
The college held two parent teacher conferences in the first two weeks of term three. Thank you to all of the teachers and parents who were able to participate in a new way of conferring. It was pleasing for teachers and parents and students to have an opportunity to discuss student progress.
Subject Information Evenings, Careers
This week has been incredibly busy with a large number of our staff working hard to ensure that students and their families have been able to access information and advice to assist them in selecting subjects for 2021 and possible future career pathways.
On Tuesday 4 August the VCE 2021 Course Information Night will took place via WebEx. There was a session for 2021 Year 11 students and 2021 Year 12 students and their parents. For the first time this was done via WebEx and it was pleasing to have approximately 300 families involved in the sessions. Thanks to Ms Lisa McKiernan, Head of Senior School, Mr Matt Cara, Senior Subschool Leader and Ms Jo Hall, Head of Careers for their presentations. Parents will receive a copy of the presentation.
On Thursday 6 August the 2021 Year 9 and Year 10 Course Information Nights were held via WebEx. Again many families attended which was very pleasing. Thank you to Ms Sarah Chase, Head of Middle School, Ms Mardi De Kretser, Middle Subschool Leader and their team for organising these events.
Prior to the sessions, families were able to receive more specific subject advice from a range of teachers and faculty heads via WebEx. Thanks to all of the staff involved. In addition, students have access to a range of resources including video presentations developed by the faculty heads and also the subject handbooks for Years 9,10 and VCE. These resources should allow students to make informed decisions about what they would like to study next year.
A huge thank you to the subschool teams, Heads of School, the Teaching and Learning team and subject teachers for all of their work in preparing for these events.
Year 10 to 11 course counselling interviews
On Thursday and Friday the middle and senior school teams, a number of teachers and the Careers Team were all involved in interviews to confirm student courses for 2021. This year it was completed through WebEx with all Year 10 students having a 15-minute interview with a staff member.
Any student or parent who would like to speak to the Careers Team or a member of the senior subschool team can do so by emailing to arrange a meeting or phone call.
Student choices for Year 11 and 12 2021 subjects must be completed by next Friday 14 August.
Assessment during remote learning
All students will be continuing with assessment tasks and activities during remote learning. Students will receive information via Compass. Please check Compass for details and for feedback when a task has been completed.
Student Wellbeing
As we have moved back into remote learning for all students this term, we will continue to prioritise student wellbeing to ensure all of our students are healthy, happy and able to learn. To support an ongoing connection and sense of belonging for students and staff with the college, we are again running Google Meet sessions during Home Group for students in Years 7 to 9 each morning, along with Google Meet sessions during Mentoring for students in Years 10 to 12 each afternoon. We would like to thank all of our wonderful teachers who are taking one of these groups each day to ensure students have a continued positive connection with the college.
Our Student Wellbeing team, along with each Sub-School team, have worked closely with these Home Group and Mentoring teachers to support a whole school approach to student wellbeing. The Heads of School and Sub-School Leaders have been working together to come up with some great activities designed for our students and staff to explore. We look forward to further developing these sessions and providing positive and useful strategies for our students during this challenging time.
STEAM Centre
We are currently going through the process of selecting an architect to design these new learning spaces.  This project is moving ahead rapidly which is exciting.  More news to follow in the coming weeks.
Mrs Karen Wade
College Principal