College Principal's Report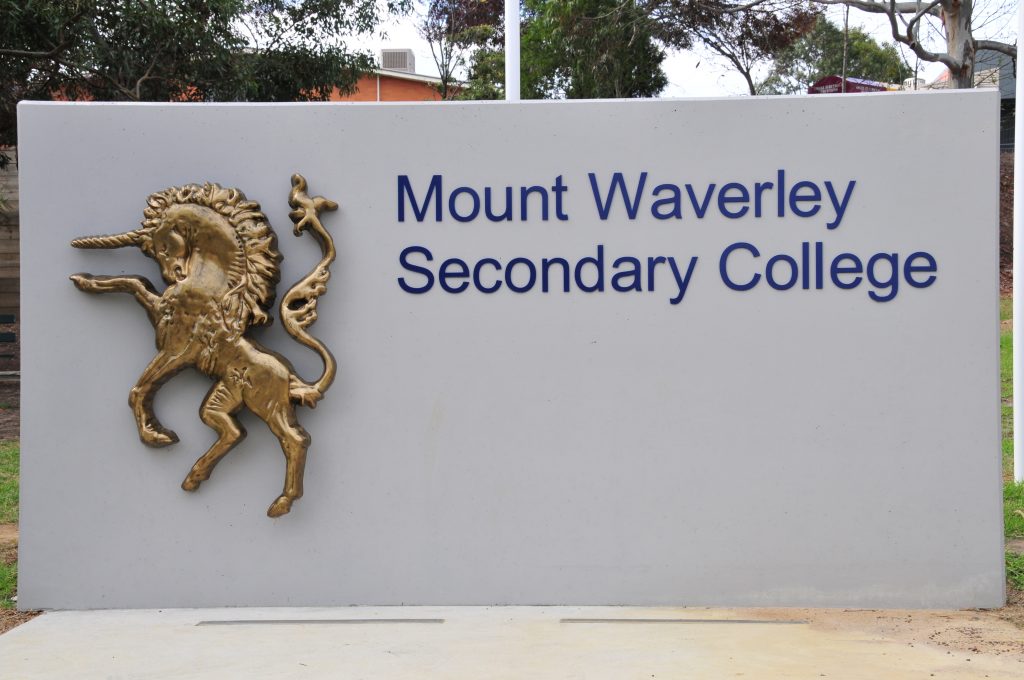 Retirements
At the end of this term we farewell the following staff who are retiring after many years of dedicated service to the Mount Waverley Secondary College learning community; Dr Les Mullins, Ms Dina Verginis, Ms Linda Crook, Ms Linda Wotherspoon, Mr Peter Schneider and Ms Maureen Theobald. We wish all of our retirees the best in their future endeavours and know that they will enjoy the next phase in their lives.
Careers Week
Your 'Career is a journey, not a destination' was the theme for Careers Week which was held recently.  Thank you to Mrs Joanne Hall Manager of Careers Education and Mrs Lyn Luongo Careers Education Coordinator for putting together an exciting program including daily activities for students.
Japanese Online Conference
Eight of our VCE Japanese students, Lynn Li G, Bach N, Aaron C, Francis M, Jungmin P, Steven L, Charlie W and Helena Z participated in an online conference with students from Meiho High School in Tokyo recently. Students from each school exchanged information and shared their opinions about the life-style change that they have experienced in the last few months amid the coronavirus pandemic. Our students gave presentations all in Japanese and actively engaged in a discussion with the Japanese students showing amazing competency in their communication skills. Meiho High School was originally visiting us in August and we were going to visit them in September as part of the Japan Study Tour. Under the current situation, these plans are not going ahead, but we were very lucky to have this occasion where students could meet and interact using the languages they study. Special thank you to Ms Ayako Yasunaga our Head of Languages for organizing this learning opportunity.
 Remote Learning Survey
Thank you to all the parents/carers, students and staff who completed the feedback survey on our remote learning experiences recently. The aim was to capture a snapshot of the experiences of the MWSC community as we adapted to this new way of learning. The data will be used to celebrate our collective resilience and improvements in student agency. Well done to Ms Hayley Dureau, Head of Student Voice for leading the project along with a working party of students and staff. Hayley presented the remote survey findings to College Council last Thursday night. The results were very positive and showed how much the students and parents appreciated everyone's efforts whilst we were working from home.
Thank You Letters
I really enjoyed reading the thank you letters that all 200 staff received from me when they returned to school but I can't take the credit for the idea. Mr Adam Laan, Acting Head of Pedagogy came up with the idea. He wanted to be able to recognise the achievements of all staff whilst we were in a remote learning environment and sometimes we don't know what everyone is doing behind the scenes. So Adam created a huge spreadsheet and along with Mr Matt Sheehan's help had all of the Learning Specialists and Leading Teachers contribute to this spreadsheet by recognizing their colleagues with positive feedback. Adam then emailed all of the students and over 500 students responded with comments about how their teachers and support staff had helped them throughout this challenging time. Thank you so much to everyone who helped with this important project. There is no 'I' in TEAM!
Student Wellbeing Webinar
On Wednesday 3 June, Mr Paul Graham our Manager of Student Wellbeing hosted a Student Wellbeing webinar for parents to support them and their children in a return to on-site learning. Thank you to Paul, Ms Danielle Mott and Mrs Kerri Haworth our Student Wellbeing Coordinators for their efforts in putting this together. Over 120 parents including the College Principal attended and found it to be a very informative, helpful and positive presentation.
The Skellig Audiobook Project
Our Year 7 students will commence their study of the novel Skellig by David Almond next term. As part of this, the Year 7 English team have created an Audiobook Project for the students involving various staff recording themselves reading one or more chapters of the novel. Thank you to Mr John Simon and Ms Clare Challenger for organising this great initiative, supported by the rest of the Year 7 English team and staff participating. We look forward to listening to the finished product.
STEAM Centre Planning
The planning for our new STEAM Centre is underway with support from the Victorian School Building Authority (VSBA) and NEVR Regional Office.  The first phase of this work has been completed by the end of this term.  Thank you to Mr Ian MacLeod, Campus Principal in charge of Facilities for overseeing this project.
Staff Nomination
I recently received a letter from Mr Bruce Atkinson, Member of the Victorian Legislative Council for Eastern Metropolitan Region asking me to nominate a staff member who went above and beyond during the remote learning phase. I decided that I had to nominate all staff at Mount Waverley Secondary College because everyone has done such outstanding work during this time. Congratulations to all of my wonderful staff!
Wellbeing Team Morning Tea
I had the pleasure of attending a special morning tea last Friday to thank the Wellbeing Team for all of their hard work during the remote learning phase. Our Manager of Student Wellbeing Mr Paul Graham, our inclusion team, nurses, wellbeing co-ordinators and chaplain all worked tirelessly behind the scenes to ensure that the wellbeing of our students was our number one concern and that our students were being supported.
Year 12 Drama Performances
Our Year 12 Drama students presented their ensemble pieces in the Theatrette last Wednesday and I thoroughly enjoyed their talented performances. Thank you to Ms Jane Carter for organizing this opportunity to showcase our students work.
Hand Sanitiser Donation
Recently we received 326 bottle of hand sanitizer donated by the company New Vivid Pty. Ltd. This was organized through the company, DET and Monash City Council and all schools in the city received bottles based on the number of classrooms they had.  I wrote a letter of thanks to Mr Jeff Zhang and the company on behalf of our learning community.
Morning Tea
Today our local Member of Parliament for Mount Waverley, Matt Fregon, kindly provided morning tea for our staff to thank them for their efforts during remote learning. Special thanks to Matt for recognizing the work of our teachers and support staff at this challenging time.
The Cheesecake Shop
Thank you to the The Cheesecake Shop Mount Waverley 2/41 Blackburn Road, who kindly donated some cakes for our staff this week. We thoroughly enjoyed this special treat and encourage you to support our local small businesses during these challenging times.  The Mount Waverley Store is offering 10% off to all staff and students at the college.    All you need to do is present a picture of the flier attached.
Positive Parenting Program
 Families can now access free expert parenting advice through the online Triple P – Positive Parenting Program. The website address is https://www.triplep-parenting.net.au/vic-uken/triple-p/
The program is relevant to families with children between 2 and 16 years and provides strategies to deal with specific challenges, such as building children's resilience and dealing with conflict.
There are courses specifically for parents of toddlers to tweens, and for parents of pre-teens to teens.
It gives parents strategies to:
raise happy, confident kids
manage misbehaviour so everyone in the family enjoys life more
set rules and routines that everyone respects and follows
encourage positive behaviour
take care of themselves as a parent
feel confident they're doing the right thing.
Parent/Student/Teacher Conferences
Parent/Student/Teacher conferences are being held remotely for Years 10-12 students on Thursday 16 July (Week 1 – Term 3) and for Years 7-9 on Thursday 23 July (Week 2 – Term 3). These will be conducted via Webex Meetings. Please note these interviews relate to Semester 1 subjects only. As there are only 30 spaces for each teacher if you can't make an appointment please don't hesitate to contact teachers via email if you would like further feedback. On Wednesday 9 September,  we will be holding a whole day of interviews for Years 7-12.
Happy Holidays
It has been a huge and interesting term and one we will never forget. Have a well-deserved break everyone and enjoy time with your family and friends. A reminder that Term 3 begins on Monday 13 July.  Stay well, take care and I will see you next term.
Mrs Karen Wade
College Principal