College Principal's Report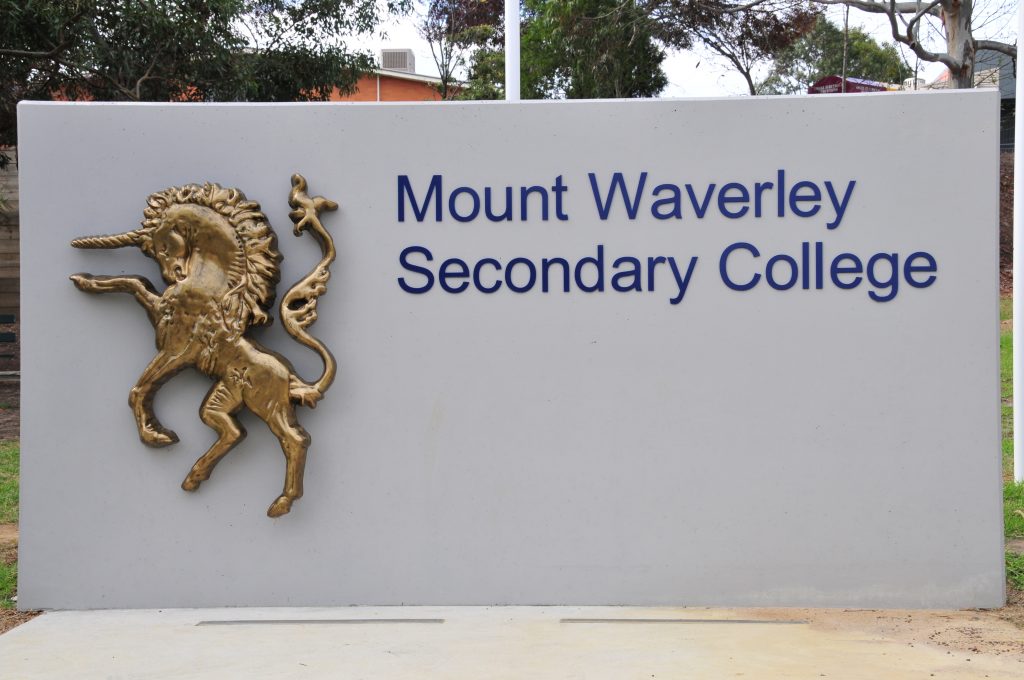 I look forward to writing my newsletter article because there are always student and staff achievements which have great cause for celebration.  This fortnight is no exception.
Sports Awards Evening    
Congratulations to Mr Danny Gwynne and Mr Liam Wall for their work in organising our first ever Sport Awards Night at the college on Monday 21 October.  It was fantastic to see so many staff and students in attendance, celebrating and recognising the great achievements our students have made in 2019. It was also wonderful to welcome back Ms Kate Eddy, a former Mount Waverley Secondary College student who represented Australia in the 2017 Netball World Youth Group where she held the role of Vice-Captain. Kate is currently playing in the Suncorp Super Netball League for the Melbourne Vixens. Kate willingly gave up her time to come back to Mount Waverley Secondary College for this special event and we proudly inducted her into our Hall of Fame.
Graduation Evening: Farewelling our Year 12 Class of 2019
The Year 12 Graduation Evening was held on Tuesday 22 October and was an evening of nostalgia as we celebrated the achievements of each of our Year 12 students from the Class of 2019.
The evening provided an opportunity to acknowledge the great contribution of all the past teachers from Prep to Year 12 who have significantly influenced our students' development into fine young men and women – not to mention the invaluable guidance and support provided by parents and carers.  Special thanks to Mr Jason Nicholas, Mr Matt Cara and the Senior School team for organising this highly enjoyable evening.  The Class of 2019 commenced their exams last Wednesday and our best wishes are with them as they do their best over the coming weeks.
World Teachers' Day
On Friday 25 October Mount Waverley Secondary College celebrated World Teachers' Day.  Our teachers provide learning opportunities for our students way beyond what is expected.  They strive to improve their professional practice at all times in order to support students to achieve excellent learning outcomes.  Often the efforts of our teachers are not acknowledged, but the rewards they experience in supporting students to achieve success are priceless. On behalf of all the students and parents, I thank our brilliant team of teachers for always giving their best to make Mount Waverley Secondary College a great educational provider.
Night at the Museum – Year 7 Humanities 
Over the past few weeks our Year 7 students have participated in their Ancient Rome or Ancient Greece unit.  This has been an engaging and inquiry based approach to their learning completed in their classes.  Each student spent many weeks researching, making an interactive activity and creating an artefact.  The presentation evening was held on the Junior Campus on Tuesday 29 October and it was wonderful to see so many parents at the college to view and discuss their child's achievements.  Congratulations to the Year 7 students who have produced some outstanding work and also to their Humanities teachers for their efforts in running and supporting this great learning opportunity.
Parent Opinion Survey – confirms Mount Waverley Secondary College is a great school!
Each year we survey a randomly selected cohort of parents to measure parent opinion of our college.  I am thrilled to report our parent responses were very favourable and, in terms of general satisfaction with the college, were much higher than in the past few years.  I am sure everyone would agree the reason why we are becoming a leading school is due to the combination of excellent staff, wonderful supportive parents and enthusiastic students who collaborate as a team to do their best.  Congratulations to all members of our learning community whose valued contributions ensure that Mount Waverley Secondary College is a great school.
Last Working Bee for 2019 – Senior Campus
Our last working bee for 2019 will be held on Sunday 24 November from 9am until 12 noon.  If you can spare some time on this day to help it would be great to see you at the Senior Campus.
Mango Drive
Thank you to all the families who ordered a tray of mangoes in this year's Mango Drive.  We are expecting the mangoes to be delivered in the week starting 2 December. Families will be notified when they arrive and where to collect your order.
Mobile Phone Policy
On 26 June 2019, the Minister for Education, the Hon. James Merlino MP, announced a new mobile phone policy for every government school in Victoria. The new mobile phone policy comes into effect from Term 1, 2020, and requires that students who choose to bring mobile phones to school must have them switched off and securely put away during school hours.
The policy is designed to support teaching and learning in an environment that is free from unnecessary distractions, disruptions and student inattention caused by the urge to check their phones. At recess and lunch times, students will be better-placed to communicate with each other face to face and/or be involved in activities rather than being focused on a device or on social media.
The school is currently working on our own mobile phone policy that will implement the Government's announcement in a way that reflects the needs of our own community, details about the finalised policy will be made available throughout Term 4. Additional information regarding the policy is available on the Department of Education and Training's website.
Mrs Karen Wade
College Principal