College Principal's Report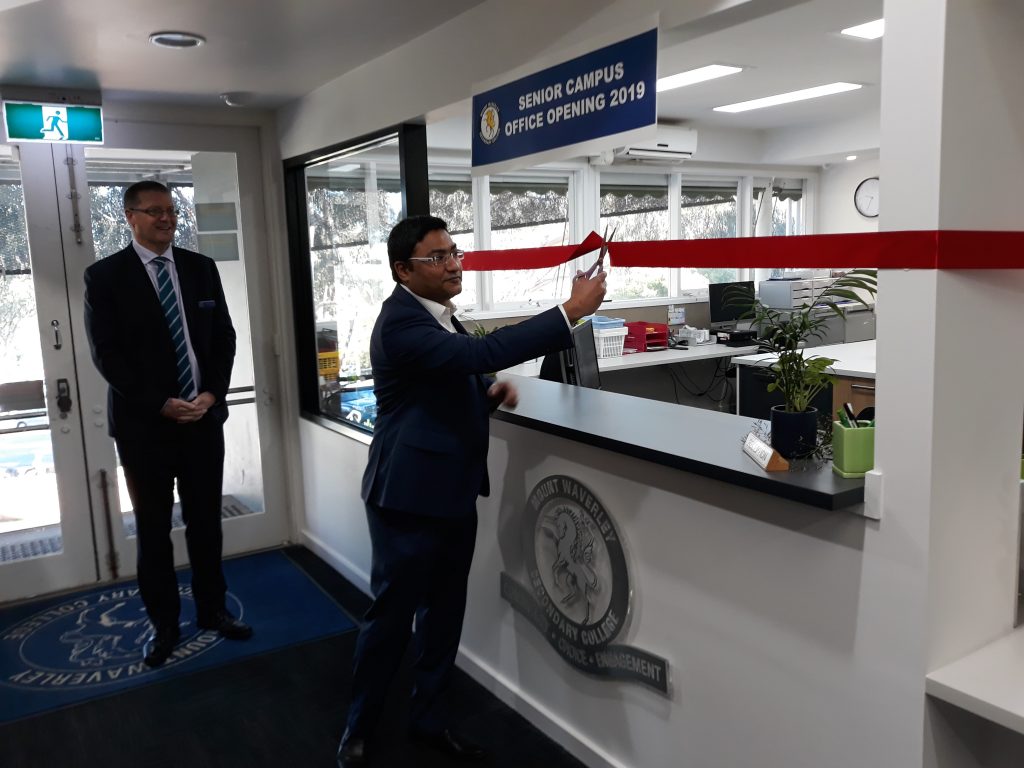 Senior Campus General Office Opening
Mount Waverley Secondary College administrative staff celebrated the official opening of our newly refurbished Senior Campus General Office last week.  This refurbishment has been developed with the best interests of the college and it's school community. After months of planning and construction, we are now enjoying a fresh and comfortable new work environment.
Thank you to our school council president Mr Nishant Patel for his support, speech and cutting of the ribbon at the opening.We appreciate the patience shown by our staff, students and families through this development. We look forward to welcoming you all to this new space, come in and say hello to our friendly general office staff.
Principal for a Day
The Principal for a Day program is a program we have been involved in for many years.  Our Principal for the Day this year was Dr Zivit Inbar.  Dr Inbar is the founder and CEO of DifferenThinking, a consulting practice that specialises in people, culture and leadership.  She works closely with technology and start-up companies helping to make them better businesses.  Dr Inbar is also an Adjunct Professor at Deakin University's MBA program where she works with upcoming business leaders to support them to lead the businesses of the future.  Dr Inbar immersed herself in the college on the day, including presenting at our Campus Assembly where she shared with students that she has dyslexia and how this has presented challenges but not obstacles throughout her career.  She also spent time on classrooms on both campus and meet with staff and students throughout the day.
NAPLAN results
College life continues to be busy with a wide range of activities and events happening in conjunction with learning in the classroom.  NAPLAN results will be coming out to families in the next few days and these results provide a snapshot of performance for students in Year 7 and 9.  These results are used in conjunction with wide range of other data to help staff to tailor learning for our students.
German Study Tour
Our 2019 German Study Tour departed on Monday 2 September with Ms Mary-Jane Boughen, Ms Jo Rogers and Mr Adam Laan who are taking 27 Year 9/10 students with them.  The group immersing themselves in everything German while on the trip including visiting our sister school in Darmstadt as well as visiting Berlin and other areas of Germany.  We look forward to hearing the stories and seeing the photos of this great trip when they return.
Victorian Young Leaders to India Program
We are excited to be involved in the pilot of the Victorian Young Leaders to India Program which departed on Friday 6 September. Miss Hayley Dureau and six Year 9 students are heading off to India for 3 weeks as part of this brand new program through the Department of Education.
Building project
The Building Works across the college are progressing with the newly refurbished toilets close to being finished.  The new bike sheds are in fully operational on both campuses which is great to see.  Work is continuing on the VCE Decking and the new open learning spaces on the Senior Campus.  The current timeline for all works to be completed is by the start of Term 4.
Student Parent Teacher Conferences
These important meetings are scheduled for Thursday 12 September on the Senior Campus.  This is an opportunity for students and parents to meet with teachers, receive feedback on learning and determine action plans for further improvement in term 4.  I would strongly encourage both students and parents attend these meetings.  Further information about these meetings will be forwarded to parents through Compass.
Term 3 – Working Bee
The third working bee for the year will be on Sunday 15 September from 9:00am until 12:00pm at the Junior Campus.  Please come along and help improve the College.  There a range of jobs including spreading mulch and general gardening and weeding.
Parents are encouraged to bring along shovels, rakes and brooms as well as gardening gloves and a hat.  Morning Tea and will be provided.  We look forward to seeing you there!
 Mr Ian MacLeod
Acting College Principal