College Principal's Report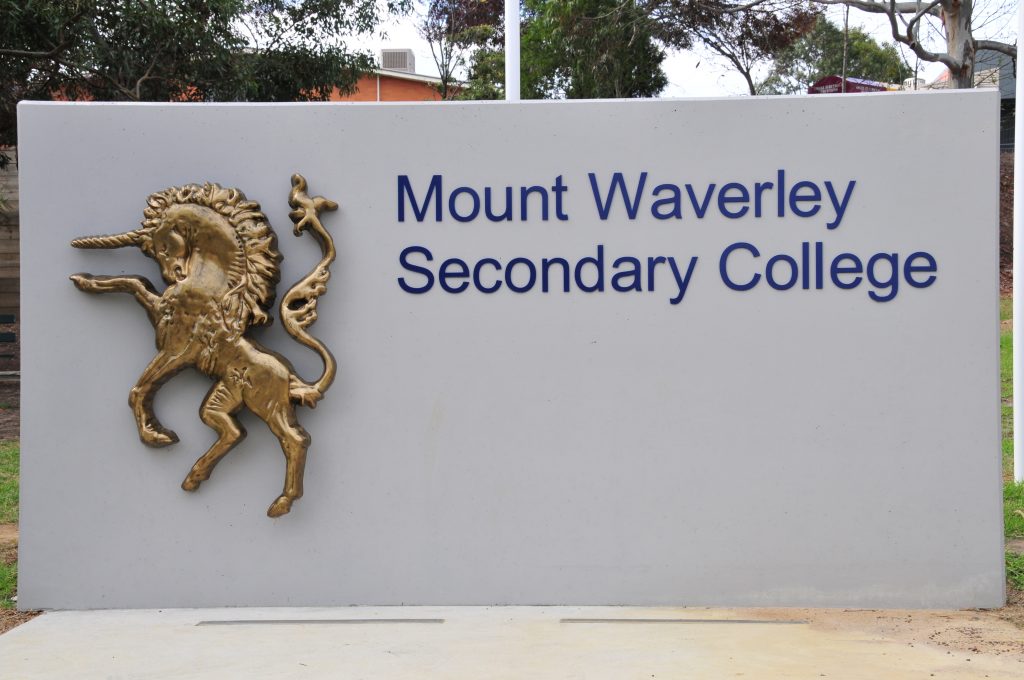 The Importance of Community 
I am thrilled to attend many events in our local community which enables me to network with students, parents and other community members. This is an important part of a Principal's job and I am always proud to represent Mount Waverley Secondary College and the great work that is going on everyday across the school. This newsletter has many examples of events that have been held recently and shows how the college is embracing not only our local but also our global communities.
Men's Health Week Breakfast
Thank-you to Mr Paul Graham our Wellbeing Manager and the Wellbeing Team for organising the Men's Health Week Breakfast last week. Special thanks to Mr Kyle Barnden our Chaplain for cooking the eggs and bacon. The guest speaker Greg from Beyond Blue did a great job sharing his story about his experience with depression. I know that our Student Wellbeing team are keen to continue to raise awareness and focus on health promotion. Thank you to all the students and staff who attended on the day.
German Study Tour Information Evening
On Wednesday 19 June we held our 2019 German Study Tour Information Evening for families. Thank you to Mrs Mary-Jane Boughen, Ms Jo Rogers and Mr Adam Laan for attending and their work in preparing for the upcoming tour in September.
VYL India Meeting
On Thursday 20 June Ms Hayley Dureau our Head of Student Voice and six Year 9 students attended a full-day pre-departure briefing at CERES in Brunswick, where they got the chance to meet the other thirty-two students attending the trip. Charlotte, Kes, Yianni, Nive, Talyssa and Lachie have been selected to represent the college as part of the Department of Education's Year 9 Victorian Young Leaders to India Program. Forty students and eight teachers from seven schools (rural and metro) will be travelling to India in September as part of the Pilot Program. The three-week immersion program includes being hosted by a local school in India, undertaking a range of excursions exploring Indian history and culture, and visiting organisations innovating in STEM and community engagement.
Japanese Immersion Day
Three of our Japanese teachers and four students, Ella (Year 7),
Shraban (Year 8), Feena (Year 11) and Chuong (Year 11) were able to speak and present to the students from different primary schools when they visited Syndal South PS for the 'Japanese Immersion Day'. There was taiko drumming, quizzes with prizes and lots of fun activities. This was a great opportunity to promote Languages at Mount Waverley Secondary College, particularly mentioning the study tour, exchange programs, Languages Day, the benefits of learning a language and how languages are taught at our college. We were also able to introduce the Japanese staff to the primary school students.
College Raffle
Special thanks to Ms Bree Thomas and Mr Aro Ezackial who have been working hard on sourcing some great prizes for our College Raffle this year.  $5000 worth of prizes have been sought including an Acer Travelmate Notebook, a laptop and many other fantastic prizes. Each student and staff member in the college will be allocated one booklet of ten tickets which will be handed out before the end of term.  These tickets are numbered and all tickets must be returned to the college either sold or unsold before Thursday 22 July.  If students/staff sell all of their tickets they will be eligible to be entered into the ticket seller's prize draw and six great prizes are on offer. Please support the college by selling all of your tickets.  Last year we raised over $6000 which went towards the purchase of extra outdoor student furniture.
Year 12 Formal
On Thursday 14 June the vast majority of our Year 12 students (over 250 students) and over twenty teachers celebrated the end of semester at Leonda by the Yarra. The students and staff appreciated the good food, company and dancing. It was great to see the students all together enjoying themselves while looking very smart and glamourous. Feedback from the venue was extremely positive and they said our student's conduct and behaviour was outstanding. Special thanks to the Senior Subschool team and the Year 12 prefects who organised and supported the event.
Mount Matters Forum
On Tuesday 26 June the Mount Matters Forum was held in the Senior Campus Theatrette. Student Leaders and Mount Matters representatives from Years 7 – 12 attended the forum and shared a summary of their findings from Mount Matters sessions in Term 2. We also had students and staff attend from Mount Waverley North Primary School as they have been running 'Mini Mount Matters' there, with the help of some of our Senior Student Leaders. I am always impressed by how articulate our students are and the way in which they work as a team. Congratulations to all of the students involved.
Happy Holidays
Second term 2019 has been an exciting time for teaching and learning at Mount Waverley Secondary College.  I hope everyone enjoys some family time over the holidays and I encourage all senior students to ensure a balance between study and relaxation.  Develop a study timetable and stick to it, it will be worth it.  I am heading off to Europe as I have long service leave for Term 3.
Mr Ian MacLeod has been appointed to the role of Acting College Principal and Ms Lisa McKiernan has been appointed as Acting Campus Principal – Middle School in Term 3 whilst I am away. I know they will do a wonderful job.
Have a safe and relaxing holiday. See you in Term 4.    Please note:  the first day of Term 3 for students is Tuesday 16 July.
Mrs Karen Wade
College Principal