College Principal's Report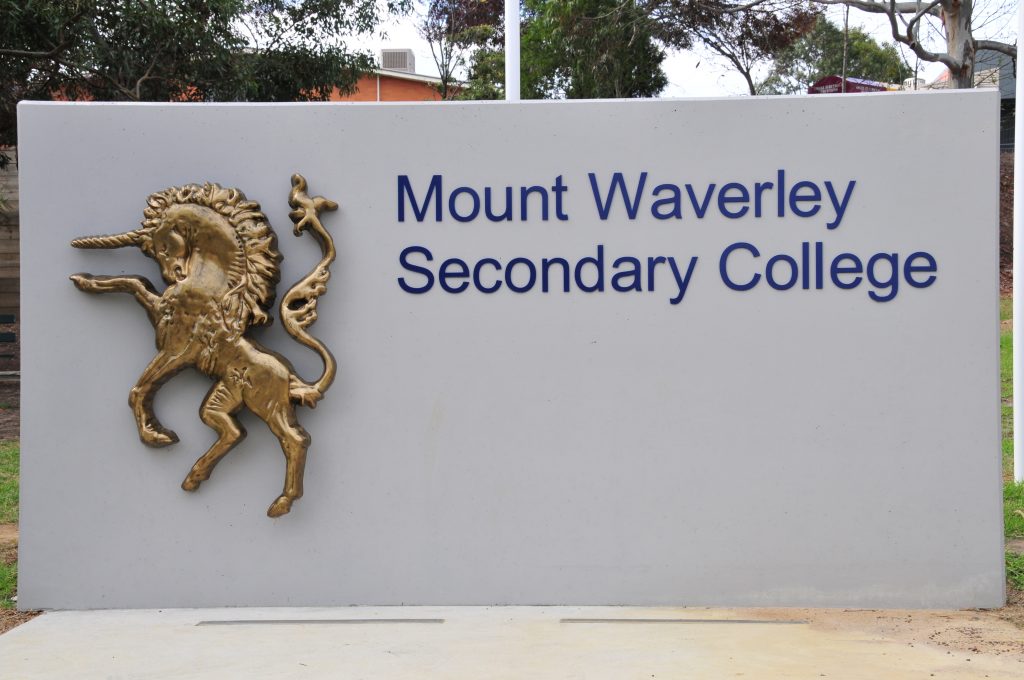 Teachers: Leading The Way To Improve Student Learning Outcomes
It is no surprise that recent research clearly indicates that the effectiveness of the teacher has a significant effect on the learning outcomes of students. At Mount Waverley Secondary College we are extremely fortunate to have the best of teachers. Our teachers are committed to sharing their practice to support each other in providing optimal learning experiences for our students.  This year we have provided additional meeting times for our teachers to work in teams to further develop their skills. Each team will investigate a range of proven research based teaching strategies and trial them in the classroom. This will ensure that the teaching and learning environment at Mount Waverley Secondary College will remain at the forefront of what is regarded as best practice.
Our School is a Safe School
The National Day of Action against Bullying and Violence was held across Australia on Friday 15 March 2019. Mount Waverley Secondary College joined over 2300 schools who signed up for the day to commit to take a stand against bullying. Our students were involved in a variety of activities on the day including signing a pledge against bullying in our school.
Jazz Night
Last night I had the pleasure of attending the MWSC Jazz Night which was held at The Caravan Club in Bentleigh East. Congratulations to our two Music Captains Oscar and Aaron who oversaw the organisation of the night. I was proud to see our students perform with such joy and dedication in a professional venue. Performances included ensembles such as the Jazz Band, Senior Choir, Jazz Combo, You're out of the Band, Practice 3, Take 4, Alumni Band, Senior Stage Band and The Teachers Band. Special thanks to the alumni who performed on the night and all of the Instrumental Music teachers who also took the stage. I know that all members of the audience thoroughly enjoyed the evening's entertainment.
Working Bee – Sunday 24 March
I am looking forward to seeing many parents, friends and students at our first Working Bee for 2019 on Sunday 24 March between 9am and 12 noon on the Senior Campus.  This is an opportunity for parents to establish a strong sense of belonging to our learning community and to show their children how much they value the wonderful educational opportunities Mount Waverley Secondary College has to offer.
If you have some spare time on this day your contribution would be greatly appreciated.
Parent Teacher Conferences
By appointment only – Thursday 28 March  1.00pm until 4.30pm and 5.00pm until 7.30pm
Information regarding making appointments has been sent out via Compass. There will not be any formal classes operating on Thursday 28 March as all teachers will be involved in interviews. Students are required to attend interviews with their parent/carer to allow students, parents and teachers to all participate in a meaningful discussion to plan for ongoing improvement.
The duration of each interview will be 6 minutes. If you require a longer period of time for an interview, please contact the teacher directly to organise another meeting time.
All interviews will be conducted on the Senior Campus. Parking is not available on Campus so please park in local side streets observing Council restrictions. There will be tea and coffee available in the Fishbowl.  These interviews provide our students with an important learning experience where they have the opportunity to reflect upon and evaluate their progress and join in partnership with their teacher and parents to plan for ongoing success. For these reasons I recommend everyone is involved in this process.
Young Leaders Trip to India
Congratulations to Miss Hayley Dureau, Head of Student Voice for applying for the inaugural trip of the Department of Education and Training's Year 9 Young Leaders to India program. We were one of eight schools chosen for this program and five students will be selected to be part of this exciting three week tour which will take place in September.
End of Term 1 – Start of Term 2
Students will be dismissed at 2.30pm on Friday 5 April and we will look forward to their return for Term 2 on Tuesday 23 April.
Mrs Karen Wade
College Principal