NEVR YOUTH CONCERT – "Fire and Rain"
On Monday 25 students from MWSC had the privilege to take part in the annual NEVR Youth Concert held in the prestigious Hamer Hall. Six students Clarrisa A (Year 8), Julian D (Year 9), Erasmus H (Year 10), Jacqui N (Year 10), Purvi S (Year 9) and Tej T (Year 11), were all selected to take place in the combined Symphonic Band. This group was made up of primary and secondary students from the North East of Victoria, and after two mass rehearsals played beautifully.
In addition to this, the MWSC Stage Band were selected as a feature stage act through an audition process. The band performed two songs and through hard work and practice, performed magnificently to a large crowd of over 2000 people. Overall, this was an amazing experience for our students having the opportunity to play in a concert hall with beautiful acoustics and professional sound and audio equipment.
I would like to acknowledge the students in the MWSC stage band that it is my pleasure to conduct:
Alto 1: Sara P (Year 11)
Alto 2: Jess T (Year 12)
Tenor 1: Liam C (Year 12)
Baritone: Noah L (Year 10)
Trumpet 1: Tom S (Year 12)
Trumpet 1: Tai N (Year 9)
Trumpet 2: Magnus T (Year 12)
Trumpet 3: Alannah R (Year 11)
Trumpet 4: Taaising S (Year 11)
Trombone 1: Chris L (Year 10)
Trombone 2: Sora K (Year 8)
Trombone 3: Alex R (Year 12)
Bass Trombone: Josh H (Year 11)
Drums: David R (Year 12)
Piano: Yazmin A (Year 12)
Bass: Sam E (Y12)
Guitar: Ethan L (Year 12)
Percussion/Vibes: Prosper W (Year 10)
Vocals: Bea L (Year 11)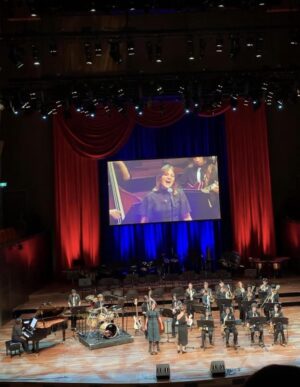 UNIT 1 RECITAL
On Thursday 25 May, the Unit 1 Music Class had their first recital. This concert featured a wide variety of instruments and performers, who were supported by a large audience of family, friends and teachers. Well done to these Year 11 who performed with accuracy and poise.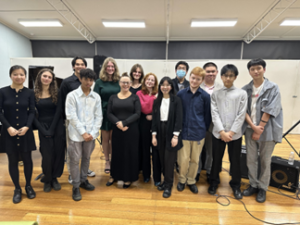 Perth Tour Concert – Thursday 8 June at 6:30pm, Unicorn Theatre 
The three groups traveling to Perth on a music tour have been busily preparing for the trip and are polishing the musical sets in readiness. A tour such as this takes a lot of hard work, both from an administration and musical perspective. We invite the college community to attend a free concert next Thursday to celebrate and farewell the Symphonic Band, Stage Band and Jazz Combo.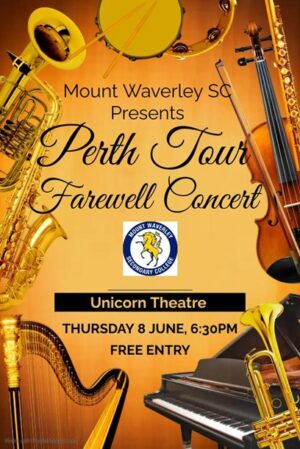 Mrs Tijtje Keatley
Music Director