Hakuhodo Trip
Congratulations to Ms Michelle Lukaczynski and four of our students who recently returned from Japan. Ms Lukacynski was awarded a prestigious scholarship which helped sponsor this trip. Only one school from each country can be selected which demonstrates how the languages program at Mount Waverley Secondary College is held in high regard. Below is Michelle's report.
"On Friday 12 May, I set off with four of our Year 10 students to Japan for the second part of the Hakuhodo Foundation Scholarship we received last year. The objective of the trip was to have 10 teachers from around the world bring four students each to experience life as a Junior High School student in Japan. We selected Ananya J, Rennie T, Kevin K and Michael S to represent not only our college, but Australia in this program.
On arrival, our students were expected to mingle and communicate with the students from Indonesia, Malaysia, Spain, Taiwan, Thailand, Mongolia, Turkey and Brazil in Japanese. They did a wonderful job and quickly made many friends. Over 10 days the Hakuhodo Foundation provided and funded an amazing program that combined Japanese language lessons, sightseeing, three full days in a Japanese school and a host family experience. We managed to visit the Asakusa temple where we walked around dressed up in kimono, Meiji shrine, Shibuya Sky, the teamLab Planets exhibition and the Kawasaki Daishi temple. Whilst at the school in Kawasaki the students attended maths, science, PE, English and humanities classes in addition to special art, music and calligraphy lessons that were provided especially for the foreign students.
The students had to make two formal speeches in Japanese in front of the whole school and despite not always feeling confident or being perfect, they always tried their best and made the most of every opportunity.
This trip was exciting and busy from the moment we landed and our students supported each other, developed new skills and made friends and memories that will last a lifetime."
North Eastern Victoria Region Youth Concert
I had the pleasure of attending the NEVR 'Fire + Rain' Concert at the Hamer Hall last Monday night and was accompanied by Ms Lauren Kelly-Acting Campus Principal.
This event featured over 600 students from primary and secondary schools in the north-eastern region of the state coming together in a celebration of music and collaboration.
Six of our students were selected to play in the joint Symphonic Band which was made up from students from fourteen schools. Our Stage Band were chosen to perform two musical items after successfully auditioning. They performed 'The Chicken; by A.James Ellis, arr K. Berg and 'Paper Moon' by H. Arlen, arr J. Novak.
Our Stage Band performed at an exceptional level and a fellow Principal colleague told me they were the best act on the night!  Thank you to Mrs Tijtje Keatley, Director of Music who conducted the band and Mrs Melissa Knowles (one of our instrumental teachers) who were there to support our students. Thank you also to the many families who attended the concert to support our great instrumental music program.
VCE Northern Hemisphere Examinations
I would like to thank Mr Matt Cara, Senior School Leader and our Chief Examiner, Mrs Trish Reid and her team for the smooth way in which they ran the VCE Northern Hemisphere Timetable examination process from Tuesday 23 May until Friday 26 May.  Our students were involved in Unit 4 Accounting, Further Mathematics and Biology exams.  The examiners stated how well behaved our students were, which is a great credit to our school.
Biggest Morning Tea 
Every year our staff organise a morning tea on both campuses to raise money for the Cancer Council's fundraiser Australia's Biggest Morning Tea which was held on Thursday 25 May. Staff brought a plate of food and donated money to partake in this wonderful event. I am pleased to say that $938 was raised on the day. Special thanks to Ms Cathleen Howell and Mrs Anne Green for organising this special event for such a wonderful cause.
Community Bank Pinewood Scholarship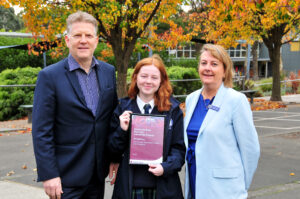 On Wednesday 31 May, Alannah R from Year 11 was awarded the 'Community Bank Pinewood Scholarship' in association with the Bendigo Bank. The scholarship valued at $1,500 aims to encourage and support a Year 11 community-focussed student with their studies and school-related expenses. The selection panel faced a challenging decision due to the abundance of outstanding applications in a highly competitive field, demonstrating the remarkable engagement of Mount Waverley Secondary College students in community endeavours.
Alannah is a deserving recipient of the scholarship, having actively participated in the school's leadership program since Year 7. Additionally, she has made significant contributions to the school's music program, consistently supporting various musical activities and productions. The scholarship was presented to Alannah by Mr Robert Davies, the Chairman at Community Bank Pinewood. Congratulations, Alannah, on this remarkable achievement!
Reconciliation Week
Mount Waverley Secondary College celebrated Reconciliation Week over the past week. The theme this year was 'Be a voice for generations.' Many activities for both staff and students were held which were organised by our Reconciliation Action Plan Committee lead by Ms Jane Carter. A very important day occurred on Friday 26 May which was National Sorry Day and students were informed about the important significance of this day. This day is the anniversary of the National Apology to the Stolen Generations, and we all need to understand its importance in Australia's wider reconciliation journey.
Our ILEARN Values in action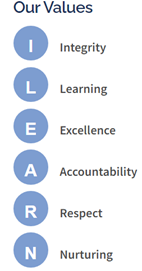 Our college values are ones that we hold dear and are for all members of our learning community to uphold. As per what is occurring in our State health system and in other sectors of employment, schools are finding it increasingly hard to cover classes when staff are away.
So far, we have done an amazing job with the hard work of our two Daily Organisers Mr Scott Smith and Mr Greg Campbell and our many casual relief teachers who we employ to help fill these gaps, as well as teachers who are taking extra classes and support staff who are picking up extra tasks.
I would ask parents and carers to realise the challenges we face and to think about the way in which you address a member of my staff whether it is in person, on the phone or via email during these challenging times.
We all want the same thing and that is to support your children in their learning, but we cannot control when people get sick or must be absent to care for their own children. Your support and understanding would be much appreciated and can be demonstrated in a respectful and caring way.
Stay Well this Winter
Symptoms of influenza (flu) can hit very quickly and may last several weeks. Vaccination is the best way to protect yourself and others from getting the flu.  Annual influenza vaccination is recommended from mid-April each year and is free under the National Immunisation Program for those at higher risk of complications from the flu.
Keeping our school community well
Parents, carers and students are encouraged to practice prevention measures, including:
washing and sanitising hands regularly
avoiding touching eyes, nose and mouth with unwashed hands
covering nose and mouth when coughing or sneezing
staying home if unwell and consulting a general practitioner (GP) or Nurse-on-call as required
staying up to date with flu and COVID-19 vaccinations.
Flu vaccinations
Flu vaccinations can be booked through GPs and pharmacies, many of which can also provide COVID-19 vaccinations. Flu vaccination is recommended for everyone aged 6 months and over.  Some people are more at risk of complications from flu and are eligible for free vaccination as part of the National Immunisation Program.
COVID-19 booster
The 2023 COVID-19 booster dose is available for everyone aged 18 and above.  Getting your booster dose remains the best way to prevent severe illness or hospitalisation, especially in people aged over 65 and those at higher risk of severe illness.  You can have your booster dose 6 months after your last dose or COVID infection.  Children aged between 5 and 17 years who are at risk of severe illness can also receive a 2023 booster dose.  You can get your next dose at your local pharmacy or GP. To find one near you, refer to the vaccine clinic finder.
Find out more
For more information about preventing flu, and immunisation, refer to:
Correction Day
Please note that Correction Day will take place on Friday 16 June, and this is a student free day.  This day will enable teachers to finalise their Semester 1 assessments.
Our Semester 2 classes will begin on Monday 19 June (for all year levels except Year 10 students who will be on Work Experience placements) which is the last week of term.
Mrs Karen Wade
College Principal