Uniform
Years 7-10
MWSC winter skirt (of modest length – no shorter than 5cm above the knee)
MWSC green jumper
MWSC green softshell jacket (optional).
MWSC long sleeve white shirt or blouse with college logo
MWSC college tie
Either navy knee-high socks OR 'Carlton' navy Kayser opaque tights
Navy scarf (optional)
In cold weather plain white t-shirts without writing or logos are permitted under shirt/blouseOR
MWSC grey unisex shorts or trousers with college logo (available only from PSW – official uniform supplier)
MWSC long sleeve white shirt with college logo
MWSC college tie
MWSC green softshell jacket (optional).
MWSC green jumper  Grey socks (must cover ankle)
Navy scarf (optional)
In cold weather a plain white t-shirt without writing or logos is permitted under the shirt
On days when students have PE, they must wear full MWSC uniform to school. Students must bring their PE clothes to change into before their PE lesson.
Communication with teachers
In the last few weeks of semester, students and teachers are busily working on their Common Assessment Tasks. Parents/carers are encouraged to regular access Compass to keep abreast of the feedback teachers are providing, as well as any other messages that may come through. If your child has any questions about the feedback provided, we encourage them to email or see their teacher in the first instance. As a parent/carer, if you feel the need to communicate with teachers regarding a Common Assessment Task (or any other concern), please bear in mind the volume of assessment and communication that is occurring at this time when awaiting your reply.
Getting to know…. Ms Danielle Robertson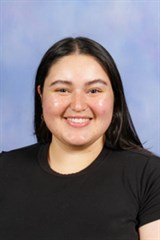 How long have you been at MWSC?
This is my third year teaching at MWSC.
What is your role at MWSC? Previous roles?
I am a Year 8 Coordinator and an English Teacher.
What do you like to do outside of school?
I like cooking and baking and I love to read!
Favourite thing about working at a school?
My favourite thing about working in a school is getting to know all the students.
If you didn't work in a school, what would you be doing?
If I didn't work in a school, I would probably be a Historian. I would love to travel around the world to learn as much as I could about places in the world that have been affected by history and write about it.
What kind of student were you at school?
I was the kind of student that loved school and loved learning new things, but I also hated studying (which ended up being a problem)!
Mr Matt Sheehan
Campus Principal – Junior School