JC Wellbeing 
Over the school holidays – the Junior Campus Wellbeing Zone received a much needed makeover. The outside of the portable building was painted and a new sign was erected.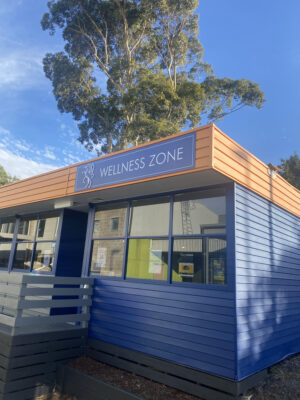 Term 2 wellbeing programs
We have several programs across the college this term, including a visit from Victorian Institute of Sport athlete, Ms Alexandra Viney on Monday who will be presenting to year 8's to support their upcoming personal best project. We will also be welcoming nutritionist, Ms Teri Linchtenstein who will be sharing her knowledge to our year 10's on what foods they should be consuming to help them with getting the best out of themselves. Later in the term we welcome back Brainstorm Productions to perform their interactive dramatic performance "Wired" – exploring cyberbullying and mental health and providing strategies for resilience, help seeking and developing positive relationships. At the end of term – the Reach foundation will be running workshops for our Year 7 and 9 students – focusing on developing and maintaining positive relationships.
Open Parachute 
We are pleased to announce that this year we will be delivering the Open Parachute Mental Health Program to our students. This program addresses issues of stigma surrounding mental health in young people, encourages help-seeking, and creates a culture of mutual support and respect for any struggles that students may face. This program was developed by Dr Hayley Watson, an adolescent clinical psychologist who has been developing programs globally for the past 15 years.
There are audio and video-based resources for parents and carers, with practical tools for supporting the well-being of your child at all stages of their life. We will be sending you links to access these resources as your child progresses through the program.
Mr Paul Graham
Student Support and Resources Manager