Term 2 – Welcome back
I hope everyone had a relaxing and enjoyable holiday. I am excited to have started my ninth year of service as your College Principal at Mount Waverley Secondary College this term. It is inspiring for me to be part of a learning community where teachers and students are passionate about doing their best and join as a supportive team to unite in a spirit of cooperation and success.
ANZAC Sub School Assemblies   
Last Monday 24 April we held three sub school assemblies to recognise the importance of ANZAC Day. I spoke to the students and showed a video clip about the history of the day and our Business Manager Mrs Linda Westgarth spoke about her family's history with the ANZACs. Both her grandfather and her husband's grandfather fought in the First World War and Mrs Westgarth was able to talk about personal visits to the Western Front War Cemeteries as well as visiting the town of Villers Bretonneux in France.
Our College Captains Jocelyn and Vineth and Junior Campus Captains Rachel and Gemma also read the moving poems 'In Flanders Fields' and 'The Ode'. We were also lucky enough to hear Mr Joseph Yu play the 'Last Post' and 'The Rouse' on the trumpet as we all observed a minute's silence.
ANZAC Day is a day for all Australians, regardless of religion, racial background, or place of birth. It is a day to commemorate the bravery and self-sacrifice of past and present generations of Australians, so that Australia can be a place of freedom for all. Lest we forget.
ANZAC Service
On Wednesday 26 April our student leaders attended and participated in a breakfast ANZAC service which was organised by the Mount Waverley Rotary Club. The service took place at the Mount Waverley ANZAC Centenary Walkway. Thank you to all the students who attended along with Mr Myers, Mr Thomas, Mrs Mott and Ms Walk.
 Exciting News 
After two and a half years in the making our new Junior Campus oval was opened last Wednesday for all our Junior Campus students to now enjoy. The oval is synthetic turf which has an athletics track, a soccer field and multiple sporting pitches. This $1.5 million project was part of a self-funded college project, and I would like to thank Mr Ian MacLeod-Campus Principal for overseeing this facilities project along with Mrs Judith Walsh-College Projects Manager. I know our students will enjoy this oval for many years to come!
Mount Waverley Secondary College's Exemplary Sporting Program
We are very proud of our many sporting teams who represent our college admirably during competition against other schools.  People regularly comment on our students' excellent behaviour and good sportsmanship.  Our sports program is going from strength to strength, and this is a tribute to our families who encourage in their children a love of sport and doing their best. Congratulations to all our students who participate in our college sports, district sports, zone finals and state finals, we are proud of the high participation rate of our students in sport.
I would also like to thank Mr Jay Newport and Mr Danny Gwynne, our Sports Coordinators, who oversee sporting programs across the college, and all of the staff who give up their time to coach and run practice sessions for sporting teams.
State Swimming Success
On Friday 28 April our champions of the pool headed off to Melbourne Sports Centre (MSAC) to participate in the State Championships. It was another successful day, with our college scoring 3 gold and 2 silver medals.
Congratulations to Aleisha C of Year 9 who became a three-time State Champion on the day. She won the 50m,100m and 200m freestyle events. Aleisha also won two silver medals in the 50m butterfly and 50m backstroke.  Julian D of Year 9 also competed on the day and came 5th in the boys 50m backstroke.
Thank you to Mr Jay Newport for accompanying our students on the day.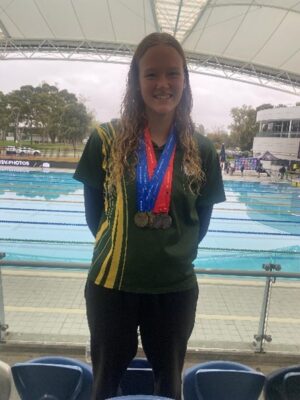 Uniform Changeover Time
Just a reminder that all students should now be wearing winter uniform, which includes wearing the college tie. Please ensure that your students have the correct college uniform which is only supplied by PSW.
PSW is now located at 342 -350 Springvale Road, Glen Waverley (behind Officeworks).
International Visitors
On Tuesday 2 May we hosted a group of principals (kindergarten, primary and secondary) from Hanoi, Vietnam. These principals visited our Senior Campus to learn about the Victorian Education System as well our curriculum and extra-curricular programs. Our visitors were very impressed by what they saw inside our classrooms and were very complimentary about our college.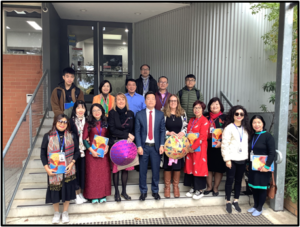 On Friday 5 May Professor Ono visited our college from Meiji Gakuin University in Tokyo Japan. We will be hosting one of his students as a Japanese language assistant in June and I was very pleased to be able to continue this partnership.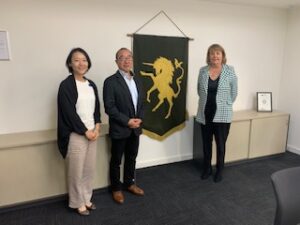 These types of international visits are extremely worthwhile as we can make global connections and learn a lot from other educators across the world.
Mrs Karen Wade
College Principal