Junior Campus Oval
After six long months we were thrilled this week to finally receive our finished oval. Our students and PE staff have relished having a brand new surface to play on and we thank everyone for their patience as this project has been happening.
Rotary ANZAC Breakfast
Thanks to Mr Myers, Ms Mott and Mr Thomas for escorting a number of our student leaders from both campuses to the Rotary Mount Waverley ANZAC Day breakfast on Wednesday 26 April. Our students did a great job representing our college and it was a lovely morning in the park. Our partnership with Rotary Mount Waverley is one of our longest relationships, and we appreciate being part of this event annually.
Damper Creek Reserve Field Trip
Last week our year 7 students went to Damper Creek to practise their field-sketching skills. We are so lucky to have such a wonderful natural space to visit that is right on our doorstep. Thanks to all of the Junor School Humanities teachers for their organisation, and to our excellent students for their participation.
Getting to know…… Ms Nicole Griffin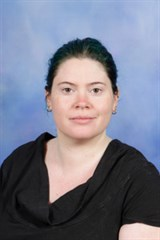 How long have you been at MWSC?
11 years with a few months off here and there for maternity leave.
What is your role at MWSC? Previous roles?
For the last 10 years it has been organising backstage for the Production. This year I'm trying something new as Year 7 Coordinator.
What do you like to do outside of school?
I love all things nerdy! But I'm especially partial to board games and sewing. I really like quilting and cosplay but its hard to find time to do any of it with my two young boys.
Favourite thing about working at a school?
EVERYTHING! It is my happy place, I feel more myself in a classroom than I do anywhere else.
If you didn't work in a school, what would you be doing?
If it were up to my dad probably engineering….but I feel like I would probably be working with special needs kids. With my brother, and son it is something that I feel really passionate about.
What kind of student were you at school?
Honestly, if I ever taught myself I would probably hate me. I was wayyyy to eager to do school work and to learn new things. So not only did I work ahead of my class but I also completed my sister's work (who was 3 years above me…..). If this survey has highlighted anything it's just how much of a nerd I really am!!
Mr Matt Sheehan
Campus Principal – Junior School