Mount Waverley Primary School – Leadership Workshop
On Wednesday 15 March a group of 32 Year 6 leaders from Mount Waverley Primary School visited the Senior Campus for a leadership workshop which was run by a group of Year 11 and 12 leaders. The workshop focused on teaching the Year 6 leaders how to generate ideas and how to implement a proposal for change in their school.
A huge thanks and congratulations must go to the MWSC leaders involved in this program, especially Stanley L, who did a wonderful job leading the session. The Year 6 leaders were particularly fond of an ice-breaker game at the beginning of the session.
It is great to see our leaders working within their local community and to continue to strengthen our close ties with Mount Waverley Primary School. A real highlight of the day was seeing how excited the Year 6 students were to be involved with a local secondary school and getting to enjoy working in small groups with some senior leaders as mentors.
Thanks must go to Ms Amy Walk, the 2023 Student Leadership Coordinator, who attended the session and helped support the students on the day.
Mount Matters
Over the past two weeks it has been great to see Mount Matters return across both campuses. Students have begun meeting in year level groups to discuss their ideas of school improvement and key issues relevant to their specific year levels.
Groups have already begun thinking about ways to implement their new ideas. It is great to see such a unique student leadership initiative happening across our school. Mount Matters is a student-led, run and managed program that aims to not only improve the school, but build leadership skills for a variety of students. Mount Matters provides a great example of student agency in action!
A big thank you must go to Mr Tom Frost and Ms Amy Walk who are helping oversee the program on both the Junior and Senior Campuses respectively.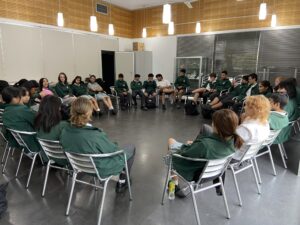 Mr Jacob Myers
Head of Student Voice