Term 1 has been a busy one for music at MWSC. With 250 students beginning private/small group lessons, and 16 ensembles beginning to rehearse. All Year 7 students have been through trial lessons for the instruments offered in the classroom program, and they have logged preferences in readiness for instrument distribution and lessons to begin in Term 2. All year 7's will also participate in an ensemble as part of the assessment for Classroom Music. More details regarding this will come out early next term.
Junior Campus Lunchtime Concert
On Wednesday 8 March, the Senior Stage Band and the Jazz Duo traveled to the Junior Campus to participate in a lunchtime concert for the Year 7 and 8's. The weather was kind, despite the initial forecast, and the concert took place under the shade sails for the Junior Campus Community to enjoy. Thanks for everyone that came along to enjoy and support these students.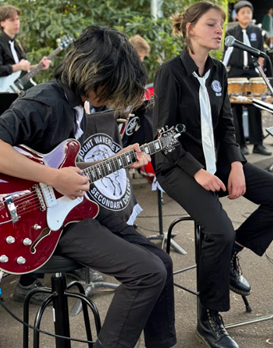 Greg Clarkson Workshop
The Senior Stage Band participated in a workshop with saxophonist Mr Greg Clarkson. Greg plays in many leading jazz bands around Melbourne including Darryl McKenzie Jazz Orchestra and sessional work with leading ensembles such as Aussie Pops Orchestra. He is also well known as a music educator and tutor for the Victorian State School Spectacular.
Greg worked through advanced ensemble concepts with the group and the students were privileged to have the opportunity to work with him. Bands always benefit from working with others to gain insight.  Thanks to Greg for coming along and taking this ensemble.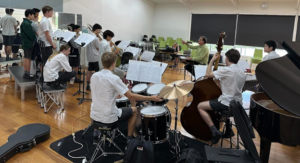 Soirees
On Tuesday 21 March and Thursday 23 March around 50 students had the opportunity to perform for families and friends in the annual MWSC Soiree Concerts. These concerts, featuring Year 7- 12 students on many instruments and varied repertoire are a great opportunity for students to demonstrate their hard work and dedication.
Thanks to Ms Melissa Knowles and Mr Timothy O'Connor for their assistance in organising these concerts and to all the families who came along to support these students.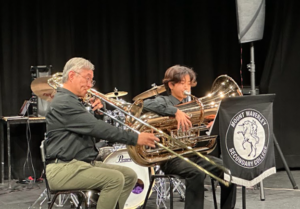 Music Leadership
The Music Leaders at the College play a large role in supporting and helping to organise music events at the college. These students who were selected through a process of a written application and interview, have assisted in running all of the music events so far this term. They are a credit to the music department at the college.
Thank you to the team for all their work this semester.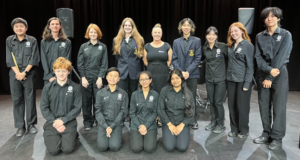 Mrs Tijtje Keatley
Music Director