Year 8 Round Robin
On Thursday 21 March our Year 8s had the opportunity to head out and participate in round robin sports against our local secondary schools. Well done to the students who tried out for, and participated in the various teams. Extra special congratulations to the Year 8 boys' baseball team who progressed through to the next round, joining our four Year 7 teams in their recent success.
NAPLAN
Over the past two weeks our Year 7 students have been participating in the NAPLAN testing. We thank all of the students and teachers as we worked through a range of technical issues relating to the provision of the online testing. Results will be available to families later in the year.
The 5Rs
The three sub-schools across the college have been working on a shared approach to classroom management. The initiative, known as 'The 5Rs', seeks to clearly outline the approach taken by teachers when dealing with behaviour in the classroom that is not conducive to learning. This has been shared in recent year level assemblies and staff meetings. This positive and restorative model makes the teachers' process transparent and predictable to students, and has been quite successful in its implementation. Feel free to contact any member of the Junior Sub School team if you have any questions.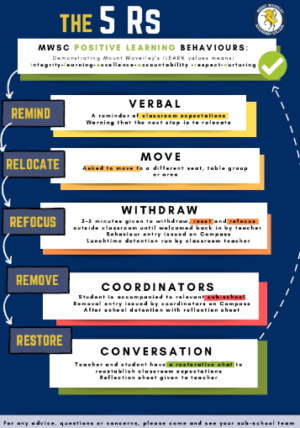 Plagiarism
Students are reminded that plagiarism and using the work of others without acknowledging it is not permitted. Plagiarism involves the act of taking and using the thoughts, writings, inventions or creations of another person and passing it off as one's own work. Not only is plagiarism a breach of copyright laws, it is also unethical.
Plagiarism can include:
Copying – reproducing another person's words, with or without the knowledge of that person
Not acknowledging ideas of information in a bibliography or through referencing
Knowingly allowing one's own work to be copied by another.
At the school level teachers make students aware of what behaviours constitute plagiarism and provide students with strategies that scaffold independent learning.
There are consequences for students who have been found to have plagiarised work. Consequences for Years 7 to 10 can include the classroom teacher, Year Level Coordinator and/or Subschool Leader meeting with the student, a penalty in grading applied and this will depend on the severity of the task and parents/carers notified and the issue is noted on Compass.
In VCE subjects, the issue is dealt with in accordance with the VCAA and VCE policy requirements.
Getting to Know…

Mr Patrick Thompson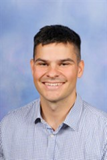 How long have you been at MWSC?
This is my third year.
What is your role at MWSC? Previous roles?
Classroom Teacher and Year 8 Coordinator.
What do you like to do outside of school?
Basketball, hiking, going to the beach in summer and the snow in winter.
Favourite thing about working at a school?
Working in a team environment and helping young people.
If you didn't work in a school, what would you be doing?
I would be doing something overseas.
What kind of student were you at school?
Annoying but harmless.
Mr Matt Sheehan
Campus Principal – Junior School