The new VCE Vocational Major has started at our college. This new program opens new and exciting pathways for students as they progress through their final years of education and transition into post schooling pathways. The VCE Vocational Major focus on the five principles of Applied Learning that involves students engaging in authentic and motivating learning experiences.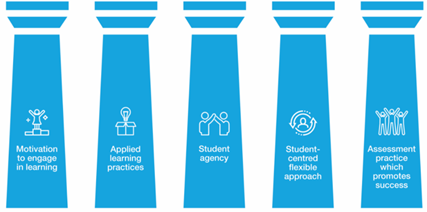 VCE Vocational Major is comprised of four core subjects, Literacy, VCE Foundation Maths, Personal Development Skills, and Work Related Skills.
Over the last four weeks our students have been focusing on the following:
Literacy
The students have been looking at a scam-based language for our first unit, as well as starting to build language knowledge around how words work (i.e: compounds, affixation, spelling rules, etc.)  As we progress through the curriculum students will explore and develop  building practical skills, usable resources that focus on education around cyber security.
Work Related Skills
In the Work-Related Skills part for Vocational Major, students have learnt what skills are and the different skills they need in the workforce. All students have identified the skills that relate to them, found a definition meaning for each skill and created a picture collage in google docs. It is great to see that the students can identify these skills which will make them feel ready when they head into the workforce.
Personal Development Skills
Students have been exploring personal identity, what influences us as individuals (family, friends, society etc), where we come from, the people we value and admire. We have also been completing some personality tests to identify their strengths and weaknesses, career prospects, relationships. As we progress through the curriculum students will explore what makes a healthy individual and what makes for a healthy community.
Ms Lisa McKiernan
Head of Senior Pathways