Lions Youth of the Year 2023
On Sunday 19 February, college leaders Vineth M, Jocelyn S (College Captains) and Stanley L (Deputy College Captain) all participated in the Lions Youth of the Year competition. The competition consists of an interview and public speaking components.
Each student spoke with passion and confidence about their chosen topics 'Stoking a love of literature', 'The importance and dangers of social media' and 'A need for more educational resources and programs surrounding alcohol and vapes for young people in schools'.
Additionally, the students had to respond to two impromptu topics without any preparation time, a difficult task for anyone, let alone completing it in front of an audience. The topics asked students to discuss an 'individual they admire the most' and to consider if 'technology has brought us closer'.
Congratulations to Jocelyn and Stanley who for the first time in the event's history were joint recipients of the best speaker award.  Also, congratulations to Vineth who was awarded the club final Lions Youth of the Year for the Lions Club Ashwood-Mount Waverley. Vineth will now go onto the regional final.
The three students did a brilliant job of representing the college and themselves. It is great to see the positive impact events like these have on our local community.
Senior Leaders Badge Presentation
The Year 12 leadership team were presented with their badges by our College Principal, Mrs Karen Wade, in front of their peers at the year level assembly earlier this month. Congratulations to the Leadership Team of 2023.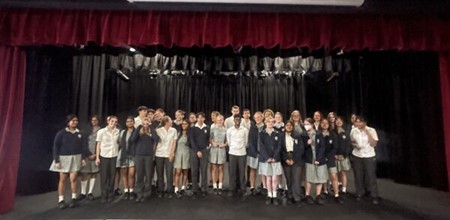 Mr Jacob Myers
Head of Student Voice