Year 7 Camp
Well done to all of our year 7 students for their participation in the Phillip Island Adventure Camp last week. Students and staff braved the hot conditions and had a wonderful time getting to know each other and having some fun in the sun. A particular thanks goes to our Junior School Leader, Ms Danielle Mott, and our Year 7 coordinators for their preparation and leadership. I would also like to extend my thanks to all staff who gave up their time to go along. Only through the willingness of our wonderful staff are we able to make these events happen.
Year 8 Challenge
While the Year 7s were at camp, our year 8s had the chance to test their resilience and courage with our annual Challenge Week. Students got the chance to dance, climb, improvise, touch reptiles, and many other challenging activities. I would like to commend the students for participating in the right spirit, and being so encouraging of their peers as they tested their limits.
Before and After School
While we are a welcoming and inclusive school community, the location and limited size of our campus restricts our ability to have parents/carers visit us on campus. This is a reminder that there is no parent parking available on our campus. Please refrain from dropping off or picking up your child, instead plan to me in one of the side streets, or encourage other means of commuting.
Likewise, we have had many eager parents/carers seeking to meet their children at the front of the school at the end of the day. With close to 700 students on our very small campus, we ask that parents find alternative places to wait, outside the school gates and away from the crossing area.
We plan to have a number of community events this year where you can come and explore the campus, but would appreciate your cooperation with the requests above in the meantime.
Getting to Know…Ms Aisha Paternott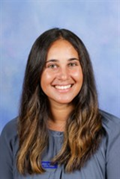 How long have you been at MWSC?
Since August 2021.
What is your role at MWSC? Previous roles?
I am a Social Worker by trade but my title is Mental Health Practitioner/Student Wellbeing Coordinator – bit of a mouthful!

What do you like to do outside of school?
I like to spend time with my family and friends until my social battery runs low and the introvert in me takes over. When that happens, I like to go for long walks, re-watch sitcoms and (try!) and practice some mindfulness such as yoga.
Favourite thing about working at a school?
I love that no two days are the same and there's always something interesting happening. Sometimes I am running in and out of meetings or catching up with students and other days I am glued to my laptop completing admin tasks. I also love working so closely with amazing education staff who not only put our student's academic abilities at the forefront but also their wellbeing.
The students are also a big part of what I love about working at a school (obviously!) especially this age group. I think they're fun, quirky and it's really great to see so much growth and maturity happen within their time on the Junior Campus.
If you didn't work in a school, what would you be doing?
I think I would still be working with youth and families in some capacity whether it be community-based work or within a clinical mental health setting.
What kind of student were you at school?
I was super chatty and easily distracted in class and if I were to ever see any of teachers in the future I would apologise profusely!
Mr Matt Sheehan
Campus Principal – Junior School