Alumni School Reunion Tours – Friday, 10 March 2023 for Class of 1973, 1983 & 1993
The buildings and grounds have changed so much over the years and we love welcoming our past-students back so that they can tour the grounds once more. Tours start at 10am from the main reception of the Senior Campus and conclude with a morning tea. Don't miss out! Bookings essential, click below for tickets. https://www.trybooking.com/events/landing?eid=1020467 and
If you have family or friends who went to Mount Waverley in the years listed, please pass on the exciting news.
We are hoping to have the Class of 2003 in Term 2 and Class of 2013 in Term 3.
Keep up to date by registering your details to receive the monthly newsletter: Register here.
If you have any updates or news to share please email me at alumni@mwsc.vic.edu.au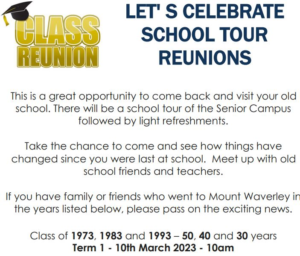 Ms Victoria Tortopidis
Careers Education and Alumni Coordinator