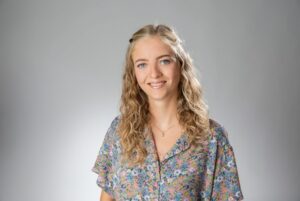 My name is Maya and I am the new German language assistant here at Mount Waverly Secondary College. I am from Innsbruck, a small city in the Austrian Alps. I was lucky enough to spend Term 4 of the last school year in Bright as a language assistant and I am very happy to live and work here in Melbourne till the end of Term 1. Being able to share my culture and language with the students and teachers is my favorite aspect about my job.
Back home, one of my biggest passions is rock climbing, and in the warmer months I like to go hiking. Another passion of mine is food – especially Asian food and most of all Indian food. The fact that I don't like winter or winter sports probably makes me a bit of an unusual Austrian, but out of this reason I am even happier to live in Australia during the summer months.
I am very happy to spend the last two months of my time in Australia here in Mount Waverly and I look forward getting to know many of you.    ~ Maya Aspöck
Mount Waverley Secondary College sincerely thanks the Halmai family who is providing a homestay experience for Maya for Term 1, and all other families who showed their interest in hosting Maya.  The generosity of the college community made it possible for us to have a language assistant at the college.
Ms Ayako Yasunaga
Head of Languages