Thank you
Thank you to all members of College Council for their support this year. We held our final meeting for the year last night. College Council is made up of parent, student, and staff representatives as well as our College Captains and my Executive Team. We will be calling for nominations for the new College Council which starts in March 2023 towards the beginning of next year.
2023 Financial Contributions
Parents/Carers should have received a Compass alert regarding 2023 Financial Contributions. Parent/Carer voluntary financial contributions have allowed us to run extensive well-being programs, a wider offering of subjects and special curriculum experiences; enhanced digital learning opportunities; faster WIFI and internet, and enhanced grounds and indoor and outdoor learning spaces. The financial contributions we have received this year is lower than in previous years. This is likely to have an impact longer term to the college's financial viability, in turn impacting what resources we can offer our students. Contributions to our Building Fund are tax deductible and you will be sent a tax receipt from our Finance Department. Please support our learning community by contributing to these important financial contributions.
Jazz Night
On Wednesday 7 December we held our annual Jazz under the Stars Night. The music was superb, and parents, staff and students all enjoyed the evening. Thank you to the parents who manned the sausage sizzle on the night and all of the instrumental staff and other staff who supported this event. Special thanks to Mrs Tijtje Keatley-Music Director for overseeing this event along with our 2022 Music Captains – Marvin and Cameron. Funds raised will go towards the 2023 Music Tour to Perth.
Year 7 Camp
Our Year 7 students went on camp to Phillip Island this week and had a wonderful time. Thank you to Ms Lauren Lockhart for overseeing this event and all the staff members who accompanied our students.
Year 8 Challenge
This week our 2022 Year 8 students attended the Challenge Program on the Senior Campus. Many sessions were on offer including Our Planet, The Spirit of Polynesia, Wellbeing, Sport, Yoga, Rock Climbing, Circus Arts, Hip Hop Dancing, Improvisation and Reptiles activities. Thank you to the Junior and Middle Sub schools for organising these diverse events and thank you to all the students and staff who attended to be challenged in some way!
Farewell and Best Wishes to our Retirees
It is with sadness that we farewell six valued members of staff (teachers and support staff) at the end of the year.  Below I have listed their years of service to Mount Waverley Secondary College.
Mr Warwick Irwin – 48 years
Mrs Chrissie Pappas -35 years
Mr Thomas Lo – 35 years
Mrs Rita Aggarwal – 23 years
Mr Graeme Dickman – 21 years
Mrs Patricia Peel – 18 years
Ms Ersilia Bruno – 4 years
Thank you to all these wonderful members of staff for their dedication and service to our learning community over many years. We wish our retirees the best in their future endeavours and know that they will enjoy the next phase of their lives.
Award Winner
On Monday 12 December, Year 12 student Kyra H attended the Chisholm Community Spirit Awards. Dr. Carina Garland, the MP for Chisholm presided over the event. Kyra was a part of a small group of students who received the award.
The Halina Strnad Community Spirit and Leadership Awards are presented to students in the Chisholm electorate. The awards recognise inspirational young people who make a difference to their communities and to the civic life of their schools. Congratulations Kyra!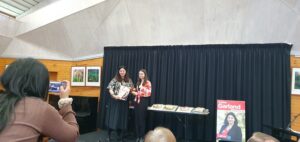 2023 Orientation Day
Thanks to the Junior Sub school Team for overseeing our Orientation Day on Tuesday 13 December, which saw our largest ever Year 7 cohort of students join our learning community. It was a wonderful day, and it was great to see everyone welcoming our new students to the college.
2023 Return to School Dates
The first day for Years 7 students is Monday 30 January, and half of our Year 12 students will be off heading off on camp on this day. Years 8, 9 and 10 students start on Tuesday 31 January with our Year 10 students heading off to camp on Wednesday 1 February. The Year 11 students will return on Wednesday 1 February. The General Offices will be open for business on Friday 27 January.
Year 12 Results
Congratulations to our 2022 College Dux Ewan B who scored an outstanding 99.85 ATAR. Ewan received a perfect study score of 50 in Further Mathematics NHT and a study score of 48 in both Mathematical Methods and Chemistry.  Also receiving a perfect study score of 50 was Olivia R in Legal Studies. We also had 24 students receive ATAR scores above 95 and 51 above 90 which was a great achievement. We had 276 achieving their VCE Certificate this year which was our biggest cohort completing Year 12 for the past few years.
I would also like to take this opportunity to acknowledge the remaining student body who have done their best always to fulfil their potential in all activities they have undertaken at Mount Waverley Secondary College.  Such a positive attitude to learning enables our college to maintain its exemplary learning culture.
I wish all members of the Mount Waverley Secondary College learning community a well-deserved safe and relaxing holiday.  I look forward to joining you in 2023 for another successful year.
Mrs Karen Wade
College Principal