It has been a very busy few weeks for the senior subschool teacher and students.
VCE – General Achievement Test (GAT)
Last Wednesday all students who are completing a Units 3 & 4 subject completed the GAT. This year the test was divided into two parts during the day.
Congratulations to all the students for their behaviour and positive approach to the tests. Thanks also to the subschool team – overseen by the Senior Subschool Leader Mr Matt Cara and the other team members and the exam supervisors for their assistance and supervision.
Year 11 Fancy Dress – September 2
The Year 11 students attended the Fancy Dress two weeks ago and had a great time. Thanks to all involved and to the teachers who attended in their own time on a Friday night.
Year 12 Formal – September 7
Last Wednesday the Year 12s celebrated their formal at Leonda by the Yarra in Hawthorn with 18 staff members. It was a chance for the students to talk to each other, take photos and hit the dancefloor. They all enjoyed themselves and there was positive feedback from the venue about their behaviour. It was a great way to finish the term.
VCE Central Australia Trip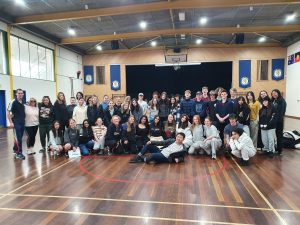 On Wednesday afternoon 43 students and 6 staff members headed off for an eight-day trip to Central Australia. It is exciting that the trip has been able to go ahead after it had to be cancelled in the past two years.
Units 3 & 4 Revision Program
All students completing a Units 3 & 4 subject have been given information about the revision program in the second week of the term break. Students are strongly encouraged to attend. Many teachers are attending to provide practice exams, extra support and revision lectures. Thanks in advance to all the teachers involved in the program.
Term Four – Year 12
Year 12 students are back for just over two weeks next term and information has been sent to families about the events and arrangements. Please contact the Senior Subschool if there are any questions.
Policies – on the college website
Many school policies have been updated and are on the college website (under the parent tab). If you have any questions about processes, it is a good place to start.
Mrs Julie Cain
Campus Principal – Senior School