Mount Waverley Primary School Leaders Visit
Over the past few weeks a group of Year 8 leaders and Year 11 & 12 leaders attended Mount Waverley Primary School. The Year 8 leaders did a fantastic job of running a Q&A style leadership session for the Year 5 students. The Year 11 & 12 leaders continued their work on a community action project, involving a sensory playground and visiting some aged care homes. Both groups of students thoroughly enjoyed their time at Mount Waverley Primary School and have been impressed by the leadership programs being run at MWPS. This program has been very beneficial for our school leaders who have enjoyed working with the MWPS leadership teams.
MWSC Blood Drive
The Year 12 student leadership team is running a blood drive and they need your help!
Every blood donation will make a real difference to a person's life. Did you know one blood donation can save up to three lives?
Australia's blood stocks are expected to drop to their lowest point since the start of the pandemic after donations took a nosedive due to the current surge in flu cases across the country, as well as colds and COVID.
As a result, the leadership team is calling on the broader MWSC community to roll up their sleeves and donate! The leadership team has set a target of getting 30 donations.
How to donate:
Check your eligibility. Sometimes people have to wait before they can donate so it's best to double check. https://www.lifeblood.com.au/blood/eligibility
Find a donor centre. You can give blood close to home, or near the office on your lunch break — it's simple to find a centre that suits you.
Book a donation. Get ready to start calling yourself a 'life-saver'! Find a time and day that works for you and book it in.
Remember to book your donation under the team name 'Mount Waverley Secondary College.' Or just mention it on the day at the donor centre when you go to donate.
People can register online at https://www.lifeblood.com.au/ and join the team 'Mount Waverley Secondary College'.
UN Youth National Conference
UN Youth Australia ran an annual National Conference aimed to bring together like-minded young Australians nationwide.  Centred around informing such passionate youths from all across the nation, the event utilised education, engagement with national leaders, and peer mentorship to foster an environment for greater positive change. 
With the main theme being 'Rethinking Law & Justice', we were lucky enough to have heard from Australia's most prominent judicial figures the likes of which include; Former Chief Justice of the High Court of Australia, Michael Kirby and others. We were also afforded the privilege to take part in the very first UN 2022 Listening Tour led by Australia's Youth Representative to the United Nations, Angelica Ojinnaka. 
Looking to the future, we aim to promote such events for interested peers to take part in and are grateful to be given the opportunity to share our ideas on a national level.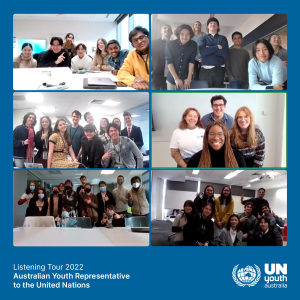 By Stanley L & Vineth M  (Year 11)
Mr Jacob Myers
Head of Student Voice