It has been a very busy time for the music department at the college with concerts and eisteddfods returning for the first time since 2019. I am so proud of the resilient nature of the music community at MWSC, striving for excellence.
MWSC Soirees
June saw the return of the soirees. These concerts feature soloists and small groups of different year levels and musical experiences. It is a lovely way for the younger students to hear the more advanced students, giving them inspiration to continue their musical journey. These concerts were held in the College Theatrette and were well attended by the school community. Thanks to the music captains, leaders and music staff for helping this event take place.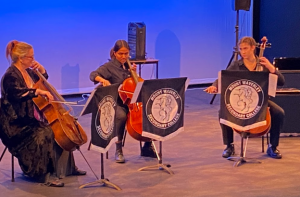 Mount Waverley Primary School Performance
In the young last week of Term 2, the Mount Waverley Secondary College Stage Band participated in a live performance for the Grade 6 students at Mount Waverley Primary School. This provided an excellent opportunity for the group to show off the hard work they have been doing and for the grade 6's to experience a range of different styles. Each item was introduced by an alumni member of the band who spoke about their musical experiences across both schools. Thanks to the primary school for hosting us.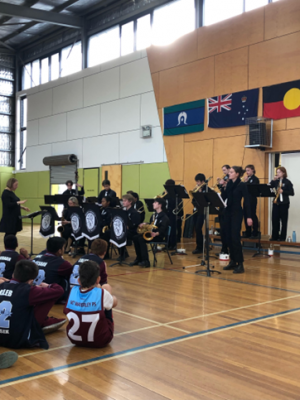 Monash Youth Festival – Senior Guitar Ensemble 
On Saturday 23 August, the Mount Waverley Senior Guitar Ensemble performed at the Monash Youth Music Festival held at Huntingtower School. Under the supervision of their teacher and ensemble director Mr Harry Tinney, the group placed third in the open chamber music category. The students involved in this performance were Ayaan A , Justin D , Ronit Is , Nicholas L and Oscar D.  The group performed two pieces by Australian Aboriginal artists – "Stay Young" by Coloured Stone and "From My Eyes" by No Fixed Address.
MWSC Music Alumni Congratulations – Christopher Rozakeas – 2021 Music Captain
Christopher Rozakeas, 2021 Music Captain, has been recognised for his musical talent in several prestigious ways. Chris received a premier's award for music performance, an amazing recognition given the competitive and subjective nature of music performance. In addition to this, he was shortlisted as one of six finalists for the James Morrison Scholarship, attending performances in Mount Gambier to participate in a range of concerts. Well done Chris, the music community at MWSC could not be prouder.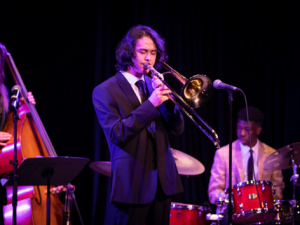 Matilda Orchestra
 After many months of collective and individual practice, I had the honor of conducting this beautiful show. With a challenging score, the orchestra made up of students, staff and alumni worked tirelessly to bring it to life. Thanks to staff members, Melissa Knowles, Joseph Yu, Damien Maughan, Misa Murphy, Rick Liang and Sherilyn Lee for playing in the ensemble. A massive congratulations to the current students, David R, Ethan L, and Sam E for your hard work and dedication learning a professional music theatre book.
The wonderful educational experience of having a live orchestra in a high school production is outlined by the two experiences outlined below:
 On Wednesday the 20th of July, I had the pleasure of sitting in the pit and listening to one of the Matilda rehearsals. This opportunity was given to VCE music students and students who are part of the instrumental music program that were invited by their teacher. The orchestra was made up of instrumental teachers who play woodwind, brass and piano, alumni who play woodwind, strings and piano and students who play guitar and percussion, along with Mrs Tijtje Keatley leading the orchestra as the conductor.
 Observing the rehearsal was a phenomenal experience and was very inspiring as you got to see your teacher and other music faculty play challenging music across multiple instruments. Being able to see what goes on behind the scenes taught me that there is a lot of patience needed when going through acts so that everyone has the opportunity to do their job both on and off the stage. I also learnt that the dedication and time that was put into learning all the music for the play 'Matilda' on one or more instruments was very rewarding as the end result was spectacular. This opportunity definitely allowed me to witness and appreciate the strong music community that MWSC has built and I would highly encourage students in the future to sit in and observe these rehearsals as it is an amazing experience and a great learning opportunity.
 Maddie T – Year 11
This year I was lucky enough to play guitar in the orchestra for this year's school production: Matilda the Musical alongside Sam E on bass and David R on drums.
 When I received the book late last year, it seemed like a daunting task to learn 2-hours worth of music. However, with the support of my instrumental teacher, it soon became a fun challenge. After many hours of practice each week, I was ready for the first rehearsal with the full orchestra. This was also the first time I heard the professional level musicians who had been working hard learning their own parts. This first rehearsal really put me out of my comfort zone as it was a completely different environment compared to a band full of students. Leading up to the show, we had many more rehearsals and by the time performance week came around, we were 100% confident and ready to go. We played a total of 5 shows, each one being an exciting, and exhilarating experience.
 Playing with other extremely talented musicians has been one the best learning experiences for me. From this, I have massively improved my guitar skills and musicality, as well as gained a new found knowledge and appreciation for the amount of effort and teamwork it takes to put on a musical.
 Overall, being a part of this year's production has made all the hard work and challenges I faced worth it as I gained new knowledge, experience and tons of fun memories. If given the opportunity, I would do it all again.
Ethan L – Year 11 (Matilda – Guitarist)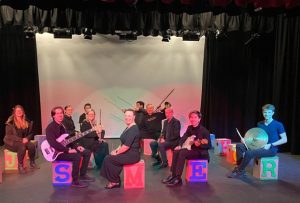 VSMF Strings & Choir
Silver Award to the MWSC String Orchestra – Timothy O'Connor (Head of Strings)
The College String Orchestra has received a Silver Award for their performance in the Victorian Schools Music Festival on 28 July in the Intermediate Strings section at the Hawthorn Arts Centre. The 20 members – playing violin, viola, cello and double bass – presented a 15-minute program including Merry-go-round of Life from the Japanese anime movie 'Howl's Moving Castle', a favourite of many MWSC students.  The chief adjudicator Dr Barnes from America commented, 'Loved your choice of pieces.', and the associate adjudicator wrote, 'Congratulations on your performance today, Mount Waverley Secondary! Keep searching for the music in every performance you give to your audience.'
Orchestra member Mifa M writes, 'This was a wonderful and rare opportunity to perform and learn from an American adjudicator. Performing our three pieces itself was a sensational experience. I could feel that, as the first note was played, everyone became immersed in creating the best sound that we could. The large 19th century hall really helped raise our orchestra to another level. We also got a chance to observe other schools perform, which gave us further insights into the feelings, transformations and beauty of music. The day was truly a bonding experience for us fellow musicians.'
Megan L reflects, 'It's been such a long time since we had been to a live music event that I had almost forgotten how exciting it is. The moment I heard the other school bands' bow strokes on the steel strings I was immersed in the energy that recordings can't match. When it was our school orchestra's turn to perform, it was as if everyone forgot about their nerves and became hyper focused on the music we were playing alone. I felt a sense of great joy and accomplishment as we all worked together to deliver music to the audience.'
VSMF – Choir – Tom Frost
On Tuesday 2August, the MWSC Choir performed at the annual Victorian Schools' Music Festival which was held at the Salvation Army Centre in Box Hill.  The choir performed two pieces – a composition by Australian composer Ms Mary Puddy titled "My Imagination," and a choral arrangement of Frank Sinatra's most famous song – "Fly Me To The Moon."
The performance was adjudicated by Mr George Torbay, an experienced choral conductor and educator from the University of Adelaide. Following the performance, George provided the choir with constructive feedback around the use of dynamics to begin each piece, as well as appropriate vowels and the placement of the soft palate in order to achieve well-rounded vowel pronunciation.
The choir received the Bronze award. It was great to have the opportunity to experience a live performance again after two years of cancellations.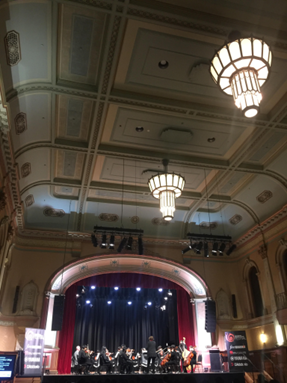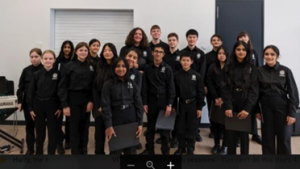 Mrs Tijtje Keatley
Music Director