Year 8-9 Transition
Recently our year 8 students began the very important process of subject selection for year 9 in 2023. While for you and your young person it might feel very early to start thinking about future pathways, we take great pride in the quality and quantity of information and support we are able to provide our students as they make their way through their secondary schooling. We pay close attention to our transition between year 8 and 9, as students move to the senior campus, and we'd like to thank our parent/carer community for their active involvement in this process. Knowledge is power, and we hope to empower our students to exercise their voice and make informed decisions about their futures.
Year 8 Camp
Information about year 8 camp has now been shared via Compass. Please ensure that you have read the information carefully and completed all necessary tasks. Students are finding out relevant information each week, and we are all thoroughly looking forward to going to Kinglake in October. Please speak to the Year 8 Coordinators (Jackson Waters – waj@mwsc.vic.edu.au or Georgia Mangano – mao@mwsc.vic.edu.au) or Acting Junior Sub School Leader Lauren Lockhart (loc@mwsc.vic.edu.au) for more information.
Interact Bake Sale
The Junior School Interact Club (our own mini-Rotary Club) has been busy preparing for a Bake Sale happening next week. All food items will be labelled with ingredients and there will be a variety of prices. I would encourage all students to bring some coins along to buy a treat that will go to a great cause: fundraising to purchase purpose-built sleeping/storage bags for people who are sleeping rough in the local Monash area and beyond.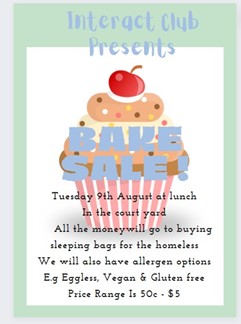 Parent Payments
Mount Waverley Secondary College is seeking your support in paying the voluntary financial contributions for 2022.
The ongoing partnership with our families ensures that our school can offer the best possible education and experiences for our students. We want to thank you for all your support, whether that's through fundraising, making payments or volunteering your time. This has made a huge difference to our school and the programs we can offer.
Within our college your financial contributions have allowed us to run extensive well-being programs, a wider offering of subjects and special curriculum experiences; enhanced digital learning opportunities; faster WIFI and internet, and enhanced grounds and indoor and outdoor learning spaces.
The curriculum contributions (previously deemed essential student learning items) cover items and activities that your student uses, or participates in, to access the curriculum. These include (but not limited to): ID card, handbook, planner, printing and photocopying of worksheets and classroom consumables, materials and equipment.
The financial contributions we have received this year is lower than in previous years. This is likely to have an impact longer term to the college's financial viability in turn impacting what resources we can offer our students.
Contributions to our Building Fund are tax deductible. You will be sent a tax receipt from our Finance department.
Instructions on how to pay your contributions
Open Compass and click on the 'Payments Centre' notification.
This will take you to the Action Centre page. You will see a section for 2022 School Contributions. Click on this. This will take you to the school contributions information letter. Click continue.
You will see the contributions items and can edit the amounts you want to contribute. If you do not wish to contribute to a specific item, change the amount to $0.
Once you have selected the items you want to contribute to, enter your payment details. You can choose to pay in full or via quarterly or monthly instalments. If you make a part contribution, you will be able to click into the overall contribution again at a later date and make a further contribution.
Click on process and save and close.
Mr Matt Sheehan
Campus Principal – Junior School