Term 2 certainly finished off with a flurry of activities! On Tuesday 24 May, we sent out our boys Netball team and our girls Football team. Both groups were sensational, but unfortunately were beaten in the final narrowly by Vermont SC.
In the first week of June, over 180 students represented the college in our term 2 round robin sports. The sports on offer were badminton, soccer, netball and AFL. Congratulations to our Year 7 girls soccer team, our Year 8 girls soccer team, our Year 8 boys soccer team, and our Year 8 girls badminton team who all won through to the Regional Finals.  They will compete in term 3 for the right to go through to State finals!
And finally, on Tuesday 14 June, 44 students represented the college in the Regional Cross Country Championships. 5 of our students made it through to the State Championships, with 4 being from Year 8. Congratulations to Noah and Tharul who finished 1st and 2nd in their race, along with Hayden and Aaron who qualified as a part of the team event. Amazing performance!
~ Mr Danny Gwynne, Sports Leader – Junior School

Year 8 Boys Badminton
On Friday 3 June,  eight year 8 boys represented the school in the district badminton round robin. The boys "A" won their first two matches against Verrmont SC & Highvale SC but were defeated in the final by Glen Waverley SC.   The "B" team finished top of their group defeating Vermont, Highvale & Glen Waverley.
Well done to all the boys for their exemplary behaviour & fine sportsmanship. The team was: Amav K, Rithila R, Anidhya S, Ian W, King F, Yaj K, Sifat M and Jayden C.  ~  Mr Campbell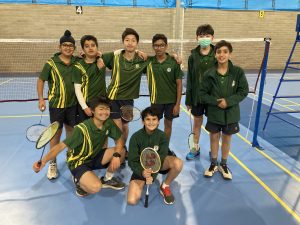 Year 8 Boys & Girls Soccer
The Year 8 Girls and Boys teams both backed up 2021 District Championships with a series of resounding wins at the 2022 District Competition. The Girls won 3-0, 4-0 and 10-0 while the Boys won 8-0, 13-0 and 3-0. Both teams will now play for the Regional title in early Term 3.  ~ Mr Johnston