Term 2 has been a busy term for the careers team and in particular Year 10 students, we would like to take this moment to congratulate the students on a job well done. Feedback from employers has been outstanding.
Work Experience

On Monday 30 May, our Year 10 students headed off on their work experience adventure, students attended a diverse range of business', some students were lucky enough to be offered casual employment within their placement.
The aim of the work experience program is to allow the students the opportunity to;
develop employability skills
explore possible career options
understand employer expectations, and
increase their self-understanding, maturity, independence and self-confidence.
Employer feedback indicated that our students ranked exceptionally well in quality of work, communication and interpersonal skills and time management.
We look forward to working with the current Year 9 students later this year in preparation for their 2023 placement.
Subject selections 
We are currently preparing for student subject selection and information evenings for 2023.  Keep an eye on your email and remember to diarise the information night dates when they are published.
VTAC
VTAC registration opens Monday 1 August, students should be meeting with the careers team to explore their plans for 2023. The Careers team are scheduling appointments with students, however are very happy for students to initiate a meeting via email careers@mwsc.vic.edu.au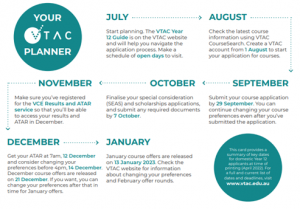 Open days
Open days in recent years have migrated to the online environment however this year we have the opportunity to attend open days in person. This is a wonderful opportunity for our students to attend and explore the facilities of campus, speak to university staff and students.  For more information click on the below link to access open day information.  https://sites.google.com/mwsc.vic.edu.au/careers/senior-school/vtac-2022
Ms Joanne Hall
Careers Education Manager