Recreation and volunteering opportunities
During the week many students have made friends in the Resource Centre as they play board games and  work on a communal jigsaw at lunchtimes.  It has been encouraging to see many students elect to be part of the Resource Centre Crew to do small tasks that build the capacity of the centre and encourage team building. At the end of Term 1 these students celebrated their involvement with a traditional Hot Cross Buns morning tea. Any student is welcome to volunteer to be part of the crew and tasks have included: changing due date stamps, emptying recycling bins, running the Circulation desk, helping with enquiries, shelving, putting up posters.
Reading support opportunities
Each fortnight Year 7 English classes are encouraged to have a lesson in the library reading space. The sessions are designed to encourage students' reading with various mini lessons. The first session in term 2 students were encouraged to read picture books, selected non-fiction texts and excerpts of novels related to the Gallipoli campaign and ANZAC day. Students identified unfamiliar words and worked out meanings in the context of the story or in discussion.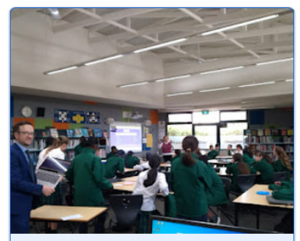 The Reading Space is a calming one with natural light and bright new furniture that encourages imagination during classes and breaks. Students completed a short reflective written activity where they defined unfamiliar words or locations specific to the theme. Classes developed large banks of knowledge so last week during a lunchtime break in the library we had a competition where Year 7s competed in table groups against Mr Sheehan, Campus Principal – Junior School, in a multiple choice competition whilst nibbling traditional ANZAC biscuits. Some students had done extra learning to increase their knowledge base and the winners were students! Over the cooler months we aim to have more competitions.
Many students are entering book reviews for the books they have entered in the Premiers Reading Challenge 2022. Whether a student enters the formal competition or not we applaud their efforts in reading beyond the set work as reading for enjoyment and information is a skill for lifelong learning and recreation. If your child seems to wonder what to read next please encourage them to talk to the library staff.
Supporting students in their research tasks
During Term 1 students completed research tasks during Year 7 and 8 Science and Year 8 English with linked lessons in the Research Space. There were lessons teaching them how to use the databases that the school subscribes to, evaluate the relative value of independently researched websites and how to access relevant books. It was interesting that as English were investigating female scientists who had experienced adversity alongside the viewing of "Hidden Figures" that students were investigating science topics of interest in their Science subjects. Students are constantly making links across curriculum areas and the Resource Centre aimed to work with students on creating bibliographies and note taking charts in Term 1.
Mrs Stephanie Thomas
Teacher Librarian
Resource Centre – Junior Campus