Introducing the VCE Vocational Major (2023)
In 2023 our college will be introducing the new VCE Vocational Major. We will be offering this new stream of the VCE to Year 11 students in 2023 and will expand the program in 2024 for both Year 11 and 12 students.
The VCE Vocational Major is a new vocational and applied learning program that sits within the VCE. It is four new subjects that have been added to the VCE that will make up the core of your program.  It takes what is called an 'Applied Learning approach".  Applied learning involves students engaging in relevant and authentic learning experiences. It is a method of learning where theoretical information comes to life for students in a real world context that relates directly to their own future, is within their own control and is within an environment where they feel safe and respected.  Students' knowledge grows and expands as they take action to learn, reflect on that action and plan how to do it better next time.
The VCE Vocational Major will prepare students to move successfully into apprenticeships, traineeships, further education and training, university through alternative entry programs or directly into the workforce.  The four main studies are assessed at a school level through authentic assessment activities.  There are no external examinations for the VCE Vocational Major studies and therefore students do not receive a study score, and are not eligible to receive an ATAR.
The VCE Vocational Major is a two year program over Year 11 and 12.  Only students who enrol in the full program can choose these new VCE Vocational Major studies.
Students who have completed the requirements of the VCE Vocational Major will receive a Victorian Certificate of Education with the words Vocational Major on it to recognise their achievements, they will graduate with their cohort.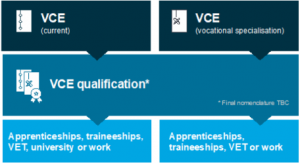 The introduction of the VCE Vocational Major is an exciting opportunity for our students. The college will be holding an information evening at the beginning of term 3 to provide our year 10 students and families more information.
If you have any questions in relation to the VCE Vocational Major, please email me at mck@mwsc.vic.edu.au
Ms Lisa McKiernan
Head of Senior Pathways