Senior Boys Soccer
A very chilly Friday saw the Senior Boys Soccer Team head to Monash Uni to play in their first District Comp in 3 years.  Thankfully the rain held off and the boys carried the day winning 3 – 0 versus Vermont, 1 – 0 against Glen Waverley in a very tight contest, and conceded only one goal for the day against Highvale SC, thankfully still winning 3 – 1.
Great plays were too many to mention but Zander K's (Year 11) fantastic corners kept the opposition scared and scarred all day!  We look forward to contesting at Regionals in July ~ Mr Peter Young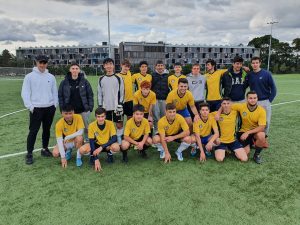 Senior Boys Footy
On Friday 6 May, it was a case of 'Back to the 80's' for the Senior Boys Football team. The theme this year was 1980's, while the players may not have quite had the hair cuts or the woollen jumpers to be reminiscent of a bygone decade, they were valiant and played incredibly well.
The boys got an early jump on Highvale SC, before easily brushing past Glen Waverley SC for two victories. However, they were outclassed and outplayed in the final game against Vermont SC, unfortunately not progressing to the next stage.Despite this, it was a fantastic day for all, with the sun shining and the rain holding off on what was a very cold afternoon. The highlight of the day was a huge run-down tackle from Ranu 'The Do' P (Year 12).
All the boys finished with a big smile on their faces and played their hearts out. Their two coaches were incredibly proud of everyone for their efforts and want to congratulate them on their efforts again. ~ Mr Jacob Myers