Magnificent Work of our Education Support Staff                                                            
On Monday 16 May Education Support staff were acknowledged and celebrated for their contribution to the college.  We are very fortunate to have a terrific team of support staff helping to care for and education your children and run our college.  Our Education Support staff, to mention a few, include our friendly and caring Admin and Finance staff, Integration Assistants, Nurses, Interpreter/EAL Assistants, Resource Centre, Science Laboratory and Food Tech staff, as well as skilled Maintenance and ICT staff.
It is such personnel who are quiet achievers and who so admirably support our teaching staff in effectively delivering the curriculum.  This large team of personnel are ably led by our talented Business Manager's Mrs Linda Westgarth and Mrs Kari Simmons.
On behalf of the college community, I wish to thank our Education Support staff for their significant contribution to our college.
'MWSC Wordsmith' 2022 – Badge Award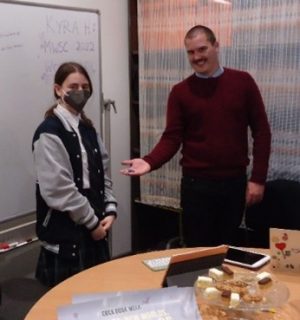 On Tuesday 10 May the student creative writing group 'Left to Write' had a celebratory meeting.
Kyra H (Year 12) was awarded the official title and badge – '2022 Wordsmith' for leading this multi-year level group of talented creative writers. Kyra is being commended for stepping up whilst Ms Boughen is on long service leave. 'Left to Write' was inaugurated in 2019, with Kyra being one of the founding members. 'Left to Write' has been nurtured by Ms Boughen through two years of the pandemic and has emerged with, writing awards, publications and over 20 members.
Congratulations Kyra!

Community Bank Pinewood Scholarship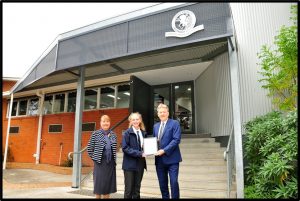 On Wednesday 11 May, Jocelyn S from Year 11 was awarded the inaugural 'Community Bank Pinewood Scholarship' in association with the Bendigo Bank. The scholarship aims to encourage and support a Year 11 community-focussed student with their studies and school-related expenses.
The selection panel commented on the difficulty of their decision as there were many impressive applications in a very strong field. This scholarship process highlighted all the fantastic work the students from Mount Waverley Secondary College are engaging within the broader community.
Jocelyn was a worthy recipient having achieved both her silver and bronze medals through The Duke of Edinburgh's Award, as well as being a Guide Leader and a Squad Leader for St Johns Ambulance. Jocelyn was awarded the scholarship by Mr Robert Davies, the Community Bank Pinewood Chairman of the Board. Congratulations Jocelyn!
All State Jazz Festival
Well done to our college Jazz Band and Senior Stage Band for their amazing performances last Saturday at the All State Jazz Competition.  Both bands have been rehearsing for the past 6 months and their commitment to our music program really showed.  Thank you to our instrumental staff who have been supporting our students.
A big thank you to Mr Damien Maughan for his work with the Jazz Band. Thank you to Mrs Tijtje Keatley for her work with the Stage Band and her leadership to ensure our students had the opportunity to perform at such a big event.
Our Senior Stage Band came first place overall in their division. We also won best trumpet and rhythm sections and three of our students were named all stars.
Victorian All State Jazz Championships ALL STARS:
Baritone sax: Noah L  (Year 9)
Trumpet 3: Alannah R  (Year 10)
Bass: Sam E  (Year 11)
The band will now be playing at a Gala Concert this Saturday. This was an amazing achievement. Congratulations to all involved.
Senior Campus Careers Week
Special thanks to Mrs Joanne Hall our Careers Education Manager and Mrs Victoria Tortopidis our Careers Education and Alumni Coordinator, for putting together a fantastic program of sessions for Career Week this week. It was pleasing to see so many students engage across the week with presenters including Dr Bowen Xia, a medical intern at Monash Medical Centre, the Australian Defence Force and major universities and TAFE colleges.
Celebrating Diversity
Our Respect Club organised activities on both campuses to help celebrate diversity at Mount Waverley Secondary College this week. It is lovely to see that we are an inclusive school.
Professional Practice Day in Term 2, 2022
The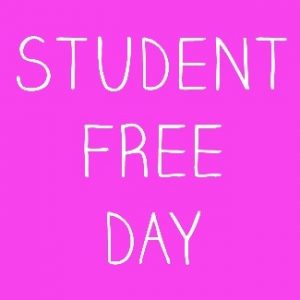 Department of Education and training recently reached an in-principle agreement with unions, as bargaining representatives of employees in the Victorian Teaching Service, on a proposed replacement enterprise agreement that will apply to eligible teaching service employees.  If approved, teachers will be entitled to 3 professional practice days in 2022, starting in Term 2, 2022.
For Term 2, 2022 only, the department recommends schools hold their first professional practice day on the same day for all staff.  This is to make it easier for schools who are finding it hard to source casual relief teachers.
Our professional practice day for Term 2 will be held next Wednesday 25 May and students are not expected to attend school on the day.
Mrs Karen Wade
College Principal