As we finish another school year, I would personally like to thank the music community at Mount Waverley Secondary College. The performing arts, both in the general community, and in education, have been affected by the lockdowns throughout the past two years. Through this time, the music community at the college has pulled together to continue to make music and nurture our young musicians. High level lessons have continued, moving online to in person, and performances have continued remotely, highlighting our talented students.
Thank-you to the wonderful music teachers at the college for showing such commitment and passion for teaching music.
Planning for 2022
The music faculty has been engaging in planning for 2022 and we are all very excited for the year ahead. Places to 2022 Year's 7-12 instrumental lessons have been finalised, and acceptance emails for the program will be sent out to all students before the end of term.
A large number of students applied to be part of the 2022 Music Leadership Team, and went through an interview process. The music leaders and captains for 2022 have been finalised and will start working on projects in the new year.
Auditions for the MWSC Jazz Band and Senior Stage Band have taken place and positions have been filled for these two amazing ensembles. Both groups have begun rehearsing for All State Jazz and Generations in Jazz, two massive events that take place early in the year.
The music faculty will meet for the annual planning day to map out the year of music events next week.
I look forward to seeing you all at music concerts in 2022.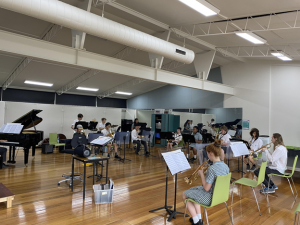 Mrs Tijtje Keatley
Music Director