Thank you to my wonderful learning community 
Thank you to all members of our learning community and our College Council for your continued support this year. It was another challenging year, but I think our programs continued to be exemplary thanks to the hard work and dedication of our staff, students and parents. I particularly want to thank my wonderful Executive Team, Campus Principals, Mr Ian MacLeod, Mrs Julie Cain and Mr Matt Sheehan and Business Managers, Mrs Linda Westgarth and Mrs Judith Walsh for supporting me this year, as we constantly met to ensure smooth operations at the college. Have a wonderful festive season with your families and friends and I (and our therapy dog Macey) look forward to seeing you in 2022!
Japanese Language Teachers Association of Victoria (JLTAV)Junior Speech Competition
Four Japanese students recently represented the college at the JLTAV Junior Speech Competition.
Rutvi D – Year 7 & 8 Individual division
Mifa M and Megan L –  Year 9 & 10 Pair division
Kailie B  – Secondary Open division
The students' entries consisted of a recitation of a set speech and an original speech. The students wrote their own engaging speech script, practised a lot to improve their fluency and pronunciation, and presented both set and original speeches with confidence. I am very proud to announce that Kailie, Mifa and Megan won first place in their divisions. Congratulations to our students and thank you to Mrs Ayako Yasunaga our Head of Languages for encouraging these students to enter this competition.
Events and celebrations
It has been wonderful to be able to offer students activities and events again due to advice changing in the School Operations Guide. Thank you to my dedicated staff for planning these events with limited notice and for attending events in and out of school hours. In the last few weeks, the Year 10 students had their Gala at Vogue Ballroom, the Year 11 students had a Celebration Evening at the Novotel in Glen Waverley and last Tuesday our Year 12s came together to celebrate the end of Year 12 with a Formal again at Vogue Ballroom.
Orientation Day
Thank you to Acting Campus Principal Mr Matt Sheehan and Head of Junior School Mrs Debbie Sekula and all Junior Campus staff for supporting the Orientation Day on Tuesday 7 December. It was an exciting day, and it was wonderful to see everyone welcoming our new students to the college.
Early Commencement Program (ECP)
Our 2022 Year 8-12 early Commencement Program ran smoothly last week. Whilst teaching staff introduced their new students to their 2022 subjects, it was nice to see staff taking the chance to connect or reconnect with the students to start building positive relationships. Special thanks to Mr Scott Smith our Daily Organiser, who has done an amazing amount of work creating the 2022 timetable.
Arts Festival Awards
Last Thursday I had the pleasure of attending the Arts Festival Awards where winners were presented with their prizes from Ms Jane Carter our Head of Arts. Our students' artwork was of a very high standard, and I commend all of our students and staff for your efforts over the past year.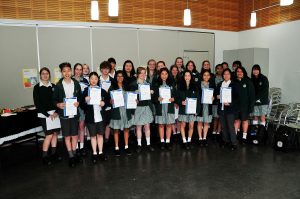 The 2021 Arts Festival Winners were:
| | |
| --- | --- |
| People's Choice Award – Olivia Z | |
| 7 Art – Shreya N | 8 Drama – Mia J |
| 7 Art – Hruthi M | 8 Drama – Amelia K |
| 8 Art (2D) – Shion M | 10 Drama – Tessa G |
| 8 Art (3D) – Xiao Yu W | 11 Drama – Neave M |
| 9 2D Art – Beatrice L | 9 Media – Pria T |
| 9 3D Art – Tanvi P | 9 Media  – Maya C |
| 10 2D Art – Siobhan W | 10 Media – Dmitrii S |
| 10 2D Art – Liam H | 11 Media – Megan L |
| 10 3D Art – Mifa M | 11 Media – Olivia K |
| 11 Studio Art – Sabrina C | 8  Visual Communication Design – Kimmi T |
| 11 Studio Art – Alisha G | 8 Visual Communication Design – Vinuki R |
| 11 Studio Art – Meeka F | 9 Visual Communication Design – Farrah H |
| 12 Studio Art – Carolyn S | 10 Visual Communication Design – Ethan L |
| 12 Studio Art – Fiona L | 10 Visual Communication Design – Sam G |
| Junior Music – Vinuki R | 11 Visual Communication Design – Alisha G |
| Junior Music – Zahra A | 11 Visual Communication Design – Hanh L |
| Middle School Music – Georgia K | 12 Visual Communication Design – Sophia A |
| Middle School Music – Sam E | 9 Journalism – Madeleine D |
| 11 Music – Felicia L | 10 Journalism – Sarah B |
| 12 Music – Chris R | |
Visual Communication Bookplate Awards
Congratulations to four Year 11 students who won a design competition to design our library bookplates. It is wonderful to see real life projects coming to fruition. I presented the students with their prizes a special morning tea last Week. Special thanks to Mrs Cecilia Carlill and Ms Andrea Daniels for organising this opportunity for our Visual Communication students.
2022 C.A.S. Hawker Scholarships
Applications for the 2022 Charles Hawker Scholarships have opened and close on Friday 7 January 2022. An application form and further information about C.A.S. Hawker and the scholarships named in his memory are available from www.hawkerscholarship.org or by contacting the secretary to the Trustees on 08 8127 1654.
Hawker Scholarships are valued at up to $60,000.00 over three years and are amongst the most generous, privately funded, residential scholarships available to Australian undergraduate and postgraduate students.
There are a number of scholarships awarded each year. The Trustees offer them to capable students of principle and character who have demonstrated a commitment to the wider community. Selection is based on personal qualities as well as academic ability.
Year 12 Results
Congratulations to our Class of 2021 who received their results yesterday. No matter what ATAR you received I am extremely proud of your efforts over the past 2 years under what has been challenging circumstances.
It gives me great pleasure to announce our College Dux for 2021 was Rachel Tan who received a perfect ATAR score of 99.95 Congratulations we are so proud of your amazing achievement!
Our Year 12 and Year 7-11 award winners will receive their awards at our 2021 Virtual Presentation Night which will be held on Wednesday 2 March.
2022 Return to School Dates
The first day for Years 7, 10 and 12 students is Monday 31 January, and the Year 10 and 12 students will be off heading off on camp. Years 8, 9 and 11 students start on Tuesday 1 February.  The General Offices will be open for business on Thursday 27 January.
Mrs Karen Wade
College Principal