It has been wonderful to see students back on site and once again in music lessons. The commitment and flexibility of these students moving from remote to in person lessons should be commended. The music faculty has exciting plans moving forward into 2022. We have begun to plan for ensembles, performances, production and ensembles. We are searching for our 2022 Jazz and Senior Stage Band positions with a full bill of auditions taking place over the next week. Congratulations to those students who have been chosen by the music staff to partake in an audition, and good luck to all.
Remote Gala Concerts
As we have been limited in running live concerts, we are having a series of remote Gala Concerts via Youtube Premiere. These concerts feature students Year 7-12 playing a wide variety of instruments and genres. Each concert is approximately 30 minutes in length. Please come along and celebrate our music program at the college.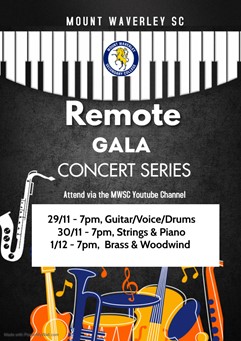 NB:  Youtube Links will be sent out closer to the event via Compass
Upcoming Music Events for 2022  
MWSC Jazz Night
Jazz Camp
MWSC All State Jazz Championships
Generations in Jazz
Unit 10, 11, 12 Recitals
Soirees
Victorian Schools Music Festival
South Street Eisteddfod
Music Gala Concert
Year 7 Band Program Concert
Lunchtime Concert
College Production – 'Matilda'
Mrs Tijtje Keatley
Music Director