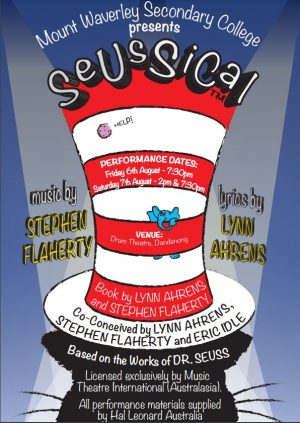 Mount Waverley Secondary College proudly presents our 2021 College Production  "Seussical- The Musical!"
Based on the works of Dr Seuss, 'Seussical' tells the story of Horton the Elephant and his quest to make the citizens of Whoville "heard," to prove that a person's a person, no matter how small.
It is a story of compassion, bravery, using your imagination and standing up for what you believe in.
Performances will be held at the Drum Theatre in Dandenong on Friday 6 August (7.30pm) and Saturday 7 August (2pm and 7.30pm).
Tickets are now on sale.  Please click on link:   https://drum.greaterdandenong.vic.gov.au/drum/events/mount-waverley-secondary-college-production-2021-seussical
Looking forward to seeing you there!
Mr Thomas Frost
Production Director