Magnificent work of our Education Support Staff                                                            
On 19 May Education Support staff were acknowledged and celebrated for their contribution to the college.  We are very fortunate to have a terrific team of support staff helping to care for and education your children, and run our college.  Our Education Support staff, to mention a few, include our friendly and caring Admin and Finance staff, Integration Assistants, Nurses,  Interpreter/EAL Assistants, Resource Centre, Science Laboratory and Food Tech staff, as well as skilled maintenance and ICT staff.
It is such personnel who are quiet achievers and who so admirably support our teaching staff in effectively delivering the curriculum.  This large team of personnel are ably led by our talented Business Manager's Mrs Linda Westgarth and Mrs Judith Walsh.
On behalf of the college community I wish to thank our Education Support staff for their significant contribution to our college.
Correction Day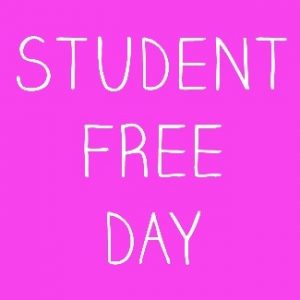 Please note due to the lockdown and examination dates being postponed, the Correction Day will now take place on Friday 18 June and this is a student free day.
This day will enable teachers to finalise their Semester 1 assessments.
Our Semester 2 classes will now begin on Monday 21 June.
The Arts on Display 
Over the past two weeks there have been fantastic Arts ensembles and performances on display. The Year 10 and Year 11 Drama students performed their pieces and were assessed on their work. The Year 10 and 12 Music Performance students also played to an audience of friends, parents and staff and were assessed by our Instrumental and Classroom Music teachers.
Congratulations to all of our talented students, you should all be very proud of your achievements.
Senior Campus Careers Week
Special thanks to Mrs Joanne Hall our Careers Education Manager and Ms Athena Geros our Careers Education and Alumni Coordinator, for putting together a fantastic program of sessions for Career Week last week. It was pleasing to see so many students engage across the week with presenters including the Defence Forces and major universities.
Year 10 Work Experience
Please note for the safety of our students these programs have been cancelled and normal classes will run during these times.
Celebrating Diversity
Our Respect Club organised activities on both campuses to help celebrate diversity at Mount Waverley Secondary College last week. It is lovely to see that we are an inclusive school and artist Ulla Taylor did an incredible job of creating a 3D Unicorn.
Monash Tech School Industry Immersion Day
Year 11 Technology and Visual Communication students had an opportunity to visit the metro tunnel HQ recently. Students were able to investigate occupations and pathways in construction, engineering, and Victorian rail infrastructure. They were able to learn how STEM subjects are used in real-world Logistics, Engineering & Construction sectors. Thank you to Mr Ian Shaw and Mr Alan Yeung, two of our Technology teachers, who accompanied our students on the day.
Red Shield Appeal

The Salvation Army
 are working to make sure that no one in our community is left in need. This means continuing to provide support to people they have always assisted, as well as working with people who have never needed them before the pandemic.
At this time of year, Mount Waverley Secondary College students would usually be out knocking on doors to help raise funds for the Red Shield Appeal. This year, the Salvation Army needs to do things differently and so their Appeal has moved to a digital platform.
Please help the Salvation Army by getting involved in their Digital Doorknock https://digitaldoorknock.salvationarmy.org.au/t/waverley-vic-salvos.
Mrs Karen Wade
College Principal