Senior Boys and Girls Badminton
Mount Waverley fielded four full senior teams for badminton this year – a tremendous effort! As per usual, our students should be proud of the polite and sportsperson-like way they conducted themselves.
The Boys A team are through the next round, defeating rivals Glen Waverley SC in the finals 5 rubbers to 1. The Boys B team also made the final of their pool, winning it comprehensively.
In the Girls draw, the A team also met with success, making the finals. Unfortunately, Glen Waverley SC was too strong this year. However, our A1 player Eva Z (year 11) went undefeated in singles, defeating Glen Waverley's number 1 player 21-3 in the final.   Congratulations Eva!   ~ Mr Tim Peters
Senior Boys Football
It was a case of nostalgia for the senior boys footy team this year, as the theme was 'back to the 70's'. The players all embraced the theme and did both themselves and the school proud. Special thanks must go to the volunteers who helped on the day as well.
The boys easily dispatched their opponents in the first two games, running out comfortable winners over Highvale SC and Glen Waverley SC. The scene was set for a titanic showdown between Vermont SC and MWSC for the final match of the day, unfortunately the team fell short by 2 goals.
However, as quoted by one of the boys after the day "We had the most fun out there, we were the team that loved being there the most." And isn't that what football is all about.    ~ Mr Jacob Myers
Senior Boys Soccer
The Senior Boys' team were undefeated on the day thumping VermontSC  5 – 1 in the final.  I'm not sure how last year's lockdown impacted most people, but I got the impression that most of my team spent the extra time at home brushing up their soccer skills – they were amazing!  ~ Mr Peter Young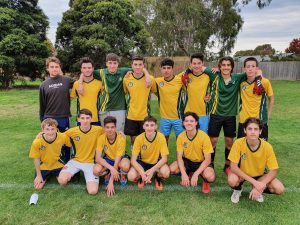 Division Cross Country
Term 2 sport started off with our Division Cross Country carnival.  We headed to Norton's Park on a cold, wet and windy Tuesday with 80 junior school students.  Despite the weather, they all attacked the course with determination, and while we were narrowly defeated by Vermont SC to come in 2nd place, we had a huge number of individuals who qualified for the next level. Congratulations, and what an amazing achievement to all the students  who will compete at Yarra Glen Racecourse on Tuesday 15 June.  Refer to  College Principal's article for the list of students who have made it through to the next round. ~ Mr Danny Gwynne, Sports Coordinator – Junior Campus
On Tuesday 4 May, 62 MWSC Senior Campus students took off to Norton's Park to take part in the Division Cross Country.  Despite the cool weather and occasional drizzle, the day was a resounding success!  All MWSC students competed strongly all day with many students winning through to the Eastern Metropolitan Regional finals.  MWSC were winners of the Intermediate Age Shield, with winners across both the 15 and 16 year age groups, and placed 2nd in the Senior Shield as well as 2nd overall for the day.  What an amazing achievement!
Congratulations to all students involved and good luck to everyone progressing through to the next round!  ~ Mr Liam Wall, Sports Coordinator – Senior Campus