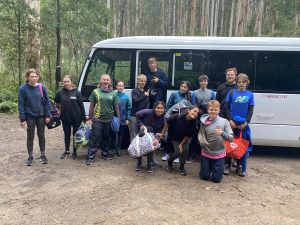 On Thursday 22April, 12 Outdoor and Environmental Studies students ventured up towards the Dandenong Ranges to take part in a river kayaking and caving expedition.
The weather started as a warm 17 degrees during the kayaking section of the day and despite a few bumps which included students ending up in the water, everyone seemed to have had a good time.
We then moved onto Yarra Junction to take part in the Caving.  By this time, the outside temperature was a brisk 8 degrees, but inside the cave it was a warm and cozy 20 degrees.
Although the caves were tight in some spaces and we experienced a  few deeper than expected puddles,  all students left with a huge smile on their face and said it was an experience they wouldn't forget.
Outdoor and Environmental Studies is a VCE new subject at Mount Waverley Secondary College.  Students will participate in various outdoor activities as part of their course this year.
So far this semester, the class have partipcated in mountain bike riding and now river kayaking and caving.  We look forward to undertaking surfing, sea kayaking and potentially a coastal camp later this year.
Mr Liam Wall
Senior School Sports Leader