On Monday 22 March, Dr Michael Carr-Gregg spoke to our Year 12's on how to survive the year and get the best out of themselves. This presentation was followed up with a lesson plan in mentoring this week, summarising Dr. Carr-Gregg's presentation and asking the students to complete a time management exercise, writing down their demands and the resources they will use to help them.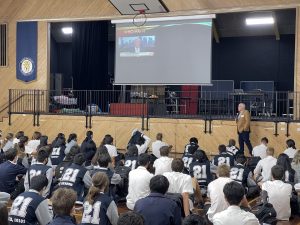 At the end of last year, we developed a Student Wellbeing Model. The model is a holistic approach to supporting students to be happy, healthy and thrive. In the first phase of implementation, we have briefed the staff and presented it to the Year 9 and 10 students.
On Tuesday 30 March, with the help of four Year 12 leaders, Priyal, Emilie, Rachel, and Stephanie, I presented the model to the Year 8 leaders and a selection of Year 8 students.  Following the presentation they worked in small groups to provide their advice and suggestions on how to implement the model in the classroom. Next term I will present the model to the Year 11's and to the Junior Campus, Year 7 and 8 students.
Further information on the rollout of the implementation will be communicated in upcoming newsletters including information on a virtual parent event.
Mr Paul Graham
Manager of Student Wellbeing