Top Arts Exhibition 2021
Congratulations to our past students Selina Guo and Amilie Hsiao (class of 2020) who have the immense honour to be exhibiting in Top Arts 2021, at NGV Fed Square. 131 Victorian Studio Art students were shortlisted for Top Arts 2021 including 3 students from Mount Waverley Secondary College!  Selina Guo and Amilie Hsiao are 2 of the final 46 students statewide to be part of the Top Arts 2021.
Selina Guo created a series of digital artworks exploring humanities' pervasive fear of nature, while Amilie Hsiao's work explores the relationship that humans have with viruses.  Ms Lynette Spiller taught both these students in 2020 and is immensely proud of their achievements during 2020.
Please visit this free exhibition at NGV, Federation Square from 26 March 21 to 11 July 21.   https://www.ngv.vic.gov.au/exhibition/top-arts-2021/
Year 10 Drama – "Voldemort and the Teenage Hogwarts" performance
On Wednesday 22 March the Year 10 Drama class ventured to the every quirky and innovative Theatreworks in St Kilda.  We were there to watch the much celebrated parody "Voldemort and the Teenage Hogworts.
In this new Covid normal we were seated in perspex boxes each with its own 'House Affiliation" – I was Hufflepuff!    This highly energetic musical did not disappoint!    The students thoroughly enjoyed it and we can't wait to pull it apart in class  and analyse the style, conventions and dramatic elements!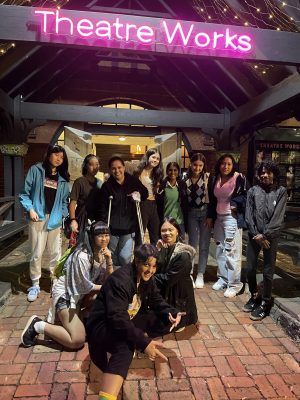 Ms Jane Carter
Head of The Arts