Lions Youth of the Year District Final
On Saturday 27 March College Deputy Captain Jaquelyn Gunn represented the college in the Lions Youth of the Year district final. Thank you to Head of Senior School Ms Lisa McKiernan, and Jaquelyn's Visual Communications teacher Ms Cecilia Carlill, for attending the event and supporting Jaquelyn. Although she will not progress to the state final, Jaquelyn's speech was highly commended by the judging panel. We are very proud of you Jaquelyn!
Mount Matters
In Year 11 Mount Matters this week, the Year 11 student leaders facilitated a session on Positive Relationships in the classroom. Thank you to Mrs Meagan Merlino, who worked with the leaders to plan the session and also attended the session as an observer. Our Year 11 Mount Matters representatives had some great insights about how students and teachers can foster positive relationships in the classroom. They will continue this work into next term, with the goal being to present some of the information to teachers at a staff meeting.
In Year 9 Mount Matters last week, Year 9 students Luna, Farah, Charlotte, Clementine, Maya, Alannah, Madeleine, and Georgia, facilitated a session around the college values – iLearn (integrity, learning, excellence, accountability, respect, and nurturing). The session focussed on the associated behaviours and actions, and how they are demonstrated in the classroom. Thank you to the students who organised and led the session – we look forward to seeing how you share this feedback with the broader school community.
Year 8 Student Leadership
Thank you to Miss Sam Cody, Leader of Junior School, and Miss Grace Leszczynski, Junior Campus Activities Coordinator, for their ongoing work with our Junior Campus Leadership Team. Sam and Grace have supported students in their weekly meetings and have assisted in the planning, advertising, and running of a House Volleyball competition and casual clothes day.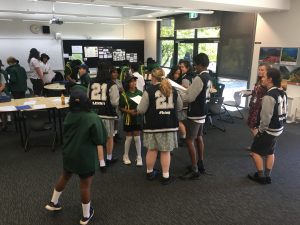 Senior Campus Student Leadership
Thank you to Mr Jacob Myers for his outstanding work with the Year 10 and 11 student leadership teams throughout the term. Jacob has attended weekly meetings and supported the students to plan Mount Matters sessions and set goals for the year ahead. Thank you to Mrs Antia Hill and Ms Rebecca Kosach for their ongoing support of our Year 12 student leaders.
Cross-Campus Connections
Our Year 12 leaders have had a real focus on building stronger connections with the Junior Campus this term. For the last few weeks, groups of Year 12 students have visited the Junior Campus at lunchtime on a Wednesday and run a range of activities with the Junior students, including a dodgeball competition and a human bingo game. This week, a group of Year 12 leaders visited to assist with the lunchtime Lego competition. Thank you to Prefects Stephanie K and Rachel T for their leadership of this initiative.
Casual Clothes Day
The casual clothes day on Thursday 1 April raised money for our World Vision sponsor children and community. As a college, we are sponsoring two children, Arunima and Nasir, and also the Nyakitonto Adp community in Tanzania. Thank you to all of the students who donated, and to the Year 8 and 12 Leadership Teams for promoting the day.
Teacher Feedback surveys
Over the course of Term 1, all teaching staff have surveyed at least one of their classes to collect feedback from students about their experience in the classroom. Teachers have a choice between using the MWSC Teach the Teacher survey or taking part in a research project with Monash University and using the Panorama survey. Last week, 70 classes were surveyed using the Panorama platform. In the coming weeks, teachers will work together to review student feedback and use it to set improvement goals. Thank you to all students and teachers for their time and effort facilitating and completing the surveys.
Miss Hayley Dureau
Head of Student Voice