School Council Student Representatives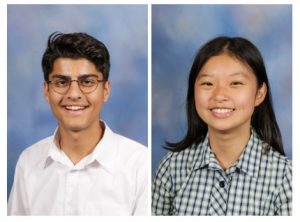 Year 12 students Monil and Jane have been elected as the 2021 School Council Student Representatives. Thank you to all nominees, and thank you to all students who voted in the election. Jane and Monil will attend their first School Council meeting in March.
iLearn Values Working Party
For the last three weeks, a group of students and staff have been working together on a project to promote the College Values: Integrity, Learning, Excellence, Accountability, Respect, and Nurturing, or iLEARN.
Year 9 students Charlotte, Georgia, Farah, Luna, Maya, Alannah, and Clementine, together with Year 11 Sophia and Year 12s Luc, Francis, Lila, Hifzhan, Thidas and Aarya, together with Ms Sarah Smith (Year 9 Coordinator) and Mr Thomas (Head of Community Engagement) to plan activities for Home Group, focusing on the behaviours and actions associated with each of the college values.
Thank you to these students and staff for their time and effort.  We look forward to seeing what the working party comes up with!
Lions Youth of the Year
Year 12 Leaders Aarya (Captain), Jaquelyn (Deputy Captain) and Stephanie (Prefect) will represent MWSC in the 2021 Lions Youth of the Year (YOTY) competition this Sunday 21 February. The competition involves a written application, interview, and public speaking component. The focus is on leadership and community contribution.
Aarya, Jaquelyn and Stephanie will be interviewed by the panel and will compete in the public speaking component of the competition at an afternoon tea. We wish them the best of luck!
More details about the competition can be found at: http://lionsclubs.org.au/activities/youth/yoty/
Year 10 Student Leadership Team
It is with great pleasure that we can announce the 2021 Year 10 Student Leadership Team!  Congratulations to the following students:
| | | |
| --- | --- | --- |
| Kiska A | Tom H | Ishwari N |
| Marios A | Riana J | Vidyuth S |
| Izak B | Jade L | Jocelyn S |
| Sienna D | Ellen L | Netra S |
| Sophie D | Stanley L | Dhairya S |
| Tessa G | Lachlan M | Nikhil s |
| Tasfiya H | Vineth M | Leah W |
The Year 10 team will have their first meeting this week, supported by Mr Myers.
Thank you to Mr Jacob Myers and the Middle School Team for their time and effort in shortlisting applicants and finalising the team.
Mount Matters
Each year, Home Groups and Mentor Groups from Year 7 – 11 nominate two Mount Matters Representatives.
Who can be a Mount Matters Rep?
Anyone. You don't need to have leadership experience or love public speaking (although if you do, you can get involved too!). The point of Mount Matters is to have a group of students who represent your cohort, so we want all students to consider the position. There are no specific academic or co-curricular requirements.
What's involved in being a Mount Matters Rep?
You will be invited to attend fortnightly Mount Matters meetings. Usually these meetings are for 25 minutes before school. Student Leaders facilitate the meetings. Your role is to represent your Mentor Group and share their opinions and ideas. You will be asked to report back to your Mentor Group (your Mentor teacher can help you with this if speaking in front of people isn't your thing!). At times you may be asked to gather input and collect feedback from your Mentor Group. You will contribute ideas and actively participate in Mount Matters sessions and list to other people's views respectfully.
Core values of Mount Matters: Honest, Reliable, Respectful, Helpful, Encouraging, Fair, Cooperative, Supportive, Empathetic, Considerate.
How does the Mentor Group choose the Mount Matters Rep?
Mount Matters is not a popularity contest. It's about the Mentor Group choosing someone who they think will contribute to a group of students who is a genuine representation of the student body. The aim is to select a representative who you think will attend meetings and fulfil the role. How your Mentor Group does this is up to you! You can do a nomination process (self and/or peer nominations) and a vote, or if you don't want to do a vote you could pull a name from a hat or do scissors/paper/rock!
Thank you to the Year 9 Home Group Teachers and Year 10 and 11 Mentor teachers, who will oversee this process next week.   Year 7 and 8 Mount Matters positions will be filled in the coming weeks!
Miss Hayley Dureau
Head of Student Voice